In a startling incident from DHA Karachi, actress Mansha Pasha, the wife of well-known social activist and lawyer Jibran Nasir, revealed that her husband was forcefully taken away by armed individuals.
Pasha shared a video statement on social media, explaining that the incident took place late Thursday night while they were returning home after having dinner.
In a visibly distressed state, Pasha shared the harrowing experience, stating, "Just half an hour ago, my husband Jibran Nasir, a renowned lawyer who has made significant contributions to our nation, was forcefully abducted by unidentified individuals."
She described how their car was ambushed by a group of around 15 armed men traveling in a white double-cabin vehicle. Pasha recalled, "We were on our way back from dinner when a large white car intercepted us, nearly causing an accident. There were approximately 15 individuals armed with pistols who forcibly took my husband away."
Appealing for public support, Pasha earnestly urged everyone to raise their voices in solidarity with her husband and fervently pray for his safe and immediate release.
Condemnations:
The news of Nasir's abduction quickly spread across various platforms, prompting numerous celebrities and human rights organizations to denounce the incident.
Expressing deep concern over the abduction, they united in demanding the safe and prompt return of Nasir to his family and loved ones.
The Human Rights Commission of Pakistan (HRCP) expressed their deep concern on Twitter regarding the reported abduction of lawyer and activist Jibran Nasir by unknown armed individuals in Karachi. They unequivocally demanded his swift and safe recovery, emphasizing the need for the perpetrators to be held accountable according to the law.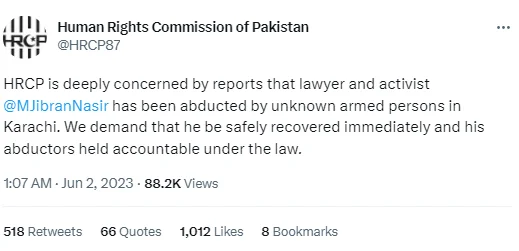 Comedian Ali Gul Pir emphasized Nasir's unwavering support for the marginalized and urged everyone to rally together and speak up for him. Recognizing Nasir's consistent dedication to helping those in need, Pir encouraged people to raise their voices in support of him.
He has always stood up for those in need, from helping urban flood victims to providing legal help to countless people in need. Now it's time we raise our voice #ReleaseJibranNasir https://t.co/q9oY7flDTk

— Ali Gul Pir (@Aligulpir) June 2, 2023
First they came for them and we didn't say anything. Then they came for us… #ReleaseJibranNasir

— Ali Gul Pir (@Aligulpir) June 2, 2023
Actor Osman Khalid Butt also appealed for the immediate release of Jibran Nasir and offered prayers for his safe and expeditious return to his family.
Ameen.
May we see you back home soon – and safe, brother. https://t.co/vGdwFpkZ3H

— Osman Khalid Butt (@aClockworkObi) June 1, 2023
Stay strong, @manshapasha
Still reeling.

— Osman Khalid Butt (@aClockworkObi) June 1, 2023
Director Shaarmeen Obaid Chinoy wrote on her Instagram Story, saying, "There is no one left…they have silenced everyone"