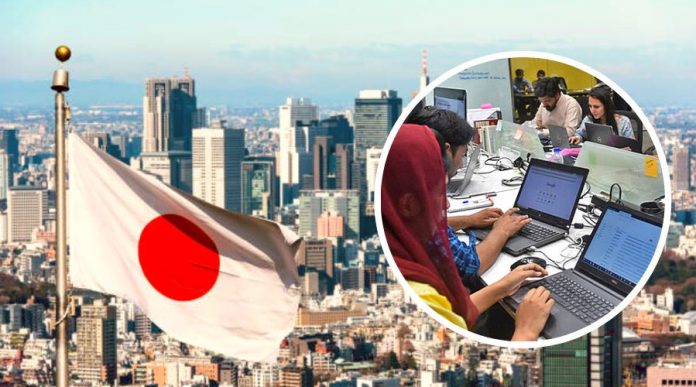 In partnership with Pakistan's PM Youth Program, the Government of Japan has initiated a paid internship program specifically designed for Pakistani students.
As per the information provided, there has been a notable rise in the count of Japanese companies aiming to hire international talent. However, smaller companies, in particular, are encountering difficulties due to their limited exposure in collaborating with foreign professionals and a lack of established professional connections.
To address this issue, "METI Japan Internship Program" has been launched. This program supports the overseas development of Japanese Small and Medium-Sized companies by hiring foreign university students and global talent. Through internships, participants will get a chance to understand job responsibilities in Japan.
🎓 Attention Scholars!

Be the Architect of Your Destiny: @METI_JPN Internship Program Crafting Pakistani Students' Brilliant Futures ✨ Don't miss this opportunity and soar to unparalleled professional success.

Apply Now: https://t.co/zJgndYZnSb pic.twitter.com/PLLsZmd29x

— Prime Minister's Youth Programme (@PMsYouthProgram) June 14, 2023
Types of Internships:
In the current year, Japan is providing three distinct categories of internships:
Commuting Internships (A/A2 Course): For this internship option, you will travel from your home to the company where you will be working on a daily basis. This setup allows for face-to-face interaction with colleagues and supervisors, fostering effective communication and collaboration.
Online Internships (B/B2 Course): With online internships, you can acquire valuable experience from the comfort of your own home or any preferred location. This type of internship is especially advantageous for companies seeking global expansion, as it enables targeted surveys tailored to specific locations. Additionally, it offers convenience for foreign participants who can engage in the internship without the need for immigration procedures.
Visiting Internships (C Course): Designed for participants arriving from overseas, visiting internships provide a remarkable opportunity to gain work experience in Japan. During this internship, you will stay at an accommodation facility located within commuting distance of the internship site. This immersive experience allows you to not only acquire professional skills but also immerse yourself in Japanese culture and lifestyle.
Eligibility:
Below are the eligibility requirements for Japan's Internship Program 2023:
Language Proficiency: Candidates must have a strong command of either Japanese or English.
Age Limit: Candidates must be at least 20 years old and not exceed 40 years old by August 31, 2023.
How to Apply For METI Japan Internship Program 2023?
Applicants who are interested can submit their applications via METI Japan Internship Program's official website.
Application Timeline:
Summer Internship:
The summer internship period for the METI Japan Internship Program is from mid-May 2023 to late June.
Winter Internship:
The winter internship period for the METI Japan Internship Program is from mid-August 2023 to late September.
The METI Japan Internship Program provides an exceptional opportunity for Pakistani students who are eager to experience a unique adventure in a foreign country. With Japan being the world's third-largest economy, it serves as an ideal destination for both educational and professional advancement.
By participating in this program, students can acquire valuable work experience, immerse themselves in the rich Japanese culture, and contribute to meeting the global talent requirements of Japanese companies.