Bigg Boss, the super hit reality show has become a leading platform for those who want to find their true love.  Every season of Bigg Boss is filled with drama, fights, entertainment and most importantly the couples' intimate scenes with each other that they forget hundreds of people are watching them on their TV screen.
Bigg Boss love stories that start taking place in the house soon get the attention of viewers that makes them wonder where this relationship might go? Some stories that started in the house were continued outside too while some couples found their love journey to be confined within the Bigg Boss world. Here are some of the couples who got intimate with each other.
Aryan Vaid and Anupama Verma
Starting with the season 1, the couple was able to bring good TRPs for the show. Aryan and Anupama confessed their love on national television while spending all their time together in the Bigg Boss house. Rumours had it that the couple was together just to gain votes but one they went out of the house their relationship was over.
Payal Rohatgi and Rahul Mahajan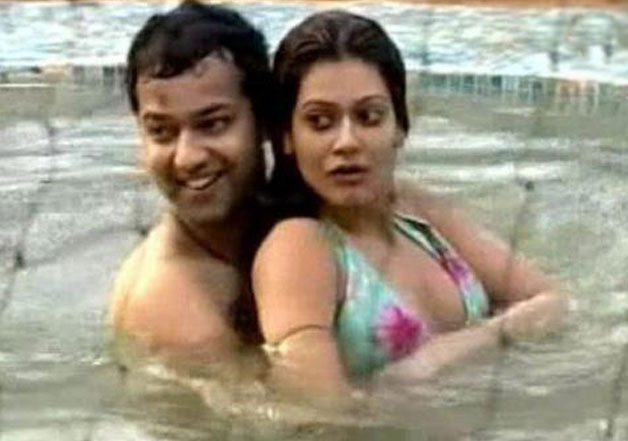 The couple that got instant fame in Bigg Boss's season 2 was none other than Rahul Mahajan and Payal Rohatgi. It was reported that the duo was seeing each other before coming to the shows and while in the house they were seen clinging to each other, massaging each other and even spending time together ins swimming pool. Too gross isn't it? To viewers' surprise, Rahul started ignoring Payal and started flirting with Monica Bedi who was also one of the contestants at that time.
Veena Malik and Ashmit Patel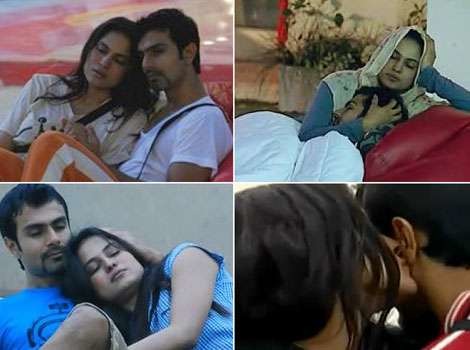 If you are a fan of Bigg Boss, then you must be aware of this couple who got too close to each other on the Bigg Boss Seasons. Yes, we are talking about Veena Malik and Ashmit Patel who were glued to each other 24/7. With their constant PDA, they surely made it to a lot of headlines but all the love and romance was left behind as both of them got out of the house and parted their ways. Rumours have it that Salman Khan had to remind the two contestants to stay in their limit as it's a family show.
Sara Khan and Ali Merchant
Another love story that gained so much of publicity that Bigg Boss broke all barriers when Sara Khan and Ali merchant got married right on the show.  This was the first time ever in history that a marriage took place. Unfortunately, Sara and Ali's marriage couldn't last for long and they both ended their marriage within two months leaving the audience in shock. Well, publicity stunt might be the answer to audience's questions.
Pooja Bedi and Akashdeep Saigal
Pooja and Akashdeep aka Sky were much serious about each other and their relationship lasted for one year even after the show.  The couple met each other during Bigg Boss Season 5 and soon were inseparable from each other.  Sky and pooja were the love birds of season 5 and Sky was so madly in love with Pooja that he even got a tattoo done on his bicep with Pooja's name.  True love NO?
Gauhar Khan and Kushal Tandon

Madly in love with each other and popularly known as Gaushal, Gauhar Khan and Kushal Tandon became the talk of the town with Bigg Boss season 7. The duo confessed their love not once not twice but many times. Even Kushal got himself into a fight with Andy on behalf of Gauhar. Gauhar who won the Bigg Boss Season 7 also supported Kushal in all matters. The duo parted their ways after dating each other outside the show. This news was a shock to GauKush fans as they both were seen as an Ideal couple by many.
Tanisha Mukherji and Armaan Kohli
Season 7 of Bigg Boss was filled with drama and more drama when two couples were facing each other. While Gaushal was among the most loved couple, Tanisha Mukherji and Armaan Kohli also got publicity from their fans. Both Tanisha and Armaan hold each other through thick and thin and both of them dated each other after the show as well but their relationship couldn't last that long. Sad but bitter reality for love struck at Bigg Boss
Sad but the bitter reality for love struck at Bigg Boss
Gautam Gulati and Diandra Soares
While all the previous seasons of Bigg Boss had one or other love story to entertain the viewers, Season 8 brought a unique couple to the world. Yes, Gautam Gulati and Diandra Soares who started their Bigg Boss journey as haters and soon started loving each other. All eyes were set on the bond that both of them were sharing. Many times both Gautam and Diandra were seen having conversations late at night and holding each other hands. Soon after Gautam won the Bigg Boss Season 8, he denied his relationship with Diandra once he was out of the Bigg Boss house. Guess what?  Another publicity Stunt.
Upen Patel and Karishma Tanna
When it comes to Season 8, Gautam and Diandra weren't the only couples that gained attention, Upen Patel and Karishma Tanna were the love birds that made audience fell in love with this cute couple. They both were high over heels for each other and both confessed their feelings and love many times. The duo was together even after the show and also went on to participate in the dance show "Nach Baliye 7" where Upen proposed to Karishma and they got engaged. Sadly, the couple who was known as #UpMa by their fans announced their separation earlier in May 2016.
Sadly, the couple who was known as #UpMa by their fans announced their separation earlier in May 2016.
Let's see what the new season of Bigg Boss has to offer! We hope there would be some couples that can make it together even after the show!