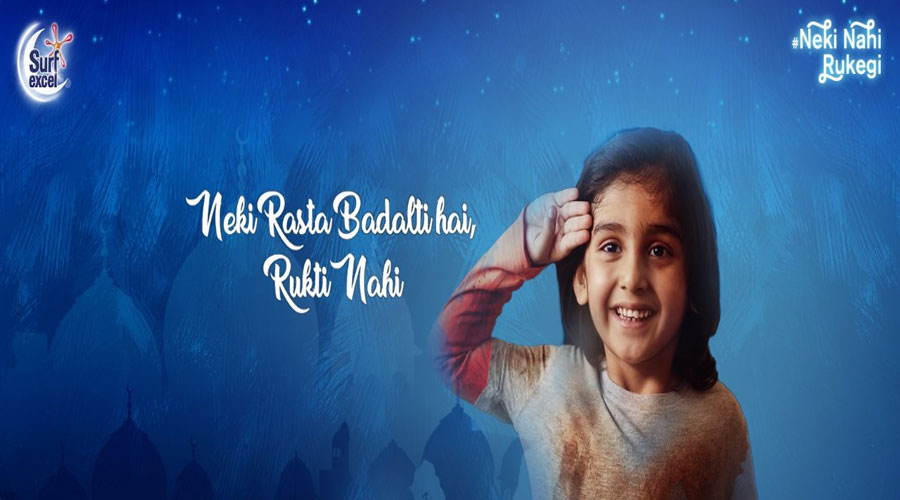 Visit any of the big Pakistan marketing forums on social media, and you will read on common complaint: the quality of advertisements that are being made locally. Though the recently released Surf Excel Ramzan advertisement was shot by a Pakistani production house Bionic Films and it has been going viral all over the subcontinent. It has been shot wonderfully and hits all the right notes at this time of global crisis.
This Surf Excel's Ramzaan Ad took our heart away. Such a marvelous, gratifying and pertinent to current situation with a strong message of charity and good deeds 💕#NekiNahiRukegi pic.twitter.com/BZ6Q89DrSf

— Netra Parikh (@Netra) April 27, 2020
This Surf Excel advert of charity and good deeds in Ramzan at the time of Covid brought tears to my eyes. Watch ithttps://t.co/j6IoMsQY1N

— Rana Ayyub (@RanaAyyub) April 26, 2020
What's more, it was shot in Pakistan. The first time in a number of years, the South Asia Pacific Team of Unilever decided to shoot their Ramzan Commercial in Pakistan. Given the love and appreciation it has garnered across Pakistan, India, Bangladesh, and the UAE, this might be the start of something big.
All you need to know about Pakistani cars in comparison to Indian vehicles
The credit, of course, goes to Bionic Films. Given the circumstances, things would have been extremely challenging. A misstep here and a lot of the blame would have gone towards the brand. However, their team followed all the SOPs for the shoot of the commercial. Locations were disinfected before and after the shoot. Team Bionic clearly rose to the challenge.
Technically sound and shot in a slick manner, what connects and resonates most is the emotion behind it. Surf Excel is a household name. So the more comfortable option would have been to focus on the brand only. Given the circumstances, it would have been acceptable to make a run of the mill advertisement. However, the creative team decided to take a more personal approach. In these testing times, everyone around us needs to feel that connection.
While speaking to Salman Farooqi, the person spearheading Bionic – we asked him how was it possible for them to make this happen? He said, "Fortune favours the brave…When the client trusts you, respect you as their business partner and not only just as a production house, and work with you as one team, then you take the challenge for them no matter what the circumstances are and you achieve what seems to be impossible…"
While the concept is simple, it is highly poignant. Ramzan is all about patience, sacrifice, and togetherness. These values are shared across cultures and nations. Hence it is no surprise that it has worked for a diverse audience. A message of hope is the need of the hour.
TVC link: