Bollywood superstar, Salman Khan has launched an exclusive collection of Being Human jewellery following a line ' Jewelry with a Heart'. Being Human brand is entering in a new niche after its successful clothing line. Be it Salman's turquoise color bracelet or Bajrangi Bhaijaan's silver pendant, his fans are crazy in following his style.
Being human brand will now explore jewellery segment with Being Human's core values that includes love, care, share, joy, help, and hope.
Spread love, care, share, joy, help and hope! Stay connected for the launch of #JewelleryWithAHeart. @BeingSalmanKhan #beinghumanjewellery pic.twitter.com/b3QFex0qTM

— BeingHumanJewellery (@BeingHumanJewel) September 30, 2016
Salman Khan revealed the pieces in the launching ceremony, accompanied by his family, mother Salma Khan, Sister Arpita Khan Sharma and nephew, Ahil Sharma. The collection is crafted in diamond and gold, designed by Style Quotient Jewelry. 
 "We are extending Being Human brand by associating with more partners. After clothing, we have ventured into the jewelry segment. I want my fans to buy the product for the quality and value of the products and not for charity", Salman khan said in the launching ceremony of Being human jewelry.
And @BeingSalmanKhan and @khanarpita finally launch @BeingHumanJewel with #StyleQuotient. #JewelleryWithAHeart pic.twitter.com/PHLdR1vfEW

— Hemul Neelu Goel (@Hemul16) September 30, 2016
Here's @BeingSalmanKhan getting candid with the journalists at #BeingHumanJewellery – #JewelleryWithAHeart #launch. @khanarpita #salmankhan pic.twitter.com/wrxkiVU8G4

— BeingHumanJewellery (@BeingHumanJewel) September 30, 2016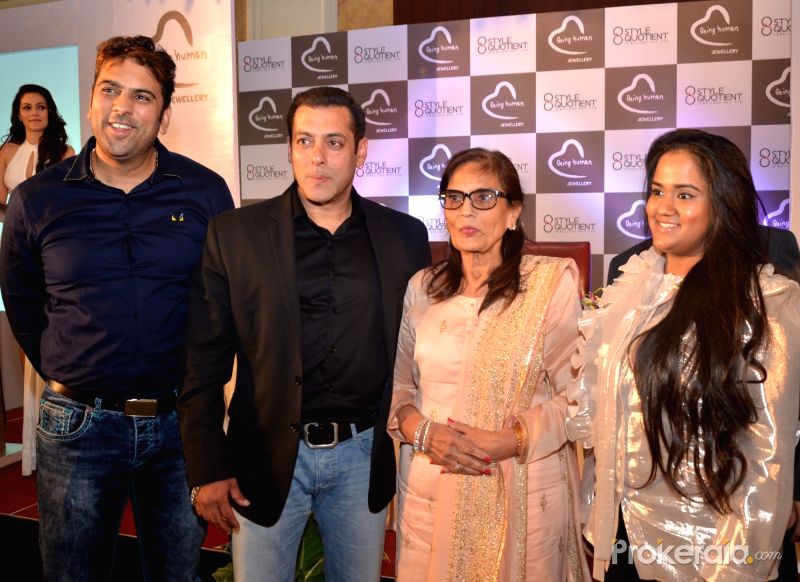 Being Human pieces of jewelry are lightweight and are designed for everyday use. They are ranged between Rs 5,000 to Rs 50,000. Being human jewelry will have 80 per cent of the product catering to women and rest 20 per cent for men.
Style Quotient Jewelry CEO Prasad Kapre told at the launch that,
"The entire jewelry has been designed with 18 karat gold and would be crafted with natural Australian diamonds that have passed through Rio Tinto chain of custody system from mine to retailer and will be accompanied by a certificate of authenticity."
The campaign images unveiled at the launch that will have brand owner itself Salman khan and his Kick co-star Jacqueline Fernandez. Each piece of jewelry would be accompanied with a personal message from Salman, thanking people for their purchase.