Winning hearts of thousand in Pakistan, Esra Bilgic who plays the powerful and elegant "Halime Sultan" on "Ghazi: Ertugrul" has expressed her wish to visit Pakistan soon.
Taking to Instagram on Saturday, the actress shared a sun kissed photo of herself which generated a lot of love from her Pakistani fans.
Responding to one of the comments, Esra wrote, "I would like to say thank you will all my heart for your precious compliments. Your support makes me really happy."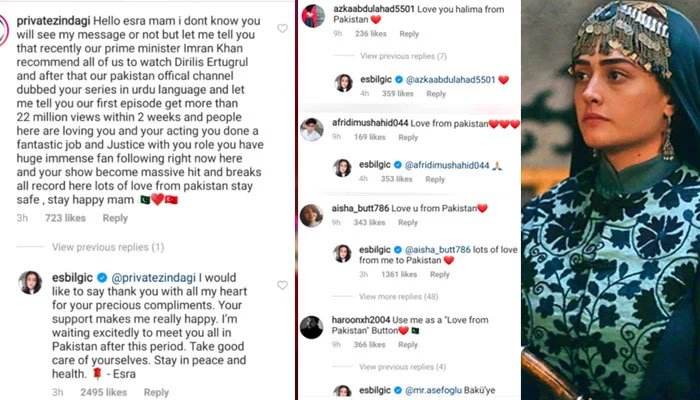 She went on to say, "I'm waiting excitedly to meet you all in Pakistan after this period. Take good care of yourselves. Stay in peace and health." To another comment, She said, "lots of love from me to Pakistan."
Mesmerizing ever since her first appearance as Halime Sultan in the series "Ertugrul", Esra has become one of the most popular actress and model of the Turkish entertainment industry. She is currently the female lead in the Turkish crime-drama TV series Ramo, with co-stars Murat Yıldırım. She studied the subject of "International Relations" at Bilkent International University, Istanbul, and is currently studying law at İstanbul Şehir University.
Starting from the 1st Ramadan in Urdu Language on PTV, garnering TRP smashing viewership in the country, "Ghazi: Ertugrul" has become the latest obsession of many Pakistanis.
People have been especially intrigued by the Islamic values and morals that the show portrays so excellently.