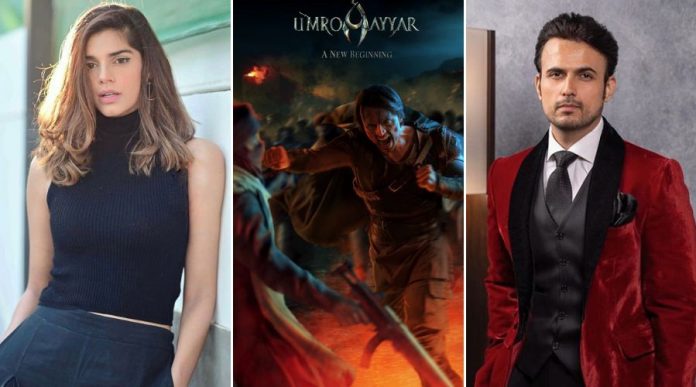 Attention all action movie fans! The wait is finally over as the most anticipated Pakistani action film of the year, Umro Ayyar – A New Beginning first look has finally been released!
Usman Mukhtar, who is in the lead role in the movie, recently shared a motion poster in which we can see a man (who seems to be Mukhtar himself) showing off his impressive combat skills by throwing a mean punch at one of his enemies amidst a chaotic brawl. The stunning visuals of the poster and the intense background music will leave you on the edge of your seat.
The poster's caption reads, "Unleashing the Power of the Legend after Centuries". This cryptic message has left fans wondering what this new beginning holds for the beloved Umro Ayyar character.
So, gear up for an action-packed adventure as Umro Ayyar – A New Beginning promises to bring to life the legendary character like never before!
Cast:
Among the leading actors in the film are Usman Mukhtar, Sanam Mody, Ali Kazmi, and Adnan Siddiqui, each known for their outstanding performances in the industry.
But wait, there's more! The film has also managed to snag the attention of Hollywood actor Faran Tahir, whose impressive resume includes roles in blockbuster hits like Iron Man and Star Trek. His inclusion in the cast has elevated the excitement and anticipation for this magical journey to new heights.
Together, this incredible group of actors is sure to transport you to a world beyond your wildest dreams, filled with adventure, magic, and wonder.
Movie Production and Director:
The film, based on the iconic character of Umro Ayyar from century-old Perian folklore, is set to release under the banner of VR Chili Production and is Directed by Azfar Jafri.
The VR Chili production and Umro Ayyar's official Twitter handle have also shared a motion Poster on the micro-blogging site with the caption "The Legend is about to UNRAVEL | Tayyar Ho?"
The Legend is about to UNRAVEL | Tayyar Ho?#UmroAyyar x #VRChiliProduction https://t.co/Ft6CR6sJtm

— VR Chili Production (@VRChiliOfficial) April 19, 2023
Umro Ayyar Story:
Jafri expressed his enthusiasm for creating a film featuring Umro Ayyar, a well-known character from our childhood literature who, unfortunately, has been overlooked by many. He believes that his upcoming movie offers a fresh and innovative perspective on this beloved character.
Umro Ayyar, a character that features in the collection of tales known as Dastan-i-Amir Hamza, which comprises stories of magic, adventure, and intrigue. These tales were penned over a millennium ago and have since been embraced as an essential component of the literary heritage of numerous Muslim countries.
Mukhtar, who plays a role in the movie, had previously expressed the cast's eagerness to unveil the project. "The film is based on the fantasy novel of Umro Ayyar, and we can't wait to share it with the world," he stated. "This has been a long-cherished and enthusiastic endeavor for all of us, and we are thrilled to make it a reality."
As of now, the release date of the movie or its trailer has not been disclosed. Nonetheless, the anticipation and excitement among the fans for this upcoming movie are palpable. It remains to be seen how the film will fare, but one thing is for sure: Umro Ayyar on the big screen will be a momentous event for all those who hold this beloved character close to their hearts.