The fashion industry's most prominent event, the Meta Gala 2023, commenced early this morning. A-list celebrities from around the globe graced the occasion, adorned in some of the timeless designs and outfits created by the late fashion icon Karl Lagerfeld.
The event paid tribute to Lagerfeld, with many of the approximately 400 guests sporting vintage looks from the fashion houses he worked with during his illustrious 60-year career, including Chanel, Fendi, Chloé, Jean Patou, Balmain, and his eponymous label.
At the highly-anticipated gala, several attendees chose to wear black while walking the distinctive carpet in a linear design – a color that Lagerfeld frequently donned. Additionally, black-and-white combinations were prevalent among the guests.
Alia Bhatt:
In addition to Hollywood's elite, Indian stars like Alia Bhatt also shone brightly at the Met Gala. The "Gangubai Kathiwadi" actress made a splash with her first-ever appearance at the event.
Bhatt, who recently welcomed a baby girl with husband Ranbir Kapoor, turned heads in a pearl gown by designer Prabal Gurung. The dress was inspired by supermodel Claudia Schiffer's 1992 Chanel bridal look and looked stunning on Bhatt.
During her first appearance at the Met Gala, Bhatt expressed her love for pearls by saying, "A girl can never have too many pearls…and the right accessories to complete the look, which, in our case, translated to the pearl bow in my hair."
The pearl dress, entirely created in India, boasts embroidery featuring 100,000 pearls. In her Instagram post, the actress wrote, "I have always been fascinated by the iconic Chanel brides. Season after season, the genius of Karl Lagerfeld shone through in the most innovative and awe-inspiring couture."
Priyanka Chopra:
Amidst the success of her latest project "Citadel," Priyanka Chopra, a veteran of red-carpet events, arrived at the Met Gala 2023 with her husband Nick Jonas. The power couple stole the show in matching black Valentino ensembles, looking absolutely stunning.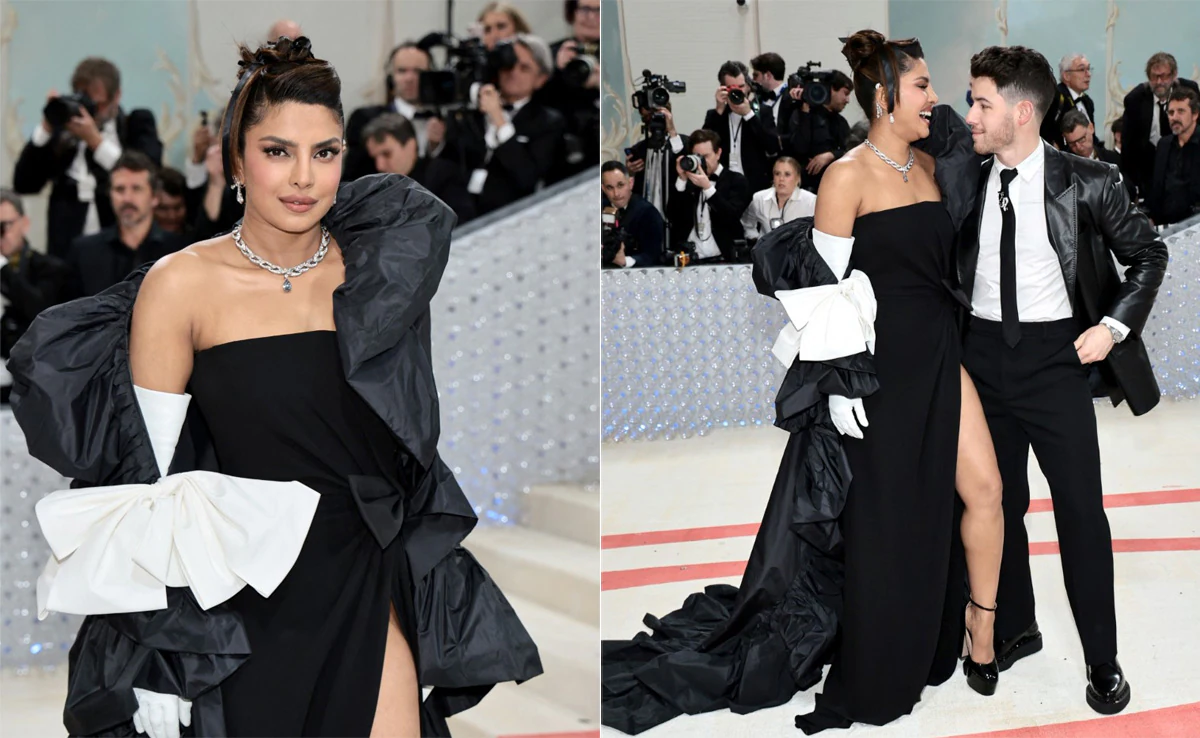 Doja Cat:
Doja Cat, the rapper with a feline-inspired stage name, paid homage to a man who adored cats with her Met Gala look. She did not disappoint, wearing a gown with cat ears and facial prosthetics that enhanced her feline features.
Her stunning silver dress, created by Oscar de la Renta, shimmered and featured a striking ruffled train. She paired it with equally dazzling jewelry to complete her look.
Jared Leto:
Jared Leto, known for his outlandish fashion choices at the Met Gala, surpassed himself this year by arriving dressed as a cat. The Oscar-winning actor's outfit left little to the imagination, and there isn't much else to say about it.
Fortunately, he removed his enormous cat head during the photo-op, or we might not have even recognized him.
Lil Nas X:
Lil Nas X arrived at the Met Gala with one of the most striking and unique outfits of the night. He was covered in glittering silver body paint and jewels, with a matching metallic thong.
Upon closer examination, fans noticed that his bejeweled eye mask featured beaded whiskers, likely another reference to Lagerfeld's beloved cat.
To emphasize the point, Lil Nas X meowed and waved his claws in response to reporters' questions on the red carpet.
Kim Kardashian, Kylie Jenner, Gigi Hadid and Kendall Jenner:
Kim Kardashian, the reality TV personality, made a grand entrance at the Met Gala in a taupe Schiaparelli gown that was covered in pearls from head to toe. The social media influencer was literally dripping in pearls.
Supermodels Gigi Hadid and Kendall Jenner were also in attendance, with Hadid wearing a black Givenchy outfit adorned with feathers, a drop waist, and a sheer train made of tulle. The dress required over 300 hours to make.
Jenner, on the other hand, opted for a sparkly leotard with long sleeves that doubled as a train, paired with towering black boots by Marc Jacobs. With her hair tied in a neat high ponytail and a high white collar, she paid tribute to the late fashion designer.
Meanwhile, Kylie Jenner, the make-up mogul, arrived in a two-tone dress with a cover-up, once again making a statement with her iconic outfit.