In recent years, social media has become one of the most popular platforms for people to earn money. After the lockdown situation, thousands of people lost their jobs and businesses, and people started to make money online. Now, in this modern era, making money through social media, such as Instagram, has become a very feasible option for people of all ages and backgrounds.
Instagram, in particular, offers various ways to earn money, whether you are an individual or a business. Large companies use Instagram to run ad campaigns and hire influencers to promote their brand. Meanwhile, individuals can monetize their content and build their brand through sponsored posts, affiliate marketing, and more.
To start earning money through Instagram, there are a few important things you need to know. It's essential to have a clear understanding of the platform, its users, and its algorithms. Additionally, building a large following and creating engaging content is crucial to attracting brands and earning money.
Overall, Instagram is a great platform to earn money, but it takes time, effort, and dedication to build a successful online presence. By leveraging the power of social media and developing a strong brand, you can start earning money through Instagram and potentially even surpass traditional, well-paid jobs.
In this article, we will guide you on how you can also start making money through Instagram, but whenever we talk about making money on Instagram, many of you probably be wondering:
Can Everyone Earn Money from Instagram?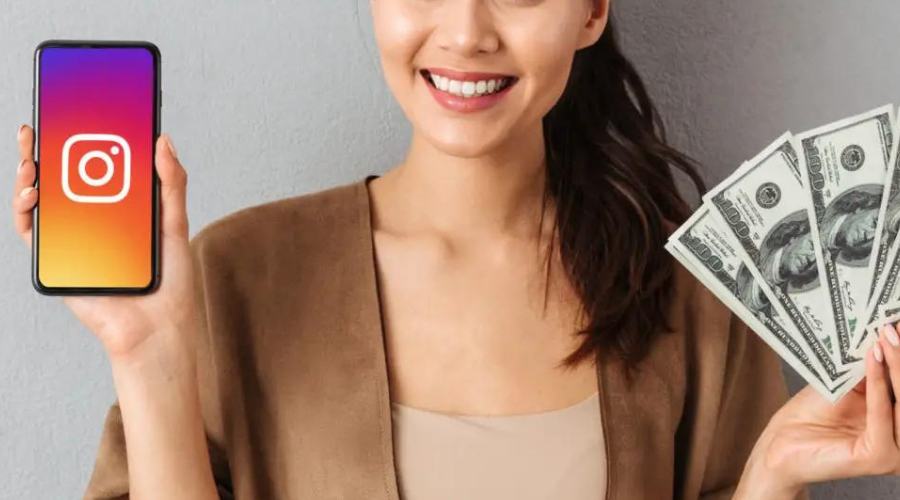 The answer is obviously, 'YES.' Instagram is a fantastic platform to start earning money if you have the confidence in yourself and the dedication to spend quality time on it and make everything worth it. To succeed on Instagram, you need to stay active and keep posting engaging content. You can share various content types on Instagram, such as single photo posts, carousel posts, videos, live videos, reels, and stories.
Every month, Instagram receives more than a billion visitors, and each one has specific interests. The key is to understand what content they are looking for and turn that into earnings.
To get started on Instagram, it's crucial to understand the difference between profiles and pages. Profiles are for interacting with friends and family, and you can hide your profile from strangers. Pages are used for making money by offering services or selling products. You can create a page where you can post anything you want to share with the public, and people with their profiles on Instagram can follow these pages.
There are two main paths to earning money on Instagram. You can make your profile a public page and become an influencer, earning money through sponsored posts and brand collaborations. Alternatively, you can start a business page and sell your products or services. Both options can be profitable if you create engaging content and stay dedicated.
Now, let's get to the main point, which is:
How To Make Money on Instagram?
Well, there are many ways in which you can earn money from Instagram which we will talk about in this article. So, just sit tight and keep on reading till the end.
Become an Influencer:
The easiest way to earn money from Instagram is probably to become an 'influencer.' To become one, the first thing you need to do is engage with your followers by sharing your daily life events and other quality content that your followers will find interesting. This will also help you in growing your Instagram followers. But for all this to happen, first, you must find out what is that one thing that you are passionate about that will be relatable to your audience and will also make you happy. Once you cracked that out, there will be nothing stopping you. For example, if you love fashion, and doing makeup, you can share your favorite clothing by wearing them in your photos,  or sharing makeup tutorial videos for your followers.
Once you gain a healthy amount of followers, you can easily monetize your Instagram page and start earning. Here, we have mentioned five different ways through which you can make money as an influencer on Instagram.
1. Create Exclusive Content:
You can make recurring income on Instagram by offering exclusive content to your followers. Instagram lets you start a subscription-based service where subscribers pay a monthly fee to enjoy exclusive content from you. You can share photos, stories, and more, and subscribers will be highlighted with a purple crown badge. You set the monthly charges and can offer exclusive Lives, chats, posts, and more. The loyalty of your followers is crucial to your success, as they will be more likely to pay for exclusive content if they are loyal to you.
2. Instagram Live Badges
Instagram lets you earn money from your followers through Live Badges. Viewers buy badges to show their appreciation during your live video. You can enable Live Badges from your Professional Dashboard. Once approved, you can turn on the Live Badges option on your profile. Remember to remind your followers to use the badges during your live stream. Live badges are popular among well-known influencers and collaborating with other Instagram stars can help attract more viewers.
3. Instagram Bonuses
Instagram has a new way for small influencers to make money on its platform through a feature called Reels Play. If you have less than a million followers, you can earn bonuses based on the performance of your Reels. You need to create a certain amount of Reels to make money, and the more you create, the more money you make. Currently, this feature is only available to creators in the United States through invitation. Don't forget to enable Reels Play bonuses before your eligibility expires. Instagram warns that bonus programs are always changing, so take advantage while you can!
4. Paid Partnership With Brands
Many Sports stars like Cristiano Ronaldo, Lionel Messi, and Babar Azam earn millions through sponsored posts by brands on Instagram. You don't need a massive following to start earning money from brand partnerships on Instagram. Even influencers with just a few thousand followers can make money through brand sponsorships.
To get started, look for small brands in your niche and pitch them an offer they can't refuse. Make sure to create engaging content that showcases your abilities and aligns with the brand's values. For example, if you're a tech blogger, review different smartphones, laptops, and gadgets and share them with your followers. Once you land your first client, it becomes easier to get more partnerships.
5. Become an Affiliate
Affiliate programs are an easy way to make money on Instagram, but it requires understanding your target audience and finding the right product to promote in your niche. Many companies offer affiliate programs, with Amazon being the most popular option. Amazon's affiliate program is straightforward to join, and you must sell at least one item in six months. If Amazon is not suitable for you, there are many other options available, such as Etsy, which allows you to earn a commission on every sale by promoting their products.
6. Content Monetization
Instagram has a feature that allows content creators to earn money through ads that appear in their videos. This feature is now available in Pakistan, but there are strict rules that must be followed to be eligible for ad placement. To be eligible, your video content must comply with Instagram's content monetization policy. If your post is a static image or video, a poll, a slideshow, a looping video, or a text montage, it will not be allowed to earn money through ads.
Instagram Business Page:
Having a business page on Instagram can be beneficial for both businesses and influencers. You can directly sell your products and also collaborate with influencers to reach a larger audience. Instagram also earns money from businesses that run ads to promote their products. Here are a few ways you can make money with an Instagram business page:
1. Sell products or services directly:
You can use your Instagram business page to promote and sell your products or services directly to your followers. This can be done by posting photos, videos, or stories showcasing your products or services and including a call-to-action for your followers to make a purchase.
2. Sponsored content:
You can also earn money through sponsored content. This involves partnering with brands and promoting their products or services on your Instagram page in exchange for a fee. To attract potential sponsors, make sure to have a strong and engaged following that is relevant to your niche.
3. Affiliate marketing:
Another way to earn money through your Instagram business page is through affiliate marketing. This involves promoting other people's products or services on your page and earning a commission on any sales made through your unique affiliate link.
4. Instagram ads:
Instagram also offers the option to run ads on your page to promote your products or services. This can be done through the Instagram Ads Manager and can be targeted to specific audiences to increase your chances of making sales.
5. Consulting or coaching services:
If you are an expert in your field, you can also offer to consult or coaching services through your Instagram page. This can be done by creating and promoting your services on your page and then booking clients through direct messages or a booking platform.