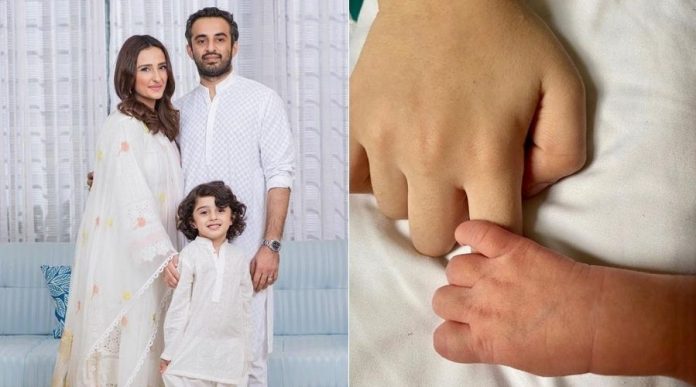 Actress and Superstar, Moomal Sheikh just announced to the world that she has been blessed with the birth of a baby girl.
"Happy Bhaag Jaye Gi" actress took to Instagram to announce the birth of her second child, Alyeha Nader Nawaz, born on August 20.
The caption read: By the grace of Allah, I am proud to announce an addition to the Nawaz/Sheikh family!
Please welcome my baby sister, Alyeha Nader Nawaz, born on 20.08.20 Please keep my family in your prayers.
Already mother to a lovely boy, Moomal Shiekh's Instagram post's caption was done by her some saying "Proud and super excited big brother, Ibrahim Nader Nawaz".
The industry came together to congratulate the mother on the birth of her daughter on Instagram.
Moomal Shiekh got married to Nader Nawaz back in 2015 and now they are a complete family of four.
Coming to the industry as a star child, being the only daughter of the legendary actor Javed Shiekh, Moomal has been able to make a name for herself by delivering stellar performances in mega projects like Mirat-ul-Uroos, Yaariyan and many more. The actress also stepped in with her production company, financing the project "Wujood".
These days Moomal Sheikh is making strides with her work in the hyped and much awaited serial, Mushk, which has been famously written by Imran Ashraf. The serial has been garnering millions of views and praises by the audiences.