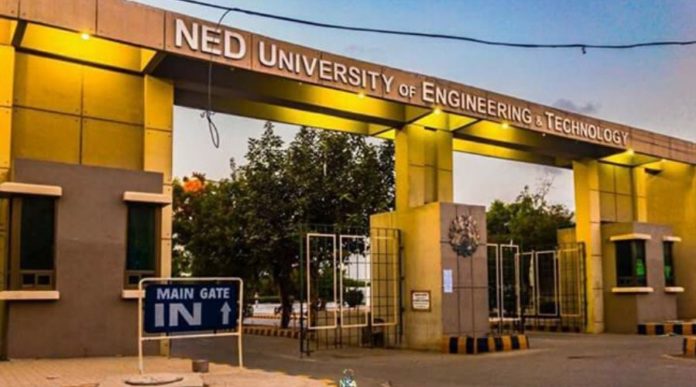 In the most recent announcement, NED University has decided to shift its entrance test for the bachelors of engineering programme online.
As more cases of coronavirus continue to surface in the country, all schools and higher education institutions in Pakistan remain to stay closed as a precautionary measure and now many institutions have decided to shift their policies and procedures to align with the current circumstances.
With two shifts being called each day, beginning from August 8, students will have to come to the university to sit for the test but will be called to campus in shifts of 900-1,000 happening for a week
Speaking to Local Newspaper, NED Vice-Chancellor Prof Muhammad Tufail said that these decisions have been taken to ensure social distancing and avoid possible crowding during the exam.
The varsity typically used to conduct its test on a field on campus. He explained that although candidates will not have the option to take the test from their houses, they will be called to campus in shifts and will take a 'paperless' test.
The exam will be computer-based and will be carried out in the varsity's computer labs, with 20 students being seated in one lab at a time. The duration of the test will be two hours, explained Prof Tufail.
When asked about the process, Prof Tufail explained that the software to be used for testing would not require a manual assessment of the entry test. He said that a question bank has been prepared by the varsity and each shift would have different questions to answer while the sequence in which the questions appear for each candidate will also differ.
Prof Tufail said that the candidates will not be provided with the correct answers immediately but instead the results of the test, tabulated by the software, will be issued online later.
Earlier, the university announced the decision to admit students to the bachelors' programme based on their first-year intermediate results instead of considering the overall percentage obtained in the first and second year of college. As for A-Level students, the VC said, that equivalence certificates will need to be obtained from the Inter Board Committee of Chairmen.
The varsity also changed the merit for admissions, according to which the entrance test has been given a 50 per cent weightage. The weightage of the marks obtained in intermediate exams has been reduced to 50 per cent.