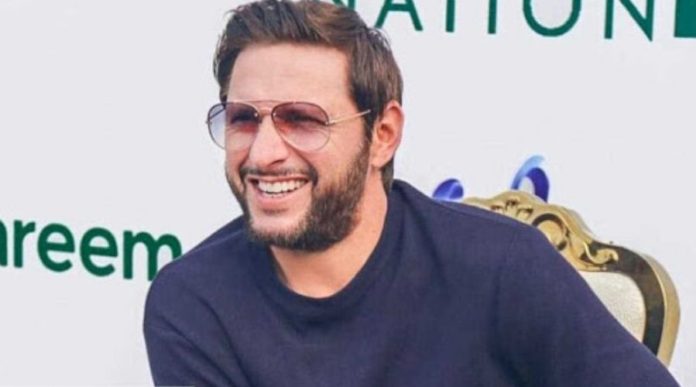 After being at logger heads for more than a year with Gautam Gambhir on Twitter, Pakistani Cricket Superstar Shahid Afridi is back again on the top as he goes viral with his video on both sides of the border, becoming top trending in India and Pakistan.
A video clip of Afridi speaking to the people of the Azad Kashmir village went viral on social media, which showed the former Pakistani cricketing star criticizing Indian Prime Minister (PM) Narendra Modi for deploying forces in Kashmir and causing great distress to the people there.
This video is enough to give burns to endians 🔥😎

#ShahidAfridi is still hitting Sixers❤ 😁

— YaSiF یَاسِفْ (@IamYasif) May 17, 2020
But this did not sit well with millions of Indians including some of the most famed cricketers from India, who took to twitter to defend their Prime Minister.
Yes NEVER AGAIN no matter what https://t.co/PZBWAEoloR

— Harbhajan Turbanator (@harbhajan_singh) May 17, 2020
Really disappointed by @SAfridiOfficial's comments on our Hon'b PM @narendramodi ji. As a responsible Indian who has played for the country, I will never accept such words. I made an appeal on your behest for the sake of humanity. But never again.

Jai Hind 🇮🇳

— yuvraj singh (@YUVSTRONG12) May 17, 2020
Both Harbajan Singh and Yuvraj Singh expressed their disappointment after they had previously donated to Shahid Afridi Foundation to help the needy in Pakistan during COVID-19, after getting much heat from their own fans.
Gosh! What all a person must do to remain relevant! Even more so for a nation that is living on alms. So, better do something for your failed nation and leave #Kashmir alone. I am a proud Kashmiri and it is and will always remain an inalienable part of India. Jai Hind!🇮🇳❤️💪

— Suresh Raina🇮🇳 (@ImRaina) May 17, 2020
Is waqt jab saari duniya corona se lad rahi hai us waqt bhi tumko kashmir ki padi hai.
Kashmir humara tha humare hai aur humara hi rahega. Chaiyeh 22 crore le ao, humara ek, sava lakh ke barabar hai . Baaki ginti apne aap kar lena @SAfridiOfficial

— Shikhar Dhawan (@SDhawan25) May 17, 2020
Pak has 7 lakh force backed by 20 Cr ppl says 16 yr old man @SAfridiOfficial. Yet begging for Kashmir for 70 yrs. Jokers like Afridi, Imran & Bajwa can spew venom against India & PM @narendramodi ji to fool Pak ppl but won't get Kashmir till judgment day! Remember Bangladesh?

— Gautam Gambhir (@GautamGambhir) May 17, 2020
Of course, Gautam Gambhir had to join the team when it came to talking trash about Shahid Afridi.
The Indian people were also not taking Afridi's criticism of their PM.
This is why Harbhajan Singh is unhappy.

Shahid Afridi "We even brought down their 'choozay' from the air, gave them tea and then sent them back to their country with respect" #ShahidAfridi #HarbhajanSingh #India #Pakistan #KashmirWantsFreedom pic.twitter.com/mARxgdrMv2

— It's Cricket Time (@itscrickettime) May 17, 2020
While, Pakistanis are having a jolly time on Twitter, roasting the Indians
Covid19. Sanitizer pic.twitter.com/xrMmGcXd0Y

— TOQEER HUSSAIN↗️ (@official_toqeer) May 17, 2020
Yeah we know very well😂🤣 #gautamgambhir #shahidafridi #abinandhan pic.twitter.com/KU4ZxlA4lk

— Ezel Khan (@ezal_khan) May 17, 2020
#ShahidAfridi
Situation right now : pic.twitter.com/ARkoZPwjEm

— MUHAMMAD TAQI (@taqiinaqvi) May 17, 2020
#ShahidAfridi
1:Kids after roasting transgenders.
2: Boys after roasting 1.5 B Indians. pic.twitter.com/N7Vp630sfN

— Ahmad_beلعل🇵🇰 (@daaayum_it) May 17, 2020
The saga shall continue on the public platform as emotions run high and topics such as Kashmir Dispute always brings the most emotionally charged reaction from both sides.