It's finally Ramadan, the month of spiritual reflection, prayer, and fasting. As usual, people in Islamabad and Rawalpindi are eager to find the best Sehri and Iftar Deals in Islamabad. Luckily, there are plenty of options available in both cities, offering not only delicious food but also a chance for families and friends to come together and break their fasts.
Choosing among the many options can be daunting, so we've compiled a list of some of the best sehri and iftar deals from all around the twin cities. Join us as we explore the top picks for this Ramadan.
Best Sehri and Iftar Deals in Islamabad:
La Montana:
La Montana Restaurant is offering exclusive Iftar and Sehri buffets to its customers at an unbeatable price during the holy month of Ramadan. Depending on the branches and menu changes, the Iftar Buffet is available for a price range of Rs. 1940 to 2800 inclusive of tax. The buffet offers a delicious spread of traditional Pakistani dishes and continental cuisine, among other options. The Sehri Buffet has a set menu priced at Rs. 1300 plus taxes. Customers can come with friends and family to indulge in mouth-watering delicacies and break their fast in a serene environment. This incredible deal is only available once a year, so make sure not to miss out!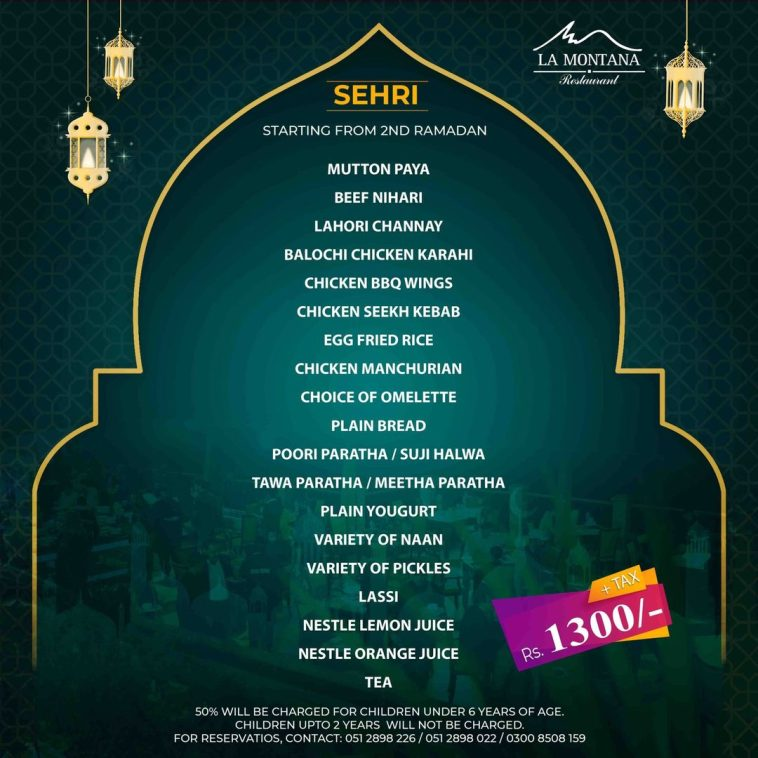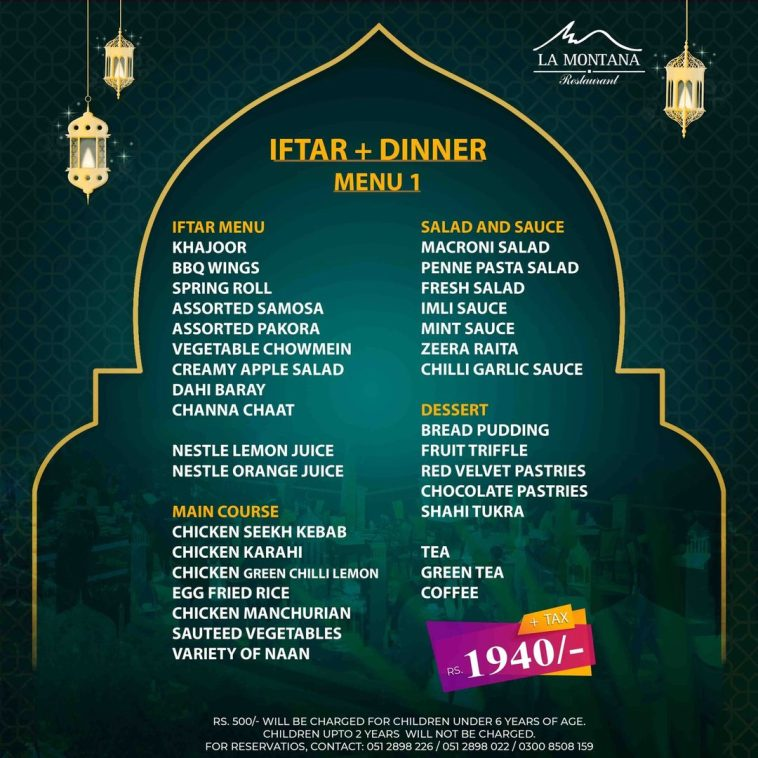 Sehri: Rs 1300/-
Iftar (Menu 1): Rs 1940/-
Iftar(Menu 2): Rs 2800/-
Contact Number: 0300-8508159
Location: Margalla Hills، 9 KMs, Pir Sohawa Road, Islamabad.
BLT Restaurant:
Looking for a scrumptious meal to enjoy during Iftar and Sehri? Look no further than BLT Restaurant Deals in Islamabad! Their Iftar buffet offers a wide array of delectable dishes at an affordable price of only Rs. 3199, with plenty of flavors to tantalize taste buds and keep customers coming back for more. Additionally, their Sehri Buffet is just as appetizing, featuring a diverse selection of dishes at a surprisingly affordable cost of only Rs. 1999, making it an offer not to be missed if you're in the area!
Sehri: Rs 1999/-
Iftar (Menu 1): Rs 3199/-
Contact Number:

(051) 2610917

Location: Gol Market, Street 8, F-7/3 F 7/3 F-7, Islamabad
Mcdonalds:
In honor of Ramadan, McDonald's has an irresistible offer for a deeply satisfying meal. For only Rs.1695, you can enjoy 1 Chicken Mac, 1 Spicy McCrispy, 1 McChicken, and three Medium Drinks. Whether you're gathering with family or hanging out with friends, this incredible deal caters to everyone's taste buds. The delectable tastes of the Chicken Mac and Spicy McCrispy, along with the classic McChicken and refreshing drinks, make this meal a must-try. Additionally, the low price point makes it a difficult offer to surpass. Take advantage of this outstanding Ramadan Deal today!
Iftar Till Sehri: Rs 1695/-
Contact Number:

0301 8413901

Location: Jinnah Avenue, F-9, Islamabad
Chaayé Khana:
Chaayé Khana Restaurant, renowned for its authentic Pakistani cuisine and delightful flavors, presents an exclusive opportunity to avail the best deals in Islamabad during the Ramadan season. Their exceptional offer includes a hearty Iftar Platter filled with traditional delicacies from Karachi and Lahore. You can also enhance the platter by adding dishes such as Chicken Chili Dry, Beef Chili Dry, Kung Pao Chicken, or Beef Nehari for an extra burst of flavors. Moreover, they have a mouth-watering Sehri buffet, ensuring you start your day with a scrumptious meal. Join them on a culinary voyage this Ramadan and make your Iftar and Sehri experiences unforgettable!
Iftar Platter: Rs. 1695/-
Iftar Platter + Main Course: Rs. 2500/-
Contact Number: 051 8312192
Location: F-6 Super Market, Islamabad
Chikachino:
If you reside in Islamabad and crave an appetizing yet economical Iftar and Sehri deal, Chikachino Restaurant is the place for you! This eatery serves a mouth-watering array of traditional Pakistani cuisine that's perfect for breaking your fast. Their buffet for Sehri is priced at just Rs.699, while their Iftar dinner, priced at Rs.899, is sure to please any crowd. Customers can relish the scrumptious meals and feel content with their expenditure. Elevate your Ramadan experience with Chikachino's special deals that you won't want to miss!
Sehri: Rs. 699/-
Iftar: Rs. 899/-
Contact Number: 0310-8888966
Location: Plot 14, F-11 Markaz, Islamabad, Golra, Islamabad 
Kabul Restaurant:
If you're in search of scrumptious Iftar and Sehri options, Kabul Restaurant in Islamabad has the perfect deal for you. For just Rs.2249, you can enjoy an entire meal for two, comprising a variety of authentic Pakistani and Afghani culinary delights. Additionally, their menu boasts a delectable range of desserts that are not to be missed! This offer is perfect for all types of Iftar parties or family dinners, as it features an all-you-can-eat package served in a freshly decorated restaurant, with exceptional service from warm and friendly wait staff. Whether you're grabbing a quick bite or celebrating the holy month with loved ones, any Iftar or Sehri at Kabul Restaurant guarantees to be an unforgettable and mouth-watering experience!
Iftar: Rs. 2249/-
Contact Number: 0311-5485108
Location: Plot No. 17, Jinah Super Market, College Rd, next to Hill View Hotel, F-7 Markaz F 7 Markaz F-7, Islamabad.
Dilli Darwaza:
If you're on the hunt for an extensive variety of scrumptious food options during the Ramadan season, Dilli Darwaza Restaurant in Islamabad is the place to be. They are providing exceptional deals on their Sehri and Iftar Buffets, guaranteed to satiate your taste buds. Their Sehri buffet prices range from Rs.999 to Rs.1225, serving a diverse range of hot dishes, traditional desserts, and beverages. As for Iftar, Dilli Darwaza Restaurant offers an abundance of delectable dishes, including Pakistani seafood favorites, mouth-watering tikkas, and more. With their remarkable Sehri and Iftar deals, it's certainly worth indulging yourself this Ramadan season!
Iftar: Up To Rs. 1225/-
Contact Number:

(051) 2816066

Location: Plot No. 8, Street 33, F-8/1 Allahwali Market, Islamabad.
1969 Restaurant
Islamabad is a food lover's haven, and the restaurant scene has really upped its game lately! The 1969 Restaurant offers some irresistible Iftar and Sehri Buffets. Their Iftar Buffet is a tantalizing spread with scrumptious dishes from all over the world – perfect for anyone looking to break their fast in style. However, it's their Sehri Buffet that's been attracting the largest crowds, thanks to its unbeatable price of only Rs. 1569! With an abundance of mouth-watering dishes to choose from each morning, this deal is an absolute steal for those seeking delicious and cost-effective food options during Ramadan in the capital city.
Sehri: Rs. 1569/-
Contact Number:

0323 9691969

Location: Garden Ave, Shakarpairan, Islamabad.
Sehri and Iftar Deals and Buffet in Karachi for Ramadan 2023
Looking for a luxurious and memorable Ramadan experience in Islamabad? Look no further than the Islamabad Serena Hotel. Their Iftar buffet, priced at Rs. 5200+tax, offers an extensive spread of traditional Pakistani and international cuisine that's sure to delight your taste buds. And if you're an early riser, their Sehri Buffet, priced at Rs. 3000+tax, is the perfect way to start your day during the holy month. With a beautiful ambiance and exceptional service, the Serena Hotel is the ideal destination to break your fast and celebrate the spirit of Ramadan with your loved ones.
Sehri: Rs. 3000/-
Iftar: Rs. 5200/-
Contact Number:

051-111133133

Location: Khayaban-e-Suhrwardy Rd, opposite Convention Centre, G-5/1 G-5, Islamabad.
Monal Downtown:
For a dining experience that combines great food with exceptional ambiance, look no further than Monal. This establishment offers a variety of cuisine options, including desi, continental, and more, making it the perfect spot for families with picky eaters. So if you're looking for a memorable Sehri experience where everyone can find something they love, make sure to visit Monal.

Sehri: Rs. 1295/-
Contact Number:

0323-1961695

Location: 501,5th floor, Food Court, Centaurus Shopping Mall, Islamabad.