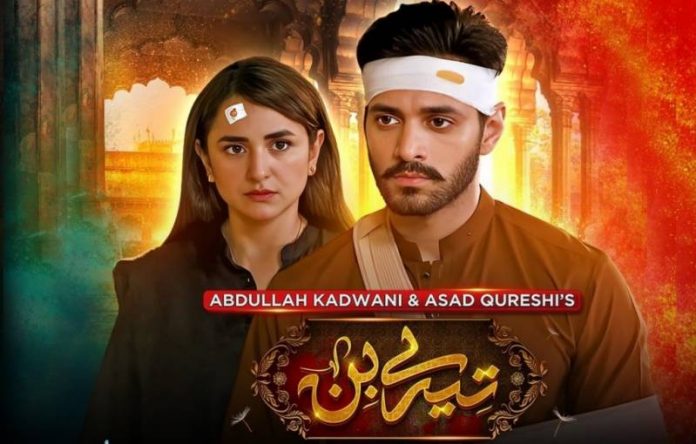 You might have heard of a very popular romantic Pakistani TV drama called "Tere Bin" that first aired on Geo TV in December 2022. Ever since it came out, the show has received a lot of positive attention from critics because of its very engaging storyline and excellent writing. The main actors and actresses in the show have also been highly praised for their performances by many people.
If you are also interested in watching the drama serial and want to know where you can watch the serial or you want to know more about the serial e.g the show timings, cast, and OST, then keep reading because here, we have mentioned everything you need to know about drama 'Tere Bin.'
Tere Bin Cast:
First, let's talk about the super-talented cast of the drama serial. The drama has a huge variety of amazing actors. Everyones favorite Yumna Zaidi (Meerab) and Wahaj Ali (Murtasim) are the main characters of the drama serial. The drama serial cast also has many other famous names including Sabeena Farooq, Hira Soomro, Bushra Ansari, Fazila Qazi, Farhan Ali Agha, Agha Mustafa, Sohail Sameer, Seemi Pasha, and Mahmood Aslam.
The drama is Directed by Siraj Ul Haq, and produced by Abdullah Kadwani & Asad Qureshi under the banner of 7th Sky Entertainment.
Ramadan 2023: List of Pakistani Dramas Airing This Holy Month
Tere Bin Story:
Tere Bin's plot centers on Meerab (portrayed by Yumna Zaidi), a brave and gifted young woman, and Murtasim (played by Wahaj Ali), a wealthy, conceited, and attractive young man who couldn't be more different from her. Despite their contrasting personalities, Murtasim is drawn to Meerab's courage and self-assurance, and develops feelings for her, though she remains unresponsive. Prepare to be captivated by the various plot twists and surprises that await you in this gripping narrative.
Drama Timing, Where To Watch?
You can watch Tere Bin Episode Every Wednesday and Thursday at 8:00 PM only on Har Pal Geo TV and their Official YouTube Channel.