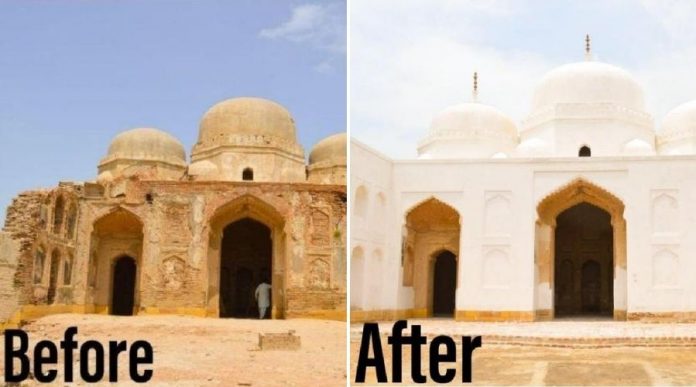 Sindh Government last week announced that it had restored the much famed historical sight, Hingorani Maariyon, but deleted the tweet just after a few hours as the new pictures of the restored site was criticized by the masses on social media.
The provincial Ministry of Culture & Tourism posted on Twitter, shared the before and after pictures.
People are criticizing the fact that the original sight that though decimated, still had the look of the intricate work done centuries ago and the Sindh Government literally painted over the architectural gem and constructed the walls that had some damage. People are sad to see such a historic gem being destroyed by using cheap material and changing the structure in the name of "Restoration".
Here are some of the tweets that show people upset over the development:
Change your name to choona, jahaalat, zalalat and incompetence. https://t.co/IWe1zswjMa

— PNA (@Scheherzadeh) August 12, 2020
Choona is so sot on! They have completely ruined it. Reminds of similar choona work done at kataas temples

— Ammara (@ammaralatif) August 12, 2020
Exactly and in Sialkot the oldest temple and in Bhera a quaint old mosque it's all white choona!
The least one expects is thatin a department like this they would have people who KNOW what preservation and restoration of heritage sites means!!!!!

— PNA (@Scheherzadeh) August 12, 2020
Yaaaar 😭 they've completely ruined it. And see, how shamelessly they're publicizing it with before/after comparison.

— Aqsa Shahzadi (@aqshahzadi) August 12, 2020
What I don't understand os that if we as 'laymen' can see that this is not restoration and preservation how can people manning these departments not know it!!!!

— PNA (@Scheherzadeh) August 12, 2020
Seems they dont know what RESTORATION means!!!! It was far better to demolish and build a new one.

— Zaheer Khan (@thezaheerkhan) August 12, 2020
Not knowing the long and tiresome, not to mention an expert task of restoration, people in government have managed to destroy historical sites in Pakistan.
Situated eighteen miles east of Hyderabad Sindh near the village Tando Fazal, Hingoro road Goaro, contains now a few ruined buildings and several fragments of high walls scattered all over the site which indicate that there had been a number of magnificent buildings here in the days of its splendor.
It was built in an agricultural town inhabited by the Hingorani Syeds in the 18th Century during the early years of the Kalhora rule in Sindh. The site was attacked and destroyed by an Afghan invader, Madad Ali Khan, around 1775 AD. Three of its structures, however, have survived years of neglect.
The first structure is a mosque with three entrances built on a raised platform. The second structure is a tomb with a single entrance and dome. According to a local, the tomb is of one of the local rulers and is venerated even today by locals. The third structure is also that of a mosque, the smallest of the three.