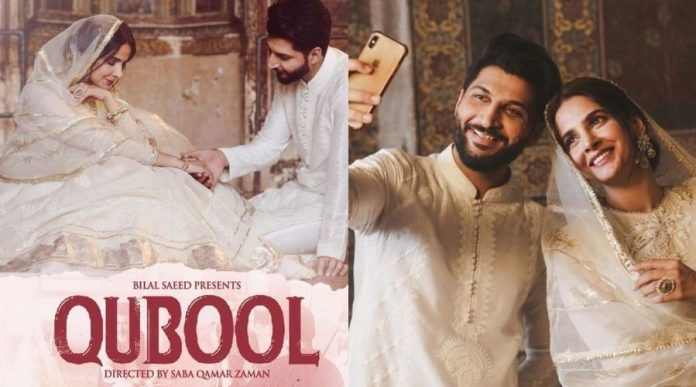 From one controversy to the other, Saba Qamar's directorial debut "Qubool Hai" had been cursed from the beginning but amidst all that, the latest song by Bilal Saeed has been released on YouTube and the fans are gushing over the beautiful melody.
The song has been Written, Composed and Produced by the award-winning singer, Bilal Saeed.
The song and video beautifully capture the pure relationship between a husband and a wife and how no one can ever break such a strong bond. And how efforts in this relationship are of utmost importance to always remain close together.
This criticism arose after the teaser of the video was launched and the singer and the actor were seen dancing or merely twirling inside the premises of the Wazir Khan mosque, which audiences have said is a highly impermissible thing to be done in such a holy place and the sentiments got hurt.
Now being sensitive to the audiences and receiving such backlash, all the scenes shot in the masjid have been promptly removed from the video and then released.
Though Saba and Bilal in the caption clarified that "this (nikkah scene) is also the only sequence that was shot at the historical Wazir Khan Mosque"
"Despite this, if we have unknowingly hurt anyone's sentiments we apologise to you all with all our heart," they added in their post.
After all the video did release with some editing and Saba Qamar's hard work can also be seen as she has done an ace job directing the video.