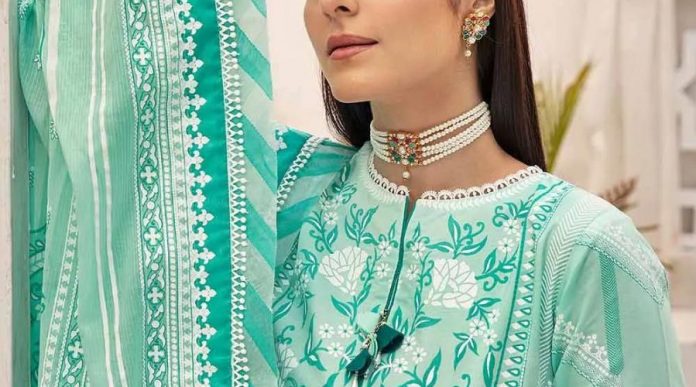 The summers are just around the corner and Pakistanis are all set to get their hands on their favorite clothing option for the season which is obviously the 'lawn.' The reason why Lawn suits are so popular among Pakistani women is that it's very airy and comfortable, and the best part about lawn suits is that they are super-trendy and they also have beautiful prints and embroidery on them.
In Pakistan, most women go for low-priced lawns, but after just a few washes, the cloth losses their color and strength, and then it turns nothing but rags. This is why we recommend you always go for top-quality brands. By doing so, you will always get premium quality lawn vibrant lawn, and string coloring that doesn't fade away.
There are hundreds of brands that offer the best quality lawn in Pakistan, but here, we will list the top 10 lawn brands where you can find the best-suited lawn for yourself and your loved ones.
1. Sapphire
Sapphire is one of the most popular and trendy lawn brands in Pakistan. Sapphire is best known for their refreshing color schemes and for always providing their customers with unseen design patterns and embroidery. Their cloth is lightweight but the quality is always top-notch. From unstitched lawns to ready-to-wear dresses, formal and casual wear to menswear to kids' wear to shoes and bags, you just name it sapphire has it all. For all these reasons, Sapphire has become the most loved and popular brand in Pakistan.
2. Khaadi 
Khaadi is another popular lawn brand in Pakistan. Khaadi is most famous for providing beautiful and top-quality lawns at very affordable prices. The brand offers a wide range of clothing options including homecare products, simple nail arts, and other accessories, kid's wear as well as menswear. Khaadi has been in the market since 1998 and has stepped its foot not just across Pakistan but in the USA, UK, UAE, and Canadian markets as well.
3. Sana Safinaz 
Sana Safinaz launched its first store in Pakistan in 1989 and they have been unstoppable ever since. They have been delivering comfortable and luxurious outfits with the most subtle and soft color palettes ever for everyone. Sana Safinaz offers a wide range of clothing solutions to women of all ages and sizes, they deal with Unstitched, Ready-To-Wear Lawn suits, Accessories as well as Footwear. We bet once you visit them you will not be disappointed at all.
4. Gul Ahmed
Next up is everyone's favorite, the Gul Ahmed Lawn. The brand is among the biggest names in the clothing industry for providing almost every kind of clothing option available to its customers. Their lawn is made from the best material and has a large variety of unique designs, color palettes, patterns, and embroidery. The brand always surprises its customers with its new collections and is never short of unique design ideas. They offer Stitched as well as Unstitched lawn, Kidswear, Menswear, Bedding, Decor, Ready-to-wear Pret / Casual / Formal, Festive Lawn, Printed Lawn, Embroidered Lawn and as well as Festive Lawn.
5. Al Karam 
Al Karam is another trusted lawn brand available in multiple cities in Pakistan and as well as in the UAE. Al Karam offers the most eye-catching color hues and patterns on their premium quality lawn which is very lightweight and easy to breathe. The brand also often ensures its customers that their lawn colors will not fade away even after multiple washes.