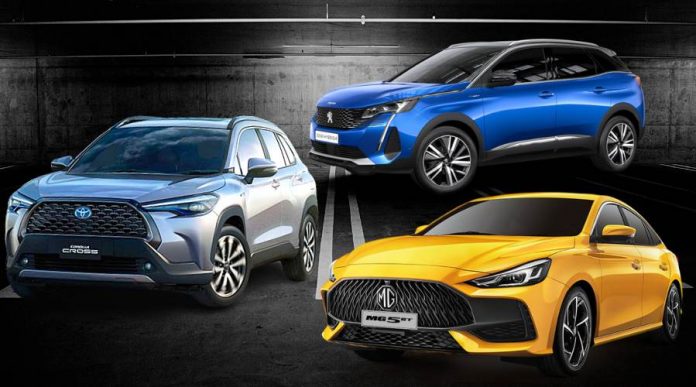 2022 has been the best year for the Pakistani car industry since many new car-makers have started operating in the country offering their premium quality cars equipped with the latest technology and features. However, this year, many big car-makers have started closing car production and bookings due to a major economic crisis in the country, and despite the crisis, many new cars are expected to launch in Pakistan. So, let's take a look at some of the most anticipated cars to launch in Pakistan in 2023:
Toyota Corolla Cross:
The most expected launch of this year is probably the Indus Motor Company's locally assembled Hybrid vehicle, 'Corolla Cross.' According to reports, the company has already completed the main mechanical and structural developments, and now it's currently in the finishing phase of the vehicle. The Toyota Corolla Cross Hybrid is a very stylish and sporty-looking SUV, sometimes it also resembles the Hyundai Tucson.  The company hinted to launch the car in 2023 in the financial briefings last year, however, any specific date has not been revealed yet.
Peugeot 3008:
After the Peugeot 2008, Pakistanis were mostly demanding the new Peugeot 5008, however, according to reports, The Peugeot 3008 is more likely to launch in Pakistan this year. The Peugeot 3008 is equipped with an all-new design compared to 2008, a new grille at the front, gloss black side scoops and a painted lower bumper have added more beauty to the car. The Peugeot 3008 will be a direct competition with major Pakistani SUV's including the KIA Sportage, Hyundai Tucson, MG HS, Haval H6, etc.
Haval Jolion
Sazgar Engineering Works Limited's Haval Jolion is the next most expected locally assembled car to get launched in Pakistan in 2023. The Haval will most likely have a 1.5T Front Wheel Drive, 2.0T All Wheel Drive, and an HEV variant and will be a direct competition to  KIA Sportage, Proton X70, Hyundai Tucson, and other major SUVs in Pakistan.
MG GT And HS 2.0T AWD
The CEO of MG Pakistan, Mr.Javed Afridi has been under fire for constantly teasing the public with new MG cars like MG3, MG5, etc. Unfortunately, there has been no such notable development yet. However, a Few weeks back, MG Pakistan introduced the locally assembled HS 1.5T in Pakistan. Also, The MG-GT is also very likely to launch in the country this year, the car offers a very fresh sleek design and a fighter jet-inspired cabin.
Moreover, JS 2.0T, AWD, ZST, a seven-seater SUV, and a pickup truck is also expected to launch soon.
Proton X50:
Proton has gained mass popularity among people for its Saga as it is one of the most economical sedans in the country. Now, Proton is also trying to compete with the big car-makers in Pakistan with its own SUV, the X50. The Proton's X50 will be Proton's first-ever B-segment SUV. The SUV has a two-turbocharged 1.5 liters engine, with a 7-speed dual-clutch (DCT) automatic transmission. The Proton X50 will be competing with Honda HR-V and Toyota Corolla Cross.
Changan CS35 Plus and Oshan X5
Master Changan Motors Limited (MCML) has already gained mass popularity in the Pakistani market with its subcompact sedan, Changan Alsvin, and SUV Oshan X7.
Now, the company is planning to launch more SUVs in its lineup in Pakistan this year and steal the show with its new Changan CS35 Plus and Oshan X5. The Changan CS 35 has a1.6 L aluminum engine with dual variable valve timing (DVTT). The company also launched a short teaser, however, no specific dates have been released. It is expected that the cars will launch at the end of 2023.
DFSK Seres S3 (EV):
DFSK is all set to launch its Electric vehicle  Lineup in Pakistan as the company recently announced the Seres S3, which is an all-electric subcompact SUV, whose design is very much similar to its Glory 500. The DFSK Seres S3 is equipped with a very cool and modern design and has many latest features including 6 airbags, a digital cockpit with a 10.25-inch multimedia system, wireless charging, uphill, and downhill assistance, and also has three different driving modes Comfort, Eco and Sport.