A lot of buzz has been doing the rounds since the time Bigg Boss contestants have been announced. One of the celebrity contestants is Vj Bani who will be fighting the battle for survival in the Bigg Boss Season 10.
It isn't easy for female celebrities to climb the ladder of glamour and fame. Bani J,  being a Baddass woman have made it to the top through a lot of hard work and determination. Here are 10 lesser-known facts about Bani J:
Her actual name is Gurbani Judge
Bani who's original name is Gurbani Judge, originally belongs from Chandigarh where she did her schooling and went to a prestigious college at Allahabad.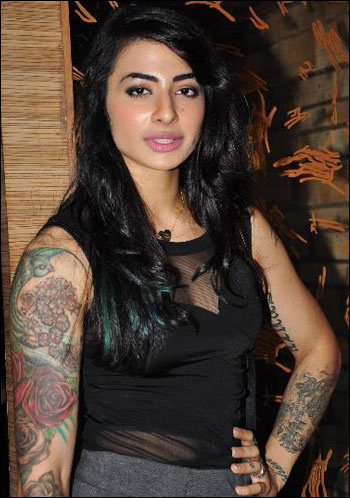 She is a Multi-talented Girl
Not everyone can be Like Bani, she is one hell of a multi-talented girl.  She started her career as a Video Jocker, later went into Modeling, started her career in acting, and also hosted TV shows.
She is a Fitness Freak
Yes, fitness is like a religion to her. Her perfect body figure and her muscles tell us the love she has for fitness that she can't live without it.
She has hosted MTV Roadies 4 times! 
Bani J rose to fame through MTV's famous show Roadies (Season 4, 2006) where she was a runner-up.  She was chosen to host the same not only once, twice but Four times. She was a host for Season 6,7,9 and 10.
She Loves Tattoos
We all see celebrities getting tattoos done but for Vj Bani, Tattoos are her second love; first being Fitness. She has 2 tattoos done on both of her arms and MY GOD she has the guts to bear that pain to get those tattoos done!
Acting Career
She was part of Himesh Reshamiya's Film 'Aap ka Suroor' in 2007 and also made her fiction debut in a period drama 'Rani Mahal'
She is an Adventurer
When it comes to travelling and adventures, Bani knows no limits. From bungee jumping, sky diving to spending an evening at the skyline apartment. Bani's Instagram is filled with her adventure stories and how she loves traveling to different places to explore and learn.
Books are her travel companion
Books? Yes, the tougher the Bani looks like, she has a typical girl side too who loves reading. She enjoys reading books and consider books as her travel companion.
Weight Lifting is her passion!
The flamboyant girl has surely made herself stand out from the crowd with her weight lifting pictures. Bashing out all the critics, she has proved that women can also be the weight lifters.
https://www.instagram.com/p/BED_qL9AMD7/
Gauhar Khan is her Best friend
It was Gauhar Khan on who's advice Bani decided to be a contestant on Bigg Boss season 10. Both the ladies have been giving us some major friendship goals from gymming together to traveling together.
https://www.instagram.com/p/_xH2gTAMC1/
https://www.instagram.com/p/BJdGIe1B5yn/
https://www.instagram.com/p/BBueAd1AMGM/