The world agrees that Deepika Padukone – the ruling queen of Bollywood has a style sense that is par with international celebrities. The leggy lass is stealing the hearts all over the world. But unfortunately, when it comes to copying Hollywood, we all know, no one can beat Bollywood in that.
Keeping this legacy alive, Bollywood queen, Deepika Padukone has copied many dresses from Hollywood's mainstream actresses and singers. As said, to cheat one needs to have brains, who would know better than Deepika?
Scroll down to see 10 pictures that prove Deepika is surely a copycat when it comes to fashion.
The first dress in the row is a dress from Bebe that was worn by Malese Jow for Twilight Saga Breaking Dawn's Premiere in the Los Angeles. With the one shoulder black lace dress, Deepika was spotted at Chivas Studio spotlight event.
2. Easy Deeps! This one looks exactly the SAME. The D&G outfit worn by Ashley Benson in Hollywood was making its way to Hollywood with Deepika wearing the same dress at the Vogue Beauty awards in 2012. Though Deepika looks ravishing in this dress but remembers a COPIED dress.
3. Wearing the Green netted dress at 19th Annual screen award, the stunning Deepika stole hearts of many but who knew this dress was AGAIN steeled from Kylie Minogue, Australian Singer. Seems like Deepika has stocked her entire wardrobe with steeled dresses.

4. BLACK or GOLDEN? Deepika must have thought to go with the same color but this time, the dress is same but with a different color. Worn Initially by Lady Victoria Hervey at the Golden Globes Award, Deepika who is habitual of imitating wore the same dress at 59th Filmfare awards in 2014.
5. Seems like Kylie Minogue is her inspiration for carrying out fashion with such elegance. This is the second time that Deepika has copied the dress from the Australian Singer. Wearing this stunning orange gown at an event for people's magazine, Dips look stunning as always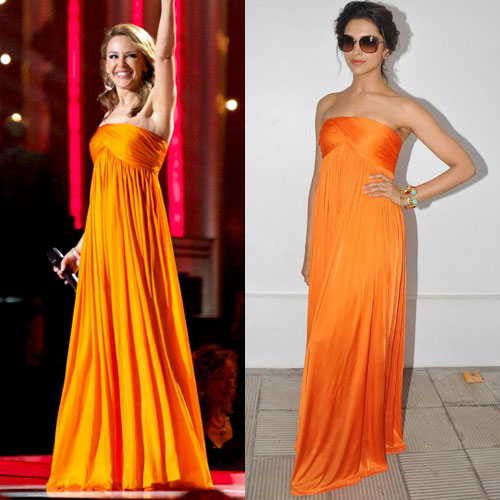 6. The shimmery long gown worn by Jennifer Lopez at red Carpet for Academy Awards 2012 became quite famous as who wore what at Academy Awards 2012. This made Deepika replicate the gown that she flaunted at Zee Cine Awards. I must say Dips and her fashion sense, the bond that is growing stronger by cheating.
7. Designed by the famous Gaurav Gupta of Bollywood, Deepika looked absolutely gorgeous with this Red Gown at an Award event. YES! You are thinking it right; this dress was another great effort of copying from Julie Marie who wore the same gown during 40th Emmy awards.
8. Copying a dress from Shakira is surely an art which Deepika has learned by now but with her sheer beauty she steals hearts of many and pulls off every dress SO WELL. Shakira who wore this hot dress for her CRTFY music video has made Deepika make her fashion sense similar to Hollywood. Deepika was seen wearing this Julian Macdonald dress for her Vogue photo shoot.
9. Clap your hands for Deepika who has, by now become an expert in copying dresses from Hollywood. Designed by Alexander McQueen, the dress was initially worn by Kate Hudson at Golden Globes Award. The Piku Actress was spotted wearing the dress at 20th Annual Life OK screen awards in 2014.

10. Black is the color for Deepika who looked gorgeous with this Prabal Gurung Dress that she wore at Filmfare awards. WAIT! Did she? Absolutely Yes! She copied the dress that was worn by Zoe Saldana at CFDA Awards 2013. Nevertheless, Our Hollywood queen knows how to don dresses and steal hearts of her fans.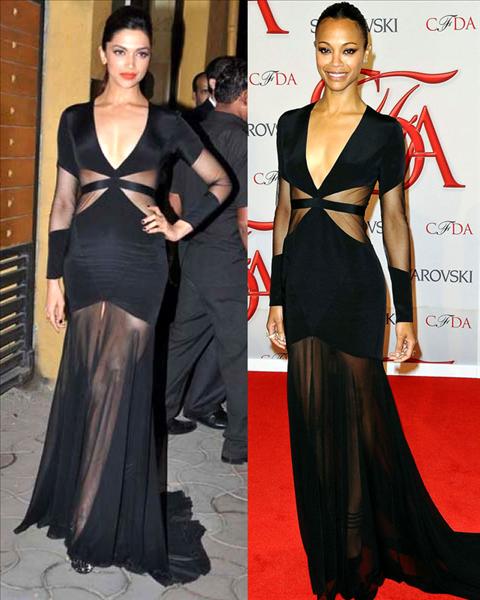 Well, Deepika's style inspirations aren't just limited to Hollywood actresses; she has been spotted wearing the same outfits as her counterparts many times too! Stay tuned to see which Bollywood actresses has she copied.