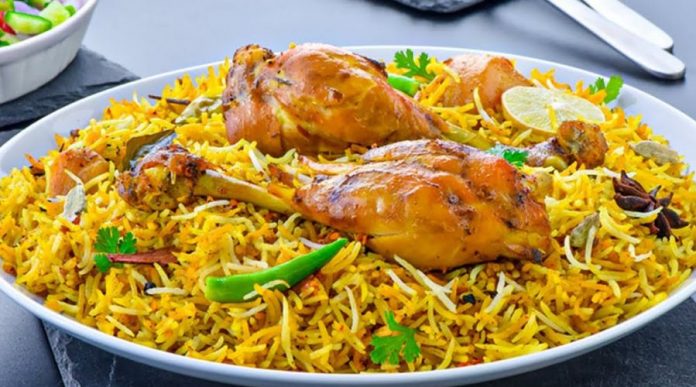 Whenever we talk about Lahore and its delicious food, one dish that immediately comes to mind is Biryani. It's a match made in heaven, as Lahoris can't seem to get enough of this beloved dish. Whether it's the classic version with potatoes or the one without, the people of Punjab just can't resist the aroma and taste of a good biryani. But there's one dish that has biryani lovers in Lahore feeling left out – the Karachi biryani. We all know Karachi is the hub of true and authentic biryani, and it can be tough for folks in Lahore to experience the same authentic taste. But, don't worry, we've listed one of the best Biryani spots in Lahore to satisfy your cravings.
Student Biryani Lahore
Student Biryani is a very famous restaurant in Pakistan known for having the best-tasting biryani. It's not just for students, but also great for families to visit. They have many other delicious Pakistani dishes to try, like seekh kabab, finger fish, BBQ, and continental foods. It's located on Fortress Stadium Road in Lahore.
Karachi Biryani Lahore:
If you are someone who is looking for delicious, aromatic, flavorful and authentic Sindhi Style Biryani in Lahore, then you should definitely try Karachi Biryani located at Commercial Area Garden Town, 22 Civic Centre, Barkat Market, Lahore. They offer the best Sindhi taste with rich flavors that will make you want more. What's even better is that their prices are super affordable, so it won't hurt your wallet. You can choose to dine in, take away, or get it delivered to your doorstep. Their specialty is chicken biryani, and they also offer special combos.
Waqas Biryani:
Waqas Biryani House is located near Panorama Center, but it may not be the best place to sit and eat because the building is not in great condition, and it's usually crowded. However, the people at Waqas Biryani really know how to cook biryani well. Their biryani has a strong and delicious aroma and a rich and tasty flavor. That's why they have the title of Lahore's Best Biryani.
Biryani Express:
Biryani Express is a restaurant that serves various types of biryani, including chicken, mutton, beef, and Royal Sindhi Biryani. It's located in Johar Town, and has a great atmosphere for families to enjoy while having delicious biryani.
Biryani Express is known for having the best biryani in Lahore, and it's affordable and easy to access. You can choose to dine in, take away, or get it delivered to your doorstep. They are located at Block E Phase 1, Johar Town, 369 E Allah Hoo Chowk, Lahore.
Dogar Restaurant: 
Dogar Restaurant has over 10 outlets across Lahore and serves the best biryani in town. You can dine in, take it away or have it delivered to your door.
While many people in Lahore go to high-end and expensive restaurants, Dogar Restaurant offers an affordable and interestingly amazing selection of biryanis with no compromise on taste. They offer unique flavors of biryani, from plain to spicy chicken biryani, with options of full and half plates.
No matter what you choose, you'll be amazed by the flavorful and spicy taste that will make you want more. You can find them at Sector H DHA Phase I, Street 141 in Lahore.