Did you know that Shawarma originally came from the Middle East and was first created in the Ottoman Empire? This delicious street food filled with spicy sauces, fresh veggies, and mouthwatering tender chicken quickly became known as the king of street food, and why shouldn't it be? it's very simple to cook, and tastes so yummy!
This Arabian dish has now also reached Pakistan and almost everyone just loves them. Whether they're shopping, having a party, or just enjoying a regular day, they can't resist the sizzling flavors of these Shawarmas.
So, If you are also a Shawarma lover, we've compiled a list of the top five places in Lahore where you can get perfect Shawarma.
Cock n Bull:
If you're a true Shawarma lover and finding an authentic Shawarma place, you definitely need to check out Cock n Bull restaurant. Their shawarmas are surprisingly massive, enough to satisfy your cravings and also taste amazing, and the best part is they only cost Rs. 300, which is, to be honest quite affordable. Plus, the atmosphere is always soothing and enjoyable.
They also offer soups, burgers, sandwiches, steaks, and Chinese food and are considered one of the best fast food places in the city.
There are five different Cock N Bull locations in Lahore, so you can easily find one near you.
Here are the locations:
Sector C Bahria Town, Lahore – Pakistan
Fortress Stadium, Lahore – Pakistan
Gunj Bazar, Mughalpura, Lahore
Ahad Arcade Main, Noor Jehan Road, Lahore – Pakistan
Shahrah Aiwan-e-Sanat-o-Tijarat, Lahore
You can also give them a call at 042 35290491 and easily place your order.
Kim's Snack Bar:
Kim's Snack Bar is another amazing place to find the best shawarma in Lahore. It's a hidden gem in Samanabad Town, you may find the place not as fancy as other restaurants, but, they make really delicious shawarma. They also offer their signature hot white chutney which makes the experience even better. In addition to shawarmas, they also make the best burgers and pizzas in town. You can place your orders by calling them at 0313 4928283.
Captain Cook's: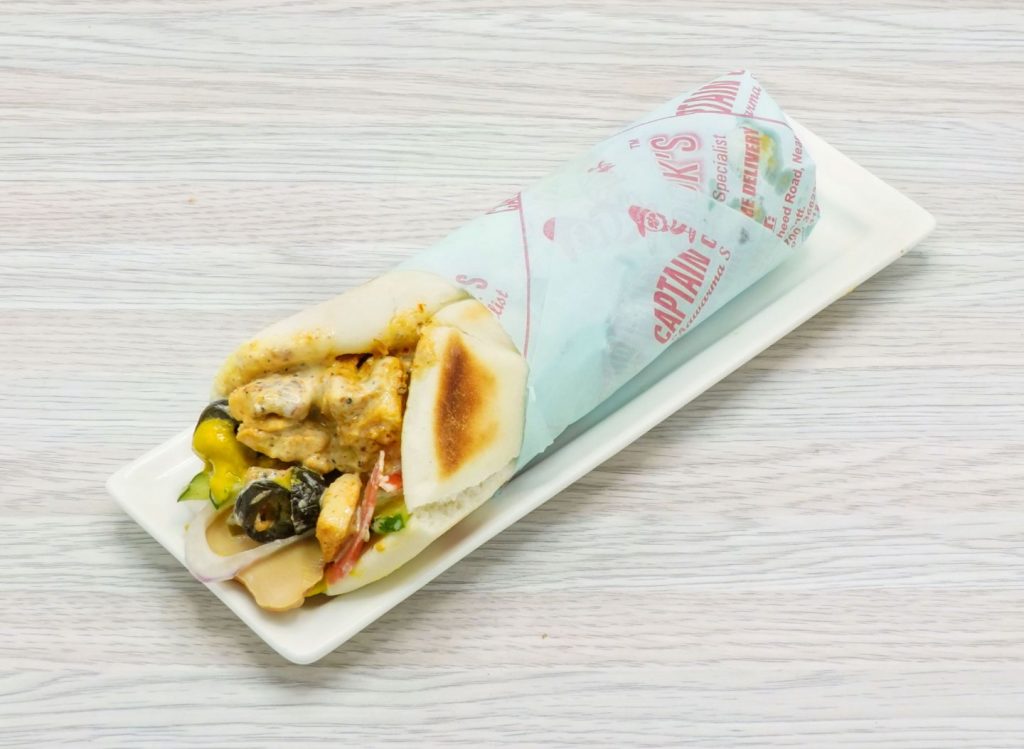 If you live in Lahore, you probably would have the legendary Shawarma place called Captain Cook! Their shawarma tastes so good, it will make you want to come back for more. Their Shawarma is filled with juicy chicken, crunchy cucumbers and carrots, and delicious mayo. People from all over the city can't get enough of them. Their single-serving chicken shawarma will cost you just Rs. 300, while their Captain Special shawarma costs Rs. 380, so it's also very affordable.
They also make one of the best sandwiches, pizza, parathas, and burgers. Trust us, you won't regret trying their food. They have two branches in Lahore, one in Officers Colony and another in Nishtar Town. You can place your orders by calling them at 0321 9800318.
Arabic Shawarma:
This place is hands down, the best restaurant in Lahore, and we're pretty sure most people will agree with us! The restaurant looks nice and the food is of great quality and comes in large portions, Especially their Shawarma – they add special spices that give them a unique Arabian flavor and aroma. The best part is that they offer their chicken shawarma platter for just Rs. 315, isn't that amazing! And now, you can enjoy their delicious food from the comfort of your own home because they offer delivery, You can place your orders by calling them at 0313 4526303. If you want to visit them, they are located at Defence, near Masjid Chowk, Sector G Dha Phase 1.
Max Shawarma:
Are you still searching for the perfect Shawarma in Lahore, well your search is over. Max Shawarma serves the most authentic and delicious Arabian shawarmas that are sure to satisfy your cravings. The restaurant has a spacious and welcoming interior where you can enjoy the food with your family and friends. Trust us, once you've tried their shawarmas, you'll keep coming back for more! It's also one of the biggest shawarma stands in the city and it's located at Jasmine Block Sector C Bahria Town, Lahore. You can contact them at 0323 4040730.