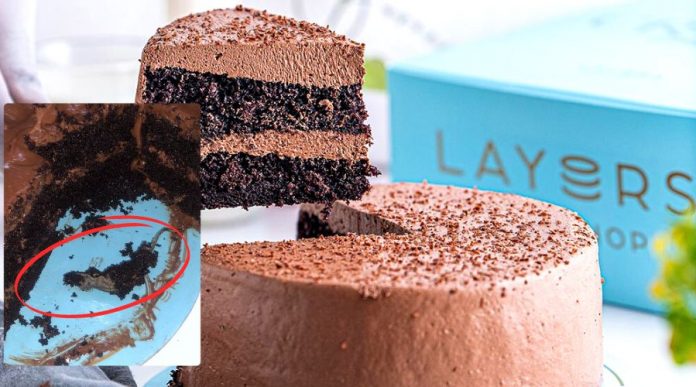 In an unusual and alarming occurrence, a dead lizard was found within a cake purchased from Layres Bakeshop in Faisalabad. This incident has sparked considerable apprehension and has given rise to inquiries regarding the bakery's adherence to food safety standards.
The shocking incident unfolded when a customer procured a pre-packaged cake from Layers Bakeshop in Faisalabad and, to their utter disbelief, stumbled upon a horrifying discovery while cutting into it.
Without hesitation, the customer promptly reached out to the bakery to report this distressing occurrence. Soon after, photographs and videos showcasing the cake housing the trapped lizard started circulating across various social media platforms, igniting widespread fury and calls for a thorough investigation into the bakery's hygiene protocols.
A Lizard 🦎 was found in #Layersbakeshop cake. As per information incident happened in #layersbake Faisalabad. @PFAHQOfficial please let us know about the action taken against the bakery.#QuitPTIMovement #FawadChaudhry #LayersBakeShop #Layersbakepakistan #lahore #Karachi pic.twitter.com/SArN3xTDLr

— Bilal Nadeem (@MBilalkhan525) June 17, 2023
Numerous netizens voiced their repugnance and called for swift action from authorities against those deemed accountable. However, amidst the revulsion caused by the incident, some individuals resorted to a lighter approach, employing humor to create memes that captured the bizarre nature of the occurrence.
– Bought a cake from Layers and found my EX died in there ! pic.twitter.com/81OxVxtQFt

— 🚩 (@doctorsb_parhoo) June 17, 2023
Chinese folks after finding out the lizard in the cake: pic.twitter.com/Jot1b2cw2j

— K. (@RotiKholDeyo) June 17, 2023
That poor chipkali in the layers* pic.twitter.com/vZEBbMx4Ay

— Ayesha Afzal (@Aa_yes_haa) June 17, 2023
Me peacefully celebrating my birthday*
Le Lizard in the corner of the layers cake: pic.twitter.com/jP3t3Mncbk

— Jedi, you look lonely. (@HassanRonaNhi) June 17, 2023
Lizard after having too much cake. https://t.co/ZARyERYqPZ pic.twitter.com/3NuEIa6Sp8

— Aa (@mohtarmaJane) June 17, 2023
The revelation of the lizard found within the cake has sparked discussions on social media regarding the imperative for enhanced regulatory supervision and more stringent enforcement of food safety standards in Pakistan. Numerous users have conveyed their apprehensions regarding the incident and have advocated for more robust measures to safeguard consumers from similar occurrences in the days ahead.