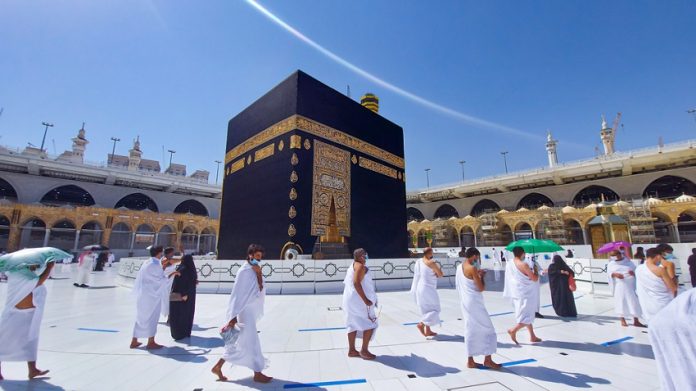 Hajj is one of the Five Pillars of Islam, it's an annual Islamic pilgrimage to the Holy city of Makkah, Saudi Arabia which takes place each year between the 8th and 12th of Dhul Hijjah and Every Muslim is expected to perform Hajj at least once during their lifetime if they can afford to do so. Today we will show you how you can get Registration of Hajj 2023 in Pakistan.
The Minister for Religious Affairs and Interfaith Harmony in Pakistan has recently announced that pilgrims who are planning to go on Hajj this year can submit their Hajj 2023 applications from March 16 through March 31, 2023.
For this purpose, The Pakistan government has designated 14 banks, where you can easily submit your Hajj 2023 application.
In the first week of April, the names of the selected pilgrims for this year's Hajj shall be disclosed. For individuals whose names do not appear on the list, banks may be capable of issuing a refund within one week of the declaration.
The authority will reserve only 0.5% of the official Hajj quota for individuals on the waiting list for Hajj pilgrims. To be eligible, applicants must possess National Identity Cards and Pakistani Machine-Readable Passports that are valid through December 26, 2023.
For the Government Hajj Scheme 2023, applications will be accepted exclusively through designated banks. Interested applicants are required to submit their applications to the selected banks, along with a deposit of PKR 50,000.
Sehri and Iftar Deals and Buffet in Karachi for Ramadan 2023
List of Banks Where You Can Get Your Hajj 2023 Application Forms:
Here, we have mentioned the list of the banks which are authorized to provide application forms to Hajj pilgrims:
Habib Bank Ltd
United Bank Ltd
National bank of Pakistan
Zarai Taraqiati Bank Ltd
Muslim commercial bank Ltd
First Women bank
Bank of Punjab
Allied bank
Faysal bank
Habib metropolitan bank
Bank AL-Falah
Sindh bank
JS bank Ltd
How To Apply For Hajj 2023?
To apply for the Government Hajj Scheme in Pakistan for Hajj 2023, kindly follow the guidelines below:
Step 1: Fill out the application form and submit it by the specified deadline.
Step 2: Provide your previous passport number, which is machine-readable, or the new receipt provided for a new passport on the application form.
Step 3: Choose the blue, green, or white category when filling out the application form.
Step 4: Include your health certificate with the application form.
Step 5: Submit the application form to the assigned banks.
Ramadan Calander 2023 Sehri & Iftar Timing in Pakistan: Everything You Need to Know
Furthermore, It is worth mentioning that according to recent reports, the Ministry of Religious Affairs and Interfaith Harmony has raised the special allocation for Dollar-paying pilgrims in the Government Hajj Scheme 2023 to 50 percent due to the severe shortage of US dollars and the economic downturn.
This quota is designated for pilgrims who will be making payments in US dollars. The shortage of US dollars has led to banks declining to issue fresh letters of credit (LCs) to importers, exacerbating the challenges faced by an economy already grappling with soaring inflation.
For the Important updates and Information regarding the Government Scheme Hajj Applicants for Hajj 2023:
MINISTRY OF RELIGIOUS AFFAIRS, GOVT OF PAKISTAN
http://www.hajjinfo.org/default.aspx?pageid=govt
Meezan Bank
https://www.meezanbank.com/govt-hajj-2023
Bank AL Habib
https://www.bankalhabib.com/posts/hajj-applications-2023
Askari Bank
https://askaribank.com/hajj-campaign-2023/
Bank Alfalah
https://www.bankalfalah.com/islamic-banking/government-of-pakistan-hajj-scheme-2023
Bank AL Habib Islamic
https://islamic.bankalhabib.com/posts/hajj-applications-2023
Habib Metro
https://www.habibmetro.com/information-center/hajj-2023/
UBL
https://www.ubldigital.com/Submit-your-Hajj-Application-with-UBL
Allied Bank
https://www.facebook.com/alliedbankpk/photos/a.276368479136210/5103307739775569/
Faisal Bank
https://www.faysalbank.com/en/islamic/hajj-2023/