Pretty smile, tall frame and the abs-to-kill-for – who doesn't like the Chikni Chameli of Bollywood, Katrina Kaif! But was this leggy lass always so poise and suave? Keep scrolling to find out as we show you some unknown and rare pictures of Katrina Kaif! The 33-year-old diva was born in Hong Kong on 16 July 1983.
The Stunning Diva, whose real name is Katrina Turquotte, is a Britisher. Katrina's father, Mohammad Kaif is a British businessman of Indian Kashmiri origin, while her mother, Susanna Turquotte is an English Lawyer and a charity worker.
Katrina Kaif is part of a large family that consists of seven siblings; six of whom are sisters and a single brother. Three elder sisters are Stephanie, Christine and Natasha, three younger sisters Melissa, Sonia, Isabel and an elder brother, Michael.
Isabel Kaif is also a model and there have been rumors regarding her interest in films. The siblings look to be very close and love spending time with each other. Katrina loves to spend time with her sisters and mother in England. Katrina is also actively involved in helping her mother with her charity work.
Kaif's parents divorced when she was a child, and her father moved to the United States. She said her father had no influence on her or her siblings while they were growing up, and they were raised by their mother.
Her mother decided to dedicate her life to social causes, which led to the family's relocation to a number of countries for varying lengths of time:
From Hong Kong where she was born to China, then to Japan, and from Japan to France. After France, Switzerland then Poland in Krakow, After that they went to Belgium, then to Hawaii, which was a short time, and then came to London, there she lived for only three years before moving to India.
Let's take a look at Katrina's family pictures:
A rare Katrina Kaif's family photo
Katrina shares great bond with her all sisters and brother
Katrina loves to spend quality time with her sisters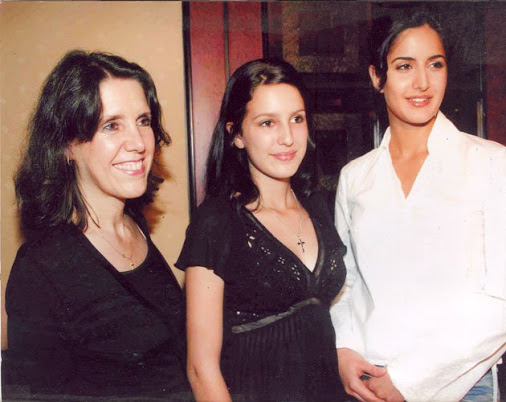 Katrina accompanying her sisters at friend's wedding

Kat spends Christmas with her family in London
Katrina is very to her mother, often seen with her.
Her younger sister Isabela kaif wants to be like her gorgeous sister Katrina kaif.
Check out some adorable pictures of Katrina Kaif as a toddler!
Update: Katrina's Unseen & Rare Pictures & Videos from her Early Days in Bollywood: