After being fired from Dunya TV's mega hit show "Mazaqraat", Mohsin Abbas Haider is set to make a comeback to television in a drama alongside the rising star Nazish Jahangir.
He shared the news on his Instagram story yesterday with a picture from the set of the upcoming show.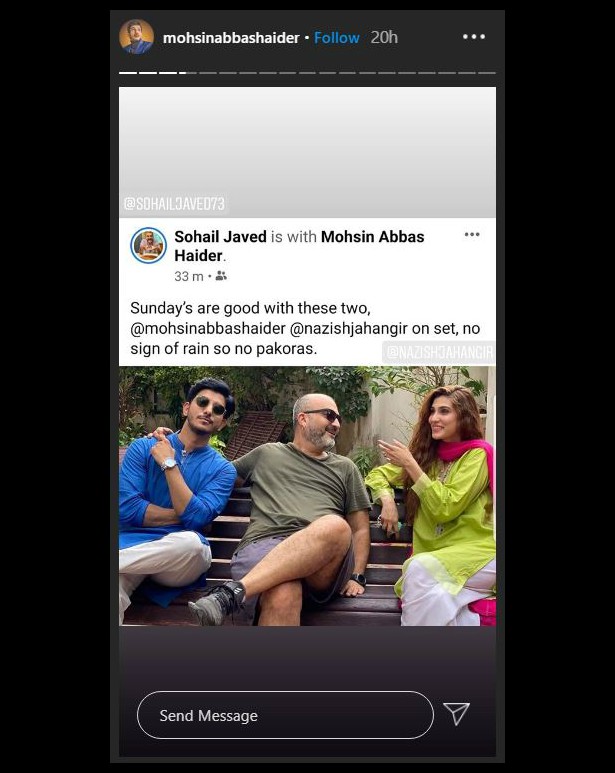 The picture reveals Sohail Javaid to be the director of the serial. The serial is produced by Adnan Siddiqui and is titled "Ghamandi".
"We can't reveal much about it right now but the teaser is going to be out soon. It is a family drama starring Mohsin and Nazish, so we're all pretty excited," Javed told The Express Tribune.
Adnan Siddiqui also addressed the fact that why he had cast Mohsin Abbas Haider after the major controversy that the actor had been involved in.
"First of all, I don't think what Mohsin did should've been in the papers," reserved the MOM actor. "That's a debate I don't want to get into but I feel that people just enjoy the gossip and take pleasure from other people's miseries. Nobody wants to help anyone," he expressed.
Hypothetically speaking, if you do not give a chance to someone who deserves it – just because of their personal affairs – aren't you making them a patient of repression?"
"You've punished him enough! He also lost his show. But we are no one to stop anyone from earning. When we are not the providers of livelihood why should we be the ones taking it away?" Adnan questioned.
The famed actor believes that Mohsin deserves a second chance now and should get back to work.
Mohsin received the hate that he did after his ex-wife Fatema Sohail claimed that she had been abused physically continuously by the actor. After which police proceedings started and in August 2019, Haider was found guilty by a lower court in Lahore of threatening his wife Sohail.
Though Mohsin maintains that he has been wrongly accused and "The incidents the accuser has narrated are false and nothing but the lies," Haider's counsel, Adnan Tariq, claimed.
In 2020, after a period of being "jobless", Mohsin then signed a film titled Once Upon A Time in Karachi with Abu Aleeha, which is yet to be released.