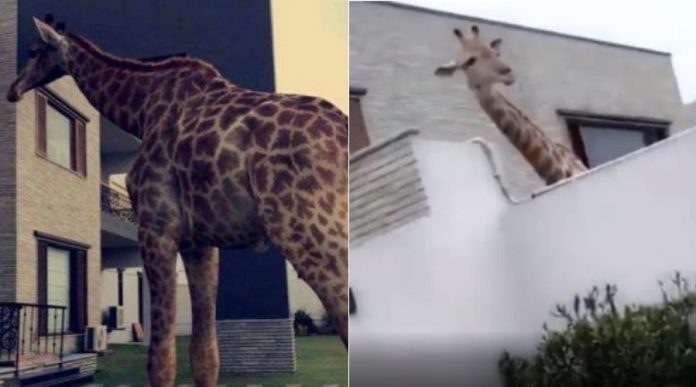 There are many organizations in Pakistan educating masses on being careful and honorable towards animals but still animal cruelty is rampant. Another such case came to the forefront when a video of a giraffe was uploaded on social media, who was peeking out from a home in the posh neighborhood of DHA Karachi during heavy rain.
Just Karachi DHA things.

Giraffe 🦒 pic.twitter.com/p4976oJtRZ

— norbert almeida (@norbalm) August 25, 2020
According to the Sindh Wildlife Department Conservator Javed Mahar, the family has kept the animal without any updated license and confirmed that they have sent in yet another notice warning them of keeping the animal in a proper habitat.
The owner of the pet giraffe had been warned six to seven months ago not to keep it at a residential area and shift it to a farmhouse, he added.
The family does have a permit however to operate a mini zoo, though Mahar said that a permit to operate a mini zoo did not entitle one to house an elephant or giraffe.
"This was not clear in old format of mini zoo permit that is being added under new rules made by wildlife department," he wrote.
Mahar said the DHA had laws and policies in place that govern its neighborhood though none of the neighbors had launched any complaints against the act.
Though twitteratis are angry with the care free and "no concern" attitude of the rich family owning the exotic animal. Social media is not happy with the way the animal is being kept and not taken care of the way it should be.
Giraffes in DHA Karachi; Lionesses in DHA Lahore. What the hell is wrong with the Pakistani elite? (Hint: the answer is everything!) https://t.co/osqG2ZhWC7

— Nida Kirmani (@nidkirm) August 25, 2020
permit doesn't entitle to keep an elephant or giraffe
This was not clear in old format of mini zoo permit that is being added under new rules made by wildlife department Government of Sindh.
We will send a fresh request to the owner to shift this from residential area🙏
@norbalm

— Javed Mahar (@JavedMahar7) August 25, 2020
Manghopir Alligators swimming in Surjani.
Floods at Nipa..with kids swimming in it
Snakes near Hub
Lions came out At Gulshan e Hadeed. People catching fishes near Maymar
Jaguar and giraffe spotted at DHA…
Flies and locusts in entire city.
Karachi Rain be Like Jumaji Level 5

— Faraz Memon (@FarazzMemon) August 25, 2020
We live in a civil society that is governed by laws not by men. Civil society gives a civic sense that is all about having consideration for a fellow human being while living in a civilized society. On the complaints of our respected citizens @sindhwildlife team visited this 1/3 https://t.co/iQlhKzx4bC

— Javed Mahar (@JavedMahar7) August 25, 2020