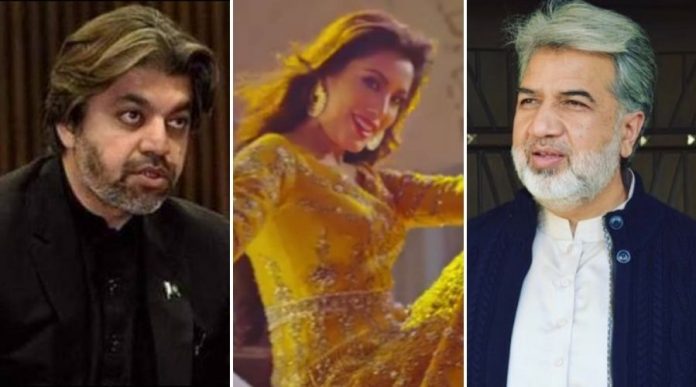 Renowned Pakistani actress Mehwish Hayat was recently seen dancing in a biscuit television commercial (TVC), on which Pakistan Tehreek-e-Insaf (PTI) minister of state for parliamentary affairs, Ali Muhammad Khan and senior journalist Ansar Abbasi lost their cool and criticised the actress with their tweets.
Here is the ad on which PTI minister Ali Muhammad Khan along with senior journalist Ansar Abbasi shared their view:
Let me take you on a majestic journey of our #des, as the most awaited #deskayqissay is unveiled. It has been an absolute pleasure to be part of this masterpiece by #Gala #deskabiscuit, where we cherish the cultural diversity of our des bcoz "apnay des ka har rung hai Niraala" ♥️ pic.twitter.com/BBb6IQ0IMp

— Mehwish Hayat TI (@MehwishHayat) October 4, 2020
Now, here is what Ansar Abbasi tweeted:
بسکٹ بیچنے کے لیے اب ٹی وی چینلز پر مُجرا چلے گا۔ پیمرا @reportpemra نام کا کوئی ادارہ ہے یہاں؟ کیا @ImranKhanPTI اس معاملہ پر کوئی ایکشن لیں گے؟ کیا پاکستان اسلام کے نام پر نہیں بنا تھا؟؟

— Ansar Abbasi (@AnsarAAbbasi) October 4, 2020
Abbasi said,
"Indecent Dance will now run on TV channels to sell biscuits. Is there any institution by the name PEMRA around here? Will the Prime Minister Imran Khan will take any action on this matter? Wasn't Pakistan built in the name of Islam?"
After this tweet, many other twitter users also stood up in his favor and made the hashtag "پیمرا_فحاشی_ختم_کرو#" go viral on Twitter to stop vulgarity on Pakistani TV.
Isn't this is too much for a biscuit ad? It impacts the society in a negative way. Stop vulgarity in the name of entertainment.
Wake up @reportpemra and please take action against all these activate.@reportpemra#پیمرا_فحاشی_ختم_کرو pic.twitter.com/QNrmEhxo6I

— Isma 🍁 (@twadiBehan) October 5, 2020
She is Muslim by religion 😌 #پیمرا_فحاشی_ختم_کرو pic.twitter.com/xJXm3euRIj

— لڑکا گاؤں کا (@wasibaba00) October 5, 2020
Is this Islamic republic of Pakistan???#پیمرا_فحاشی_ختم_کرو pic.twitter.com/w4oqUu6N8z

— mR.pErfEcT (@6mEhAr) October 5, 2020
Pemra r u sleeping what the hell is going on who reviews and censor these dramas and movies…. fucking hell..#پیمرا_فحاشی_ختم_کرو pic.twitter.com/KgdzTLYJ9R

— لڑکا گاؤں کا (@wasibaba00) October 5, 2020
Pemra should ban all channels and programs that are going beyond the moral boundaries. And some channels seem to be violating Islamic traditions in public.#پیمرا_فحاشی_ختم_کرو pic.twitter.com/47HB4JFAMF

— سب سے پہلے پاکستان ❤ (@sb_qureshii) October 4, 2020
Pakistan is an Islamic state & we're Muslims. We want our govt to stop this vulgarity & refrain businessmen from exploiting women in the name of freedom. Neither does Islam allow that nor our culture. Women shouldn't be used at the hands of these opportunists#پیمرا_فحاشی_ختم_کرو

— M Shahbaz Khan (@mshebikhan) October 5, 2020
On the other hand, Ali Muhammad Khan also jumped in to the matter and added fuel to the flames by accusing PM Imran Khan to be "anti-Islamic" in his tweet.
PM @ImranKhanPTI Sahb is totally against such anti Islamic stuff on media which is against our cultural norms & has damaging effects on our youth.
No place for such absurdity in an Islamic state, which was made on the Kailma Tayyaba

لا الہ الا اللہ محمد رسول اللہ https://t.co/0nVDOGRKsC

— Ali Muhammad Khan (@Ali_MuhammadPTI) October 4, 2020
Muhammad Khan said, "PM Imran Khan is against the vulgar content which is currently running on our Televisions and such content is against our 'Culture' and our youth is being affected by such indecent media content."
He also said that "There is no place for such vulgar content and media in our Islamic state which was actually based on Kalima Tayyaba."
However, Federal Minister for Science & Technology Fawad Chaudhry did not let go Abbasi and Minister Muhammad Khan that easily, as he also replied to their tweets by saying:
آپ اور علی 24 گھنٹے فحاشی کیوں سرچ کرتے رہتے ہے ہیں؟ کوئ Productive کام کیا کریں https://t.co/mCrYcm883B

— Ch Fawad Hussain (@fawadchaudhry) October 5, 2020
"Why you and Ali are always digging out vulgarity? Try to do something productive,"
After receiving hundreds of complaints regarding this ad, Pakistan Electronic Media Regulatory Authority (PEMRA) has finally decided to ban Mehwish Hayat's biscuit ad and sent an notice to TV channels, in which the watch dog advised to review the content of their ads properly by the In-House Monitoring Committee before telecasting.