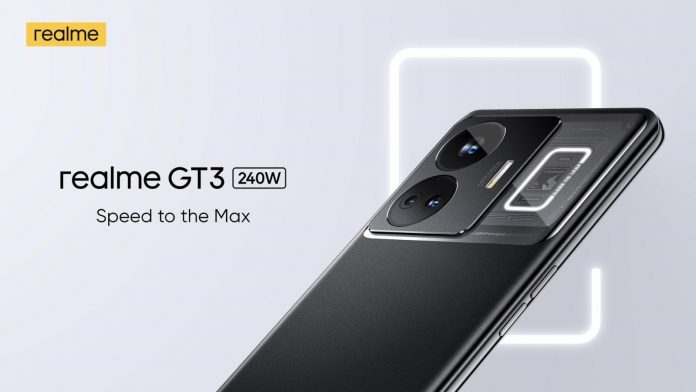 realme, the world's fastest-growing smartphone brand, announced today at Mobile World Congress 2023 the global launch of the realme GT3 – its next-generation speed flagship with the world's fastest charging power: 240W.
Starting since the first generation, the realme GT Series has represented realme's most cutting-edge technology innovations, from the mind-blowing suitcase design on the GT Master Series to the true premium flagship realme GT2 Pro Series, and now the speed limit breaker – realme GT3.
"realme was founded with the Dare to Leap spirit and the mission of empowering the young generation with leap-forward technology and design." Chase Xu, Vice President of realme and President of realme Global Marketing, stated: "Entering its fifth year, realme is taking an even bigger leap forward by becoming the first brand to break through the industry's glass ceiling. It demonstrates realme's commitment to improving our market presence through innovative technologies and better connecting with our young audiences."
240W: World's Highest Charging Standard
240W means more than just a blazing fast charging speed; It also represents the fastest charging power ever mass-produced in the market and the maximum charging power possible under USB-C standards. Together it makes 240W the world's highest charging standard.
In terms of user experience, 240W is the ultimate answer to battery anxiety. It accelerates smartphone charging to minutes and even seconds. Using 240W charging power, it only takes 80 seconds to charge the realme GT3 to 20% capacity. It only takes 9 minutes and 30 seconds to fully charge the device's 4600mAh battery.
Full-fledged Battery and Charging Innovation
As the first brand in the industry to mass produce 240W fast charging, realme has achieved a full-fledged innovation in everything from charging safety to battery longevity and to accessory compatibility.
Three industries' first charging technologies: Starting with the charging architecture, the realme GT3 has three maxed-out charging chipsets to charge at the same time, resulting in a 98.5% improved transfer efficiency during charging. In addition, the realme GT3 comes with a custom 12A charging cable. The ultra-fast 12A cable provides the industry's highest charging current. Furthermore, realme provides dual GaN charging technology, which includes an end-to-end GaN chipset in both the phone and the adapter. As a result, despite having 60% more power available, the 240W adaptor is even smaller than the 150W adaptor.
Maximized Charging Safety: One of the most difficult challenges for high-power charging is temperature control. The realme GT3 is equipped with a 6580mm2-large VC liquid cooling system that covers 61.5% of the battery and ensures efficient heat dissipation. To ensure maximum charging safety, the realme GT3 also includes a PS3 fireproof design, 13 temperature sensors, and 60 layers of safety protection. TÜV Rheinland has also certified the realme GT3 for a safe fast-charging system, making it the first product with 200W fast charging or higher to receive the certification.
Worry-free Battery Longevity: According to internal lab testing, the realme GT3 has an 80% lifespan after over 1600 charging cycles with 240W enabled, which is more than double the industry standard of 80% battery health after 800 charging cycles. realme GT3 also uses intelligent charging, which detects the user's status and switches the charging status to travel mode, sleep mode, or in-car mode. Not only can the phone be powered on intelligently, but it also helps to preserve battery health and avoid overcharging.
Pulse Interface Design: Re-imagine Smartphone Interaction
Aside from the incredible 240W, the realme GT3 pushes smartphone design to new heights. The realme GT3 has a translucent window next to the camera module. Users will find a polished chipset deco, an NFC chipset, and the innovative Pulse Interface System with a C-shaped RGB lighting ring inside.
Taking inspiration from gaming handsets, realme GT3's Pulse Interface Design displays different light effects depending on the phone's status. For example, when the phone is 20% charged, it will display a red breathing light effect; when it is charged to 21%-100%, it will display a purple breathing light effect; and when it is fully charged, the purple light will always be on. When there are incoming calls, the light flashes quickly. While receiving notifications, the lighting system will display a white color; for a 10-second countdown before taking photos, the phone will display a blue, white, and orange color beaming.
The Pulse Interface System is highly personalizable, adding a fun and interactive element to the phone. Go to settings > wallpaper & design > breathing light, users can choose from 25 colour shades, 2 rhythm types, and 5 lighting speed modes for a personalized style.
From Populariser to An Industry Leader
realme is well-known for making cutting-edge technology available to young consumers. Fast charging technology is no different. With the realme X7, realme is the first brand to introduce 65W to the mid-range price point in 2020. With its GT Neo3, realme released the world's fastest charging speed of 150W in 2022. And now, with realme GT3, realme is setting new standards with an industry-leading maximum charging power of 240W. realme has progressed from democratizer to tribalizer to industry limit-breaker.
Aside from constantly seeking technological advances, realme is also democratizing fast charging at all price points. Counterpoint ranks realme first in fast charging penetration for product portfolios in the mid-to-high price range (USD 250/- to USD 399/-). realme also achieved a fast charging penetration rate of up to 85% in product portfolios under USD 250/-. realme intends to democratize fast charging even further by announcing during its global launch that 90% of its global product portfolio will include fast charging of 33W or higher.
The realme GT3 comes in a wide selection of storage variants to choose from, including 8+128GB, 12+256GB, 16+256GB, 16+512GB, and a special 16+1TB variant; Available in Pulse White and Booster Black two colour options.