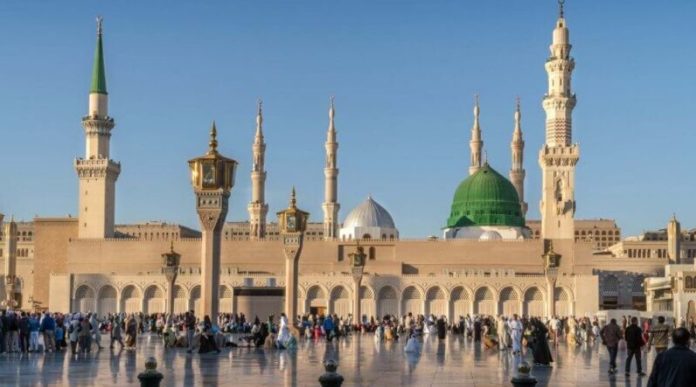 The Saudi government has reopened Masjid-e-Nabvi for public on Sunday. On the orders of Shah Salman bin Abdul Aziz, Masjid-e-Nabvi has been opened for 5 daily prayers. Fajr prayers were also offered in the congregation.
The mosques in other cities of Saudi Arabia have also been opened for offering prayers.
According to the administration of Masjid Nabavi, the old part of Haram and Roza Sharif will remain closed for the pilgrims. Apart from the new part of Haram Nabavi, carpets have also been removed from the outer courtyard.
The administration had instructed that other people would pray in the outer courtyards with social distance. The worshipers were also instructed to bring their place of prayer and perform ablution from home.
Strict precautionary measures including limiting the congregation to 40 percent of the mosque's capacity at a time are being observed. Saudi Arabia has decided to lift the curfew and lockdown in the country in three phases – with the exception of the holy city of Makkah — from June 21, the state news agency reported in a statement early.
From Sunday May 30, free movement will be allowed between 6 a.m. and 8 p.m., Saudi Press Agency reported. Saudi Arabia will begin easing restrictions on movement and travel this week, as Domestic flights will be allowed to resume, but a ban on international flights will stay.
Though the curfew was eased during Ramadan in the kingdom, but 24-hour curfew was imposed again during the five-day Eid ul-Fitr holiday, which began on Sunday. The kingdom has so far recorded 74,795 cases of COVID-19 with 399 deaths.