The famed singer and guitarist Bilal Maqsood has tested positive for Covid-19, the singer shared on social media on Sunday.
Maqsood ended up announcing the news while responding to a query by a fan, who was inquiring about Anwar Maqsood and their whole family on Instagram. The singer revealed that he has tested positive for coronavirus but the rest of the family is safe.
"I've tested positive, but we are all fine," he wrote.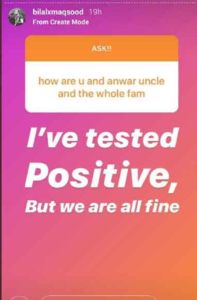 Bilal Maqsood is a member of Strings, a very popular Pakistani pop band. He has also directed a number of music videos.
Earlier, some other famous Pakistan television stars including Nida Yasir, Yasir Nawaz, Alizah Shah, Sakina Samo, Salman Ahmed Naveed Raza and Rubina Ashraf tested positive for COVID-19.
Rubina was later rushed to the hospital but is now doing better. Even comedians Vasay Chaudhry and Shafaat Ali tested positive for the virus, and are now quarantined.
A number of Pakistani politicians including Railway Minister of Pakistan Sheikh Rashid and former prime minister, Shahid Khaqan Abbasi, Shahbaz Sharif have also tested positive for coronavirus.
Over 176,000 people have been infected by the novel coronavirus in Pakistan. The nationwide tally of Covid-19 patients stands at 179,634 with 65,739 cases in Punjab, 69,628 in Sindh, 21,997 in Khyber-Pakhtunkhwa, 9,475 in Balochistan, 1,288 in Gilgit-Baltistan, 10,662 in Islamabad and 845 in Azad Jammu and Kashmir.