During the current coronavirus pandemic automobile sales are suffering massively and the prices are also going up day by day. On the other hand amidst all the crisis Pakistani automobile industry is taken under the storm with launches of new segments of compact crossover SUVs  with multiple new cars.
Hyundai Tucson is the latest addition to the market and immediately after its release its prise was increased by PKR 200,000. Tucson is the reincarnated version of Kia Sportage, as it has an alternate style and appearance, however the two vehicles are somewhat indistinguishable regarding performance and features.
Pakistan automobile market also has another compact SUV, which a bit older than Hyundai Tucson. Suzuki Vitara was launched in Pakistan back in 2017, in its fourth generation. The car was initially offered in two variants, i.e. the base Vitara GL+, and the advanced Vitara GLX version. Now it is only offered in the latter form. Just after its launch the SUV immediately attracted buyers, but now all the crossovers have huge competition among each others because now there are too many options.
The main difference among the Hyundai Tucson and Suzuki Vitara is that Vitara is comes in a Complete Built-up Unit (CBU) form from Hungary whereas the Hyundai comes in a Complete Knock Down (CKD) form from Korea and is assemble here in Pakistan. A common perception is that the CBU's vehicles are usually better in built quality than the CKD vehicles, but nothing can be said in that regard as of right now since the Tucson is still relatively new in the market.
The new Hyundai Tucson is being offered in two variants, i.e., the GLS sports version and Ultimate version. The main difference among the vehicles is that GLS sports version is Front Wheel Drive (FWD) drive-train whereas Ultimate version is equipped with All Wheel Drive-train. Although the prices of Hyundai Tucson and Suzuki Vitara is almost similar but they are some differences among them, which will be discussed later in the article.
Here's Pakistani Journal's face off among the two vehicles. Hopping it will help you choosing which crossover SUV is best for you!
Design
Hyundai Tucson's design is not excessively showy. It features Hyundai's trademark large and imposing hexagonal front grille, angular oval-ish headlights and taillights, smooth flowing lines and a round silhouette, makes a fairly simple, yet a gorgeous vehicle. In front of the vehicle, you will spot penta-LED Headlamps with DRLs, a skid-plate that makes the car look tough and off-road-ready, and a couple of fog lights.
If you look towards its sides, you will find built-in turn signals side mirrors operated via power and puddle lamps. Silver rooftop rails are here too and door-handles with chrome gives Tucson an adventurous touch to the side profile of a very sophisticated SUV. Just like Kia Sportage, Tucson also features side-garnish to give it a characteristic of a rough and tumble, off-roader.
You will locate extended oval-ish taillights a trademark of Hyundai's design if you move around the back. Moreover, you will find a couple of back reflectors at the base, twin-exhaust tip, and a shark- fin antenna at the back for style and better radio sign gathering.
Hyundai Tucson: Specs, Features, Performance, Price and Availability in Pakistan
On the other hand, Suzuki Vitara possesses a very traditional design. On the front you will see a quite attractive chrome grille, DRLs alongside the fog lights, some cosmetic vents near the bonnet, and uniquely designed headlights with a blue halo around the Xenon light bulb that makes the front of the car look quite distinctive. Whereas the design features sharp edges and a boxy silhouette that makes it look like more of an enthusiast's choice.
If you move towards its side you will observe handsome looking 17″ rims. If you look a bit up you will find black side mirrors with in-built LED indicator lights. The black mirrors match the color of the black A, B, and C pillars that go all the way up to the panoramic sunroof, which itself is black, giving the car a nice two-toned shade. Other than that, the side profile of this vehicle is quite simple, finished off with body-colored door handles that provide uniformity to the overall look.
Then if you move towards its back you will be quite devastated because as compared to its front, Vitara's back is just ordinary like any other crossover SUV. It is not a bad look, but it's not an awfully good one either. An antenna mounted on top for radio signals, rather old looking tail lights, and upon coming down further, you will spot to reflectors and what is perhaps a fog light mounted on the silver scuff-plate-like trim piece at the bottom of the rear bumper.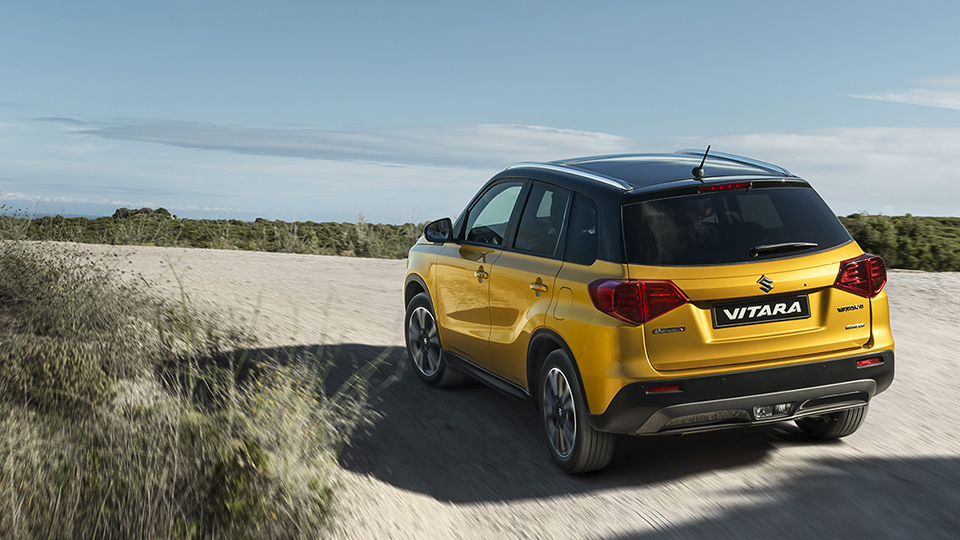 Weight and Dimensions
Both vehicles for all intents and purposes share the equivalent features, the two vehicles also share virtually the same measurements. Whereas, because of slight differences in designthe measurements are slightly different form one another, below are the weight and dimensions of Hyundai Tucson and Suzuki Vitara:
| | | |
| --- | --- | --- |
| Measurements | Hyundai Tucson | Suzuki Vitara |
| Wheel Base | 2,670 mm | 2,500 mm |
| Overall Width | 1,850 mm | 1,775 mm |
| Overall Length | 4,480 mm | 4,175 mm |
| Overall Height | 1,160 mm | 1,610 mm |
| Kerb Weight | 1,508 KG | 1,185 KG |
| Ground Clearance | 172 mm | 185 mm |
Kia Sportage VS Hyundai Tucson 2020: Head-to-Head comparison
Interior
Both the vehicles have unique styles and features in the inside, as they have in the outside. But Suzuki as always opted very simple and sober interior if compared with Hyundai Tucson.
You won't be amazed very much when you enter in Suzuki Vitara.The interior is the same old hodgepodge of black and grey plastics. However, you do get a few modern features such as 10.1″ touch-sensitive infotainment screen with Apple Carplay and Android Auto, which is very easy to use and apt in terms of response.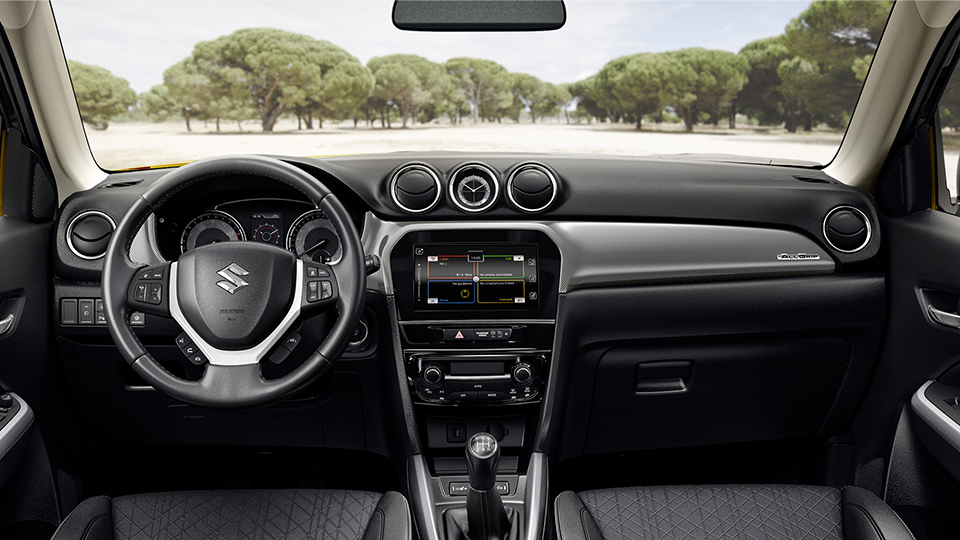 The rear seat capacity is slightly small due to the huge boot space of 710 liters. You also get a panoramic sunroof that brightens up the interior quite a bit on a nice and sunny day. Other than that, it is a fairly reliable, albeit boring interior. The gauge cluster also features a multi-info digital screen that shows the car's vital information to the driver.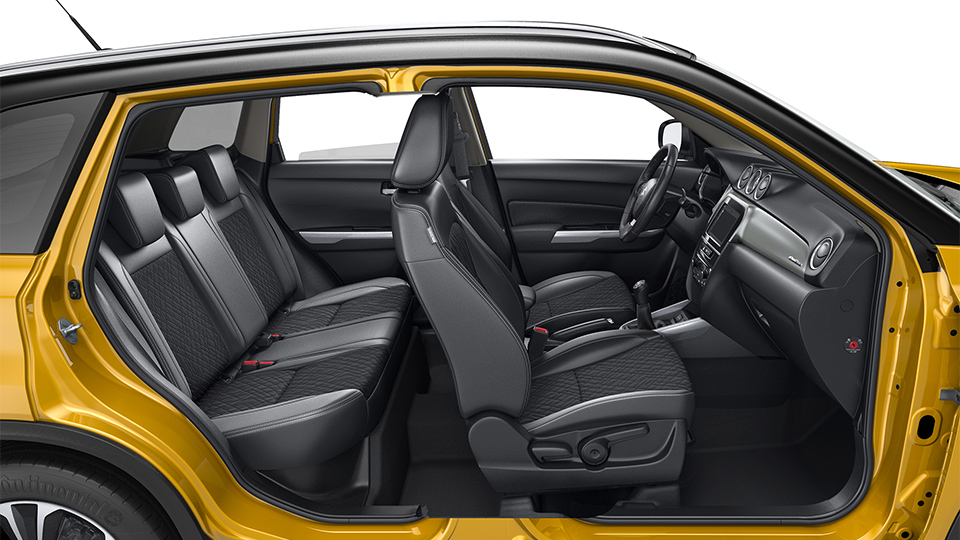 The theme of nuance likewise proceeds in the interior of Hyundai Tucson , with a plan that is shortsighted yet contemporary and the cabin space, which is abundant, making the Hyundai Tuscon a decent spot to spent leisure time, get groceries and take a family of five around in, without breaking any ease and comfort.
Hyundai Tuscon also has a lot of intriguing features and gadgets to be explored. To control different features and elements of your car, you get multi-control steering a Smart HD AVN infotainment system with voice recognition, a panoramic sunroof that can retract to reveal up to 70% of the glass roof, which is the best retraction capability for a sunroof in the entire market.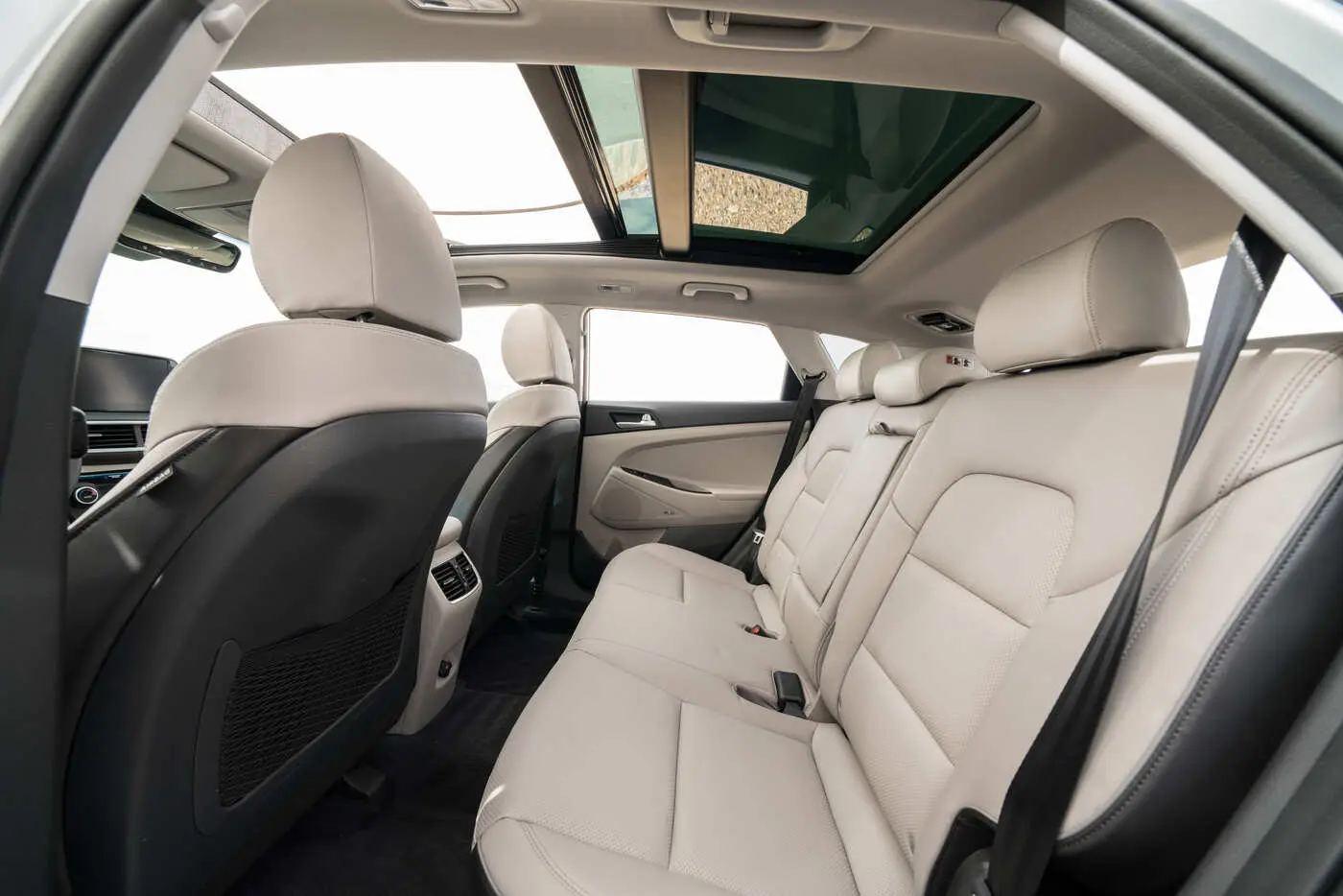 The Ultimate variation likewise offers delicate, smooth and rich leather seats though the GLS Sport variation offers delicate and fine quality texture situates that can heft you and your family around in solace and make the movement comfortable. You additionally also get a sizeable trunk space in the back with foldable back seats, the trunk space can be expanded if you wish to move bigger things.
After all the details it can be concluded that Hyundai Tucson has relatively a lot better interior than Suzuki Vitara.
Performance
As far as Suzuki Vitara is concerned there's not much to brag about but among the Pakistani Automobile market the reviews of the vehicles are quite good. The vehicle features a 1.6 liter 4-Cylinder petrol engine that puts out a maximum of 115 Horsepower at 6000 RPM and 156 Newton/Meters of Torque at 4400 RPM. The car can be mated to a 6-speed automatic transmission that sends power to all 4 wheels.
Suzuki Vitara is about 400 KG lighter than the Hyundai Tucson, so it can surely be said that both the vehicles have enough power in them, which can only be experienced while driving.
The setup of suspension in Suzuki Vitara is McPherson Struts with Coil Springs on the front, and a Torsion bar Coil Spring suspension at the back. You also get ABS brakes with ventilated discs on the front and simple discs on the rear.
If we talk about fuel average, Suzuki Vitara is best as it gives a sufficient average like a normal family sedan which is absolutely perfect. In city it gives around 12km per litre whereas on highway it increases above 14km per litre.
On the other hand Hyundai Tucson has a 2.0 Liter 4-cylinder MPI petrol engine that puts out a maximum of 155 horsepower at 6200 RPM, and 196 newton/meters of torque at 4000 RPM, and come standard with a 6-speed automatic transmission that also sends power to all 4 wheels.
Hyundai Tucson also has the same setup of suspension as Suzuki Vitara. McPherson struts up front and a multi-link coil spring suspension in the back. The Tucson also has Anti-Lock Braking Systems (ABS) with Electronic Brake-force Distribution (EBD) and Brake Assist (BA) technology to allow for decent stopping power.
The fuel average of Tucson is not good as Vitara as per observations it gives nearly 10km per litre in city while on a highway the fuel average jumps to 12km per litre. Thus, Suzuki Vitara is more economical on roads.
Features
As far aa the features are concerned both vehicles are mostly alike as both vehicles are all wheel drive. Their feature comparison is as below:
Specs and Features
Suzuki Vitara
Tucson (Ultimate)
Safety
Central Power Doorlocks
Yes
Yes
Contact Sensing Doorlocks and Windows
Yes
Yes
Immobilizer System & Burglar Alarm
Yes
Yes
Parking Assist
Yes
Yes
Backup Camera
Yes
Yes
Automatic Headlights
Yes
No
ABS Brakes
Yes
Yes
Hill-start Brake Assist
Yes
Yes
Hill Descent Control
Yes
Yes
Electronic Parking Brake
No
Yes
Speed Sensing Auto Doorlock
Yes
Yes
Electronic Stability Control
Yes
Yes
Cruise Control
Yes
Yes
Airbags
7
2
Traction Control
Yes
Yes
Traction Control
Yes
Yes
Convenience
Power Tailgate
No
Yes
Infotainment System w/ Apple Carplay and Android Auto
Yes
Yes
Advanced Gauge Cluster with a Digital Screen
Yes
Yes
Paddle Shifters
Yes
No
Wireless Phone Charger
No
Yes
Auto defogging system
No
Yes
Outside Rear View Mirror Electric Folding and Heating Function
Yes
Yes
Puddle lamp
No
Yes
Cooled Glove Box
No
Yes
Keyless entry and go
Yes
Yes
4-way adjustable steering wheel
Yes
Yes
8-way power adjusted driver & Passenger seat
No
Yes
Reclinable rear seats.
Yes
Yes
ISO fix Child Seat Anchors
Yes
Yes
Rear USB Connectivity
Yes
Yes
Support Adjustment
Yes
Yes
Auto Rain Sensing Windshield Viper
Yes
Yes
Price
The prices of Suzuki Vitara and Hyundai Tucson are slightly similar to each other, although Suzuki Vitara has lesser features than Hyundai Tucson. Previously Vitara had a GL+ variant which cost lesser than PKR 4 million, but Suzuki Pakistan decided to discontinue the variant. Following are the prices  that the Suzuki Vitara and Hyundai Tucson will be held for:
Suzuki Vitara:

GLX 1.6 AWD – Rs. 5,500,000

Hyundai Tucson:

GLS Sport FWD – Rs. 5,099,000
Ultimate AWD – Rs. 5,599,000
Conclusion
After all the head to head comparison it can be concluded that Hyundai Tucson has much better value than Suzuki Vitara, because of more features, bigger room, comfort and most importantly you can get Ultimate version which only lacks AWD drive-train for less than PKR 400,000.
That is not to say that the Vitara is not a good car. It is a fantastic compact SUV that features a lot of the modern tech and safety equipment that we don't normally get here in our market. But if you have Rs. 55 Lac in hand and you were willing to spend them on a compact SUV, Tucson seems to be a much more tempting option. Unless you value 5 more airbags of the Vitara more than just the 2 offered in the Tucson.