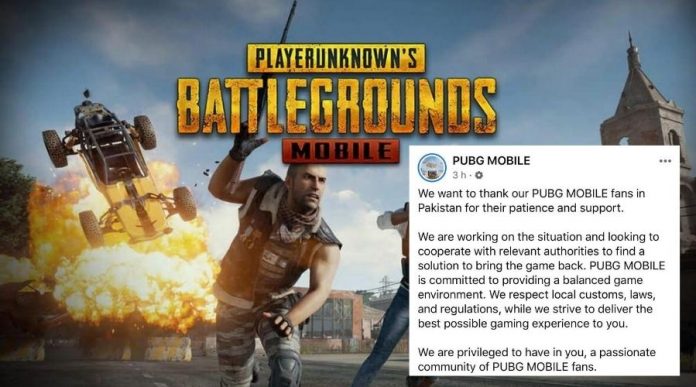 Ever since the ban on the popular game PUBG has been implemented by Pakistan Telecommunication Authority (PTA), everyone in the public arena and the government has had polarizing views about the decision. And no doubt many condemn such an act and PUBG has responded to the ban imposed by PTA, thanking its fans for their support for the game.
PUBG has responded saying that they are trying to work on the best possible solution that will suffice not only the gamers but be in line with the rules, regulations and expectations while respecting local customs, laws, and regulations of the local authorities.
There is no timeline or time period of the planned action that will eventually help resolve the controversial situation by the team at PUBG.
Recently, The Islamabad High Court directed the Pakistan Telecommunication Authority to lift the ban on online game PUBG on Friday, finishing PTA's ban.
The court directed the authority to lift the ban 'immediately'.
The ban has also been opposed by Federal Minister for Science and Technology, Fawad Chaudhry, insisting that such behavior will be the ruin of the technology industry.
The minister took to the Twitter and said this in response to a Twitter user's request:
Well I against all kinds of general bans, such attitude is killing tech industry we cannot afford such bans, I hope concerned minister @SyedAminulHaque ll take note of this ban and PTA ll be instructed not to encourage such bans as it hinders tech growth in the long run https://t.co/GiEcFpbzDN

— Ch Fawad Hussain (@fawadchaudhry) July 19, 2020
Fawad Chaudhry also addressed IT Minister Syed Amin-ul-Haq urging him to take notice of the matter and direct Pakistan Telecommunication Authority (PTA) to refrain from imposing such bans.
On July 1, Pakistan Telecommunication Authority (PTA) had temporarily banned PUBG for being "addictive" and had negative impact on the young minds who were playing this game.
According to a statement by PTA, "It had received numerous complaints against the game wherein it is stated that the game is addictive, wastage of time and poses a serious negative impact on the physical and psychological health of the Children".
Since then multiple petitions have been filed against the ban from all over the country.