Get ready to dive into a mind-bending realm of technology as Apple unveils its most daring innovation yet: the awe-inspiring Apple Vision Pro! Imagine strapping on a futuristic pair of ski goggles that transport you to a mesmerizing fusion of reality and the digital universe. Brace yourself for a revolution in the way we experience technology!
With its sleek design resembling high-tech ski goggles, the Apple Vision Pro shatters all boundaries by seamlessly blending the tangible and virtual realms. Prepare to have your senses tantalized as this cutting-edge device introduces an extraordinary 3D user interface, magically responding to your very thoughts, gestures, and voice commands. Your eyes, hands, and voice become the conduits to navigate and explore a captivating digital universe.
Apple Vision Pro Features:
Display: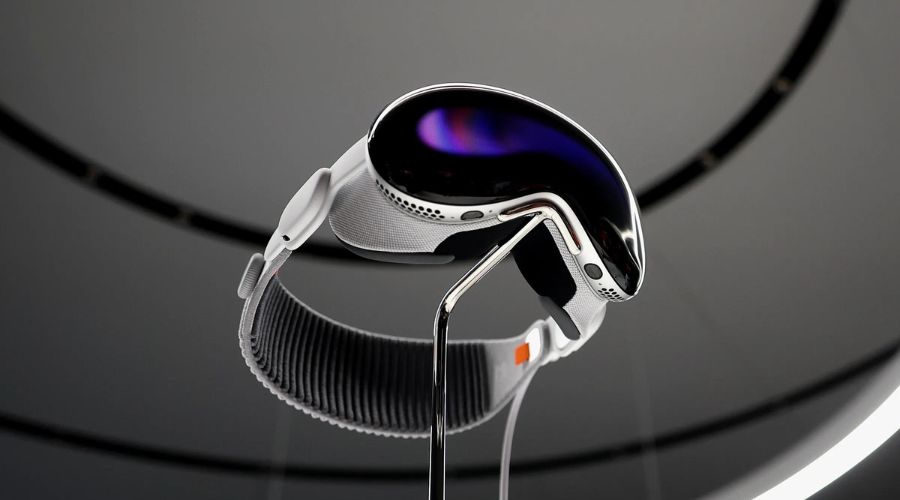 The Vision Pro boasts an incredibly sharp display, showcasing a remarkable 23 million pixels. It harnesses the power of specialized Apple silicon, utilizing a dual chip setup to provide users with an extraordinary level of performance and satisfaction.
User Interface:
By simply directing their gaze, users can effortlessly navigate through apps on the Vision OS. The headset is equipped with Bluetooth compatibility, enabling seamless connectivity with Mac devices and supporting accessories like the magic keyboard and magic trackpad. The downward facing camera exhibits precise tracking capabilities, accurately capturing the user's resting hand even when it's positioned at a lower point on the body. Encased within the glass front and aluminum frame of the headset are a multitude of sensors, including five sensors, twelve cameras, and a dedicated 4K display for each eye.
Fit and Comfort:
Apple guarantees that the Vision Pro is meticulously crafted to accommodate a diverse range of face shapes and head sizes, guaranteeing a comfortable and secure fit for every user.
Battery:
The headset is equipped with an external battery that provides a remarkable battery life of up to two hours. Alternatively, users have the option to connect it to an external power source, ensuring uninterrupted usage throughout the day. The system is powered by a cutting-edge chip known as the R1, delivering enhanced performance and functionality.
Apple Vision Pro Price in Pakistan:
The initial cost of the Apple Vision Pro is set at $3499. In Pakistani rupees, this would approximately be equivalent to PKR 998,864.
Launch Date of Apple Vision Pro:
Apple intends to release the Vision Pro in stores beginning in early 2024.
| Apple Vision Pro | Features |
| --- | --- |
| Design | Ultra high resolution display (23 million pixels) |
| | Custom Apple silicon in a dual chip design |
| User Interface | 3D user interface controlled by intuitive and natural inputs (eyes, hands, voice commands) |
| | Browse apps through Vision OS by looking at them |
| | Supports Bluetooth accessories (magic keyboard, magic trackpad) for Mac connectivity |
| | Downward facing camera captures resting hand position |
| | Glass front and Aluminum frame with sensors, cameras, and 4K displays for each eye |
| Fit and Comfort | Fits a variety of face shapes and head sizes |
| Battery Life | External battery lasts up to 2 hours |
| | Can be connected to an external power source for all day usage |
| | Includes new chip called R1 |
| Apple Vision Pro Price in Pakistan | $3499 (Approx. PKR 998,864) |
| | |
| Launch Date | Early 2024 |