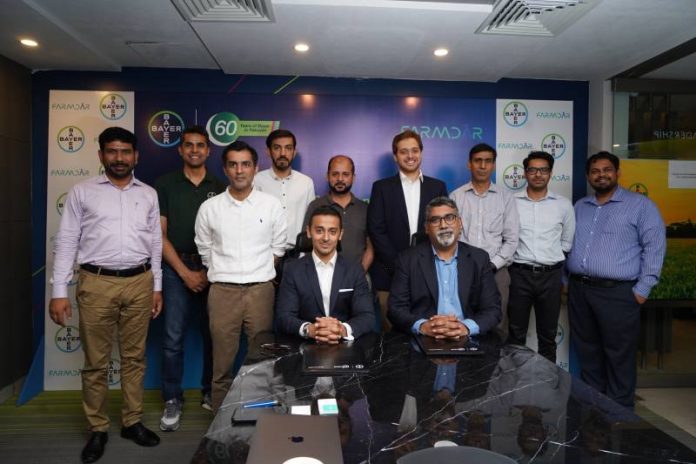 Bayer Pakistan has entered into a strategic partnership with Pakistani agri-tech start-up Farmdar, to obtain accurate and actionable crop data backed by artificial intelligence and remote sensing.
Bayer Pakistan's Crop Science division, which offers a portfolio of crop protection and seed products, is continuously innovating to serve the country's smallholder farmers better, helping them grow sustainably and produce more with less resources, ultimately driving sustainable overall growth in the agriculture industry.
And with the insights provided by Farmdar's technology, Bayer Pakistan will take yet another step forward in doing exactly this.
The data provided by Farmdar will enable accurate, swift tracking of crops with real-time insights. Access to these insights allows for more accurate, data-driven decisions to be taken with regard to the crop cycle. This in turn improves productivity and yields, helps reduce farming costs, and mitigates the impact of climate change on agriculture.
Ahmed Ali, Managing Director and CEO of Bayer Pakistan commented on the occasion, "A typical farmer makes almost 40 key decisions from start to finish of a crop cycle, and digital solutions such as the one provided by Farmdar allow us to harness data analytics and satellite-aided crop scans to fill in critical knowledge gaps that will help inform these decisions. The incorporation of digital tech and solutions into agri is the need of the hour. With this partnership, our intent is not just to enable greater productivity for farmers, and ultimately the industry and economy as a whole, but also to maximize the utilization of already-scarce resources. I'm pleased to have Farmdar on board supporting us on this urgent mission for agriculture in Pakistan."
Muzaffar Manghi, Co-founder Farmdar, added, "At Farmdar, we're delighted to partner with Bayer, a company with a strong legacy of supporting farmers across Pakistan. Farmdar's A.I. and digital technology will provide the tools to aid farmers' decision-making. It is our belief that through the adoption of such technology we can ultimately play a part in strengthening food security."
Bayer is committed to ensuring global food security, fighting climate change and conserving resources. The company has been a major player in agriculture and healthcare in Pakistan for the last 60 years, demonstrating a commitment to creating greater value for customers, stakeholders and society as a whole, and continues to operate its Crop Science, Pharmaceuticals and Consumer Health businesses in Pakistan in line with Bayer's global vision, Health for All, Hunger for None.