Bollywood loves a dripping wet bikini scene in a commercial movie. It's one of the many ways to guarantee first-day houseful shows. Bollywood beauties, including A-listers like Priyanka Chopra, Anushka Sharma, Aishwarya Rai Bachchan have flaunted their killer curves in two-piece and we've gone gaga every time. But what happens when an actress fails miserable in a bikini scene.
Well, here are 7 of such examples when Bollywood actresses looked nothing but uncomfortable, conscious, awkward and downright miserable in bikini and swimsuits. We're pretty sure these actresses, who otherwise look hot on-screen regret shooting theses bikini scenes as much as we regret watching them.
1. Sonam Kapoor
The self-acclaimed stylist, diva and fashion queen Sonam Kapoor failed pretty when it came to flaunting a two-piece. Even Sonam would agree with us here.
2. Richa Chaddha
You look classy without any efforts then why go all the way and embarrass yourself, Richa?
3. Kajol
This has to be the WORST bikini moment in the history of Bollywood.
4. Esha Deol
Even if we ignore Esha's not so stunning figure – that rainbow coloured bikini kind of destroys the whole thing. And why wear a white net on top?
5. Samira Reddy
Even an awkward and ill-fitted bikini couldn't save Samira Reddy's failing Bollywood career.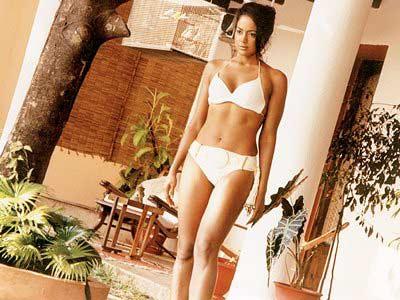 6. Rakhi Sawant
Indian Censor Board, Facebook, Google and everyone should just ban this pictures from the face on internet