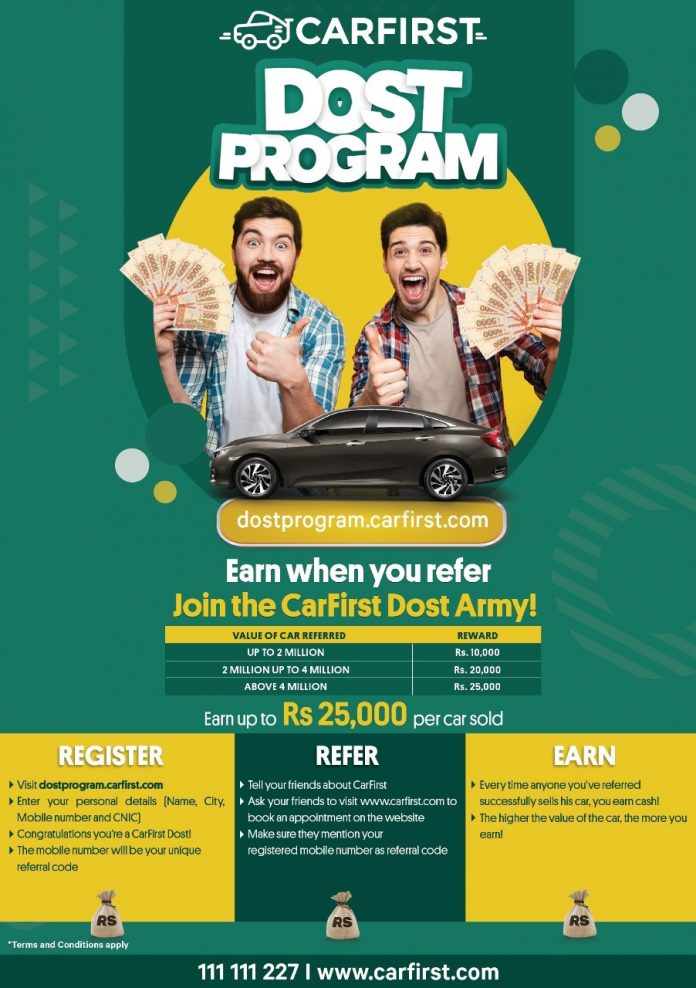 CarFirst, Pakistan's most trusted used car trading platform, announced the revamp of their iconic incentive program, the Dost Program. The company initially launched its Dost Program back in November 2019, as an incentive program open to everyone who wishes to monetize helping their friends or family sell their cars to CarFirst. The revamp of this program includes an increased cashback for the Dost's referral and an uncapped limit, a move welcomed by all as we gradually return to normality.
Anyone can become a CarFirst Dost by registering online for free, and start receiving cash rewards for each car sold to CarFirst through their reference. For the CarFirst Dost, the incentives are earned when the car is purchased by CarFirst, with the CarFirst Dost earning anywhere between PKR 10,000 to PKR 25,000, depending on the value of the car they have referred. The fastest way to sell your car is now offering the fastest way to make upto PKR 25,000 through one simple referral!
Commenting on the success of this program, Shahbaz Saeed, General Manager Marketing at CarFirst said, "Our first drive of the Dost Program had received a tremendous response with regards to sign ups in the opening weeks. We've had amazing support, with YouTubers vlogging about how easy it is to earn as a CarFirst Dost as well as people collaborating online to sell their cars to us. University students and freelancers can surely benefit from this platform contributing both to their income and skill enhancement without consuming too much of their time. Our program's aim is to help our communities grow by offering up to PKR 25,000 for a dost referral!".