Have you heard the saying "the sky's the limit"? Well, that's no longer the case for the Fast & Furious franchise since F9 sent Tej and Roman to space. What started as a story about street racers and fast cars has evolved into a global action franchise.
While the series has come a long way from its origins, Fast & Furious 10, also known as Fast X, will be the final chapter in the adventures of Dominic Torreto, played by Vin Diesel. As the film's release approaches, we're learning more about what to expect.
This article covers everything we know so far about Fast X, from release dates, trailers, cast, filming details, to characters and plot information.
Fast & Furious 11?
Fast X is not going to wrap up the franchise in a single movie; it will be divided into two parts. The latest news reveals that the second part, titled Fast X Part 2, is scheduled to hit theaters in 2025, although an exact release date is yet to be announced.
Vin Diesel explained the decision to split Fast 10 into two films, stating, "There's so much ground to cover. There are so many places and so many locations in the world that we have to visit." This reasoning was shared during a press event for F9.
Whether you refer to them as Fast X and Fast XI or as Fast & Furious 10.1 and 10.2, it's clear that this story is far from reaching its conclusion just yet.
Fast X Release Date in Pakistan:
Fast X's first part is currently expected to release in Pakistan on May 18, 2023. Given the incredible success of F9 during the pandemic period, it's likely that the upcoming film will also have a theatrical release, barring any unforeseen circumstances.
Originally scheduled for release in April 2021, Fast X was delayed due to setbacks encountered during the making of F9. The release date was subsequently rescheduled for April 7, 2023, but has since been pushed back yet again.
Fast X Trailer:
On February 10, 2023, the official trailer for Fast X was released, and it's a fittingly epic and action-packed preview for the franchise. At almost 4 minutes in length, the trailer introduces viewers to a range of new characters, including Jason Momoa's Dante, a villainous character who happens to be the son of Hernan Reyes, the drug kingpin that Dom and his family faced off against in Fast Five.
The trailer also features Academy Award-winning actress Rita Moreno as Abuelita Toretto, the grandmother of Dom and Mia, and Academy Award-winning actress Brie Larson as Tess, who appears to be a new addition to Dom's family. Additionally, it is revealed that John Cena's Jakob Toretto, the primary antagonist in the previous installment, will now be working with his once-estranged brother Dom.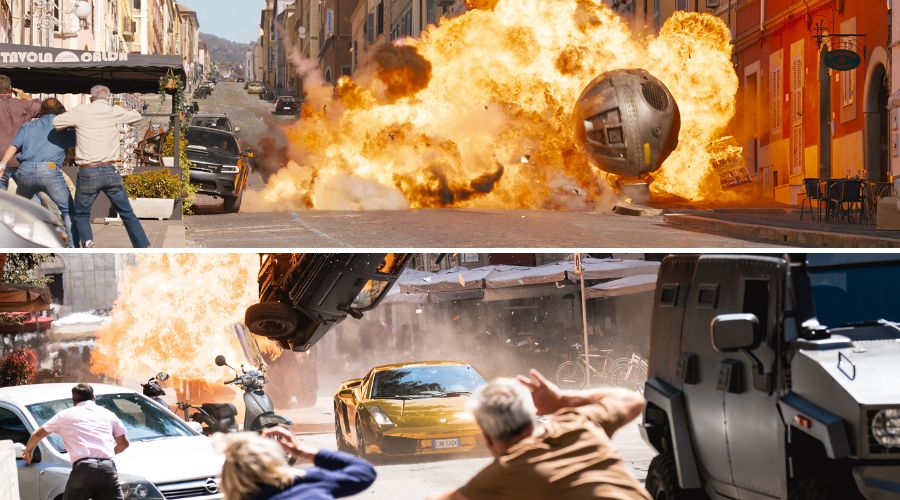 Overall, the trailer for Fast X is as explosive and action-packed as fans have come to expect from the franchise. Here, have a look:
The second full trailer for Fast X sees the cavalry coming to the rescue as Dante sets his sights on taking down Dom's family. Jason Momoa's charisma is on full display as he confronts Dom in an intense showdown. To defeat Dante, the crew must enlist the help of some unlikely allies. The trailer is packed with thrilling action and suspense, but you can check it out for yourself by watching it below.
Subsequently, the Fast X promotional campaign has included a series of featurettes highlighting various aspects of the film. These include Jordana Brewster's Mia Toretto, Vin Diesel's Dominic Toretto adapting to fatherhood, and Jason Momoa's Dante, among others. In addition, there has been footage released explaining how Han managed to survive his apparent death. On May 3, a new trailer for the movie was unveiled and can be viewed below:
Fast X Cast:
The main cast for the upcoming movie has not been officially confirmed, but it is expected that most of the principal cast will return, including Vin Diesel, Michelle Rodriguez, Jordana Brewster, Tyrese Gibson, Chris "Ludacris" Bridges, Sung Kang, Nathalie Emmanuel, Charlize Theron, Helen Mirren, Jason Statham, Lucas Black, Shad "Bow Wow" Moss, Jason Tobin, John Cena, and Anna Sawai. Don Omar and Tego Calderon may also return. Jason Momoa has been confirmed to play the villain Dante, while Daniela Melchior will play a street car racer from Brazil who has a history with Dom.
Kurt Russell could also return, and there are rumors of Gal Gadot's character making an appearance. Cardi B is confirmed to return, and Vin Diesel is trying to convince Dwayne Johnson to make a comeback. Brie Larson has been cast as a rogue representative from the Agency named Tess, while Alan Ritchson will play Aimes, the new head of the Agency. Rita Moreno will appear as Dom's grandmother, and Leo Abelo Perry will play Brian Marcos, Dom's son.
Initially, Fast X was supposed to be directed by Justin Lin, who helmed all the movies in the franchise from The Fast and the Furious: Tokyo Drift to Fast & Furious 6 and F9. However, Lin left the project due to creative differences with Vin Diesel.
Taking over the directorial reins is French filmmaker Louis Leterrier, known for his work on movies such as The Transporter, The Transporter 2, The Incredible Hulk, and Now You See Me.
Leterrier spoke about the film, and teased an upcoming war, saying:
"There's a war brewing. It's coming to an end and it is a race to the finish. There will be some tremendous casualties. This one is big. I don't want to oversell it, but what we're planning on the next one is just gigantic, in terms of action, scope and emotion. You will feel all the feels. Tears will roll."
Fast X Story:
Fast X is set to continue the story from the previous film, taking place mostly in present day with some possible flashbacks, similar to F9.
The plot is expected to be expansive, with the crew traveling to various locations around the globe, featuring a plethora of exotic vehicles and locales.