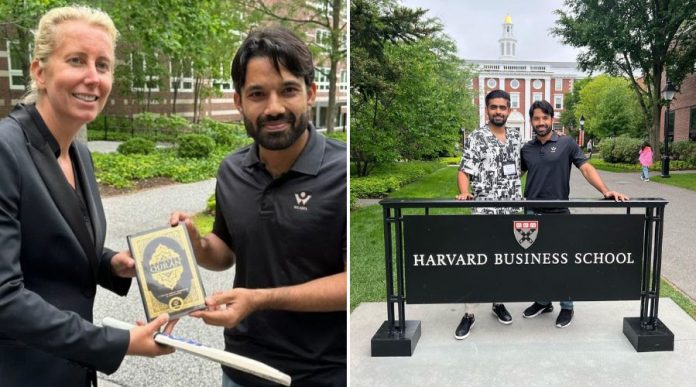 Babar Azam and Mohammad Rizwan have recently made history as the first cricketers to participate in the prestigious Harvard Business School's executive education program, specializing in The Business of Entertainment, Media, and Sports (BEMS).
Between May 31 and June 3, both Babar and Rizwan actively participated in enlightening classes hosted on the renowned campus of Harvard Business School, situated in Boston, Massachusetts.
Despite their remarkable achievements in cricket, both players possess distinctive qualities and interests that enrich the program. Mohammad Rizwan, in particular, has garnered recognition for his dedication to spreading the teachings of Islam through his speeches at mosques during his cricket tours worldwide.
On the program's concluding day, Rizwan took an extra step by presenting a Holy Quran as a gift to his instructor from the Harvard Business School's executive education program. This gesture not only expressed Rizwan's deep appreciation for the opportunity but also highlighted his unwavering commitment to his faith and its core values.
Rizwan is doing what he is best at, Ma Sha Allah spreading Islam🥹♥️. #MohammadRizwan pic.twitter.com/9xc1I2bSnj

— Shaharyar Ejaz 🏏 (@SharyOfficial) June 4, 2023
It is worth mentioning that Rizwan is a devout Muslim and actively engages in spreading religious teachings, sharing his knowledge of Islam with both his fellow cricketers and senior players. In a previous gesture, he presented a copy of the Holy Quran to Mathew Hayden, Pakistan's former batting consultant.
Babar Azam's presence at Harvard appears to have had an infectious impact on his peers. A female classmate of Babar's recently posted a photo on social media with the caption, "Discovering my future as a cricket player."
Babar And Rizwan with their classmate. Both inspire more people towards cricket ♥️💯. #BabarAzam pic.twitter.com/bZREM55nlk

— Shaharyar Ejaz 🏏 (@SharyOfficial) June 4, 2023
This playful remark demonstrates the influence of Babar's enthusiasm and skill in cricket on his companions. Through his interactions with classmates and his ability to ignite their interest in the sport, Babar has cultivated a sense of unity and potentially sparked a fresh enthusiasm for cricket among his peers.
The pioneering effort undertaken by these two cricketers is likely to serve as inspiration for a forthcoming generation of players, encouraging them to pursue education alongside their sporting endeavors.
So proud of @babarazam258 and @iMRizwanPak for being invited to attend a 4 day course at the prestigious @HarvardHBS.

They invite a handful of celebrities all over the world and they are the first cricketers to be invited.

People like @KAKA, Oliver kahan, some @NBA players,… pic.twitter.com/AwA3dQ9JMH

— Dr Ahmad Rehan Khan (@AhmadRehanKhan) June 3, 2023
"It is an immense privilege to represent Pakistan on such a globally renowned platform. Our participation in the BEMS program at Harvard is an opportunity to learn from the very best in the world, including esteemed faculty members and fellow participants. Simultaneously, we aim to share our journey and knowledge with others. I am confident that this will be an exhilarating experience, and I eagerly anticipate imparting our learnings and experiences to the future cricket superstars," expressed Rizwan a few days ago.
In a similar vein, Babar echoed these sentiments, saying, "I have always been a lifelong learner, and after in-depth discussions about this program with Prof. Elberse and Talha Rehmani, I was inspired to join this exceptional program at Harvard. My motivation is to connect, explore, listen, learn, grow, and contribute to communities worldwide. I am certain that there are countless valuable lessons to be learned from the incredible athletes and top executives in the entertainment, media, and sports industries who will be attending from various corners of the globe."
Notably, this course has been taken by other notable athletes in the past, such as footballers Kaka, Edwin van der Sar, Gerard Pique, Oliver Kahn, NFL's Brandon Marshall, NBA's Chris Bosh and Dwyane Wade, and Major League Baseball's Alex Rodriguez.