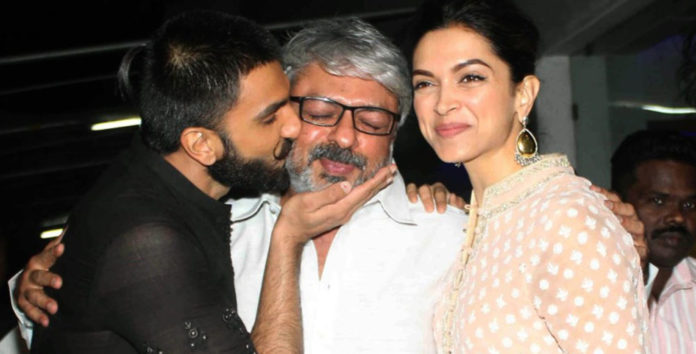 After an epic Bajirao Mastani, National award winner director Sanjay Leela Bhansali is ready for making his new movie Padmavati – a period drama based on the life of Rani Padmini, wife of King Ratansen of Chittor and the Sultan Allauddin Khilji and his obsession for Rani Padmavati.
The film will have Deepika Padukone as Padmavati while Shahid Kapoor will play her husband, Raja Rawal Ratan Singh. Ranveer Singh has been cast in the role of Alauddin Khilji. Deepika  was seen sharing magic chemistry with Ranveer in the past, it is the chemistry with  Shahid Kapoor that would be the major interest for the audience. An official announcement about the cast is still awaited.
Shooting Calendar
The director has started work on his next film Padmavati and it is all set to go on floors this September. Sanjay Leela Bhansali is known for lavish sets for his films. Both Ram Leela and Bajirao Mastani had huge sets at Filmcity. According to the sources, Director Sanjay Leela Bhansali has begun work on building a set for his next movie Padmavati at Mehboob Studios in Mumbai, the set is being made for Padmavati. The work started a few days ago and it is likely to be completed in another two-three weeks. They were looking at having a set in Film city but it was booked.
Pay Increase Controversies
Padmavati is yet to start shooting but controversies have already started. After alleged star tantrums of Ranveer and a massive pay increase for Deepika, the film has been threatened protests by Hardik Patel-led Patidar Navnirman Sena (PNS).
PNS wants assurance from Sanjay Leela Bhansali that the director will portray Rani Padmavati according to historical facts. Till then, they would not be allowed to shoot the film in Gujara
The Rajput Sena took the matter to Hardik Patel.He said,
"Every person is proud of Maharani Padmavati, who sacrificed her life for the self-esteem of Chittorgarh. Along with 1,600 other queens, she died of Jauhar, (self-immolation) when Alauddin Khilji had attacked Chittorgarh,"
"However Rajasthan-based Rajput Sena's members met me and informed that SLB has not studied the history, and could damage the image of Rani Padmavati. So, we've informed him to stop the production of the film and hold discussions with Rajput leaders before he begins shooting. Bhansali should give assurance of not damaging Rani Padmavati's image, or else Patidar Navnirman Sena will hold protests against the movie across the country, and will not give permission for the film to release in Rajasthan. No director has the right to damage history for entertainment".
Bhansali's Bajirao Mastani had also faced protests for being historically inaccurate.
Movie's Huge Budget
Sanjay's Padmavati will have a huge budget, way higher than Bajirao Mastani. Sources reveal that the sets are huge and the production cost for the film will be in the range of Rs 130-140 crore. Add another Rs 20 crore for print and publicity campaigns. Along with this, the leading cast will charge around Rs 30 crore in total. Out of that Rs 30 crore, Deepika will get Rs 12 crore, Ranveer and Shahid are charging around Rs 8 crore each. That makes the budget of Padmavati around Rs 180-190 crore which is obviously huge."
Ranveer Singh VS Shahid Kapoor
Sanjay Leela Bhansali and Ranveer Singh share great bonding as Ranveer consider Sanjay his mentor.We cannot deny that 'Ram-Leela' and 'Bajirao Mastani' helped Ranveer in cementing his superstar status in Bollywood.But now some unpleasant news are doing rounds that all is not well between them. Ranveer asked Bhansali to cut down co-star Shahid Kapoor's role and make him as a special appearance, which the director has refused to do so, saying it would be unfair to Shahid. Bhansali had his own valid reasons for not agreeing to Ranveer's demands; firstly, the director has booked equal number of dates of both Ranveer and Shahid and secondly, Shahid agreed to come to do the film only after being assured that his role will be as meaty as Ranveer's in the film
At an event was asked the actor about his relationship with mentor Sanjay Leela Bhansali
Ranveer said,
"I think Sanjay sir has a beauty smile. I will gift him a pack of this toothpaste when I meet him next."
He further said, "Right now I am not in a position to comment on my upcoming films. But as soon as there is some relevant information regarding my upcoming slate of films, I will announce it."
Ranveer Singh will be seen in Aditya Chopra's Befikre while Shahid will be next seen starring alongside Saif Ali Khan and Kangana Ranaut in 'Rangoon'. Stay tuned to find more scopps on Padmavati movie!