In recent days, a picture went viral on social media suggesting that the State Bank of Pakistan is preparing to release a new Rs10,000 banknote. As a result, social media users began criticizing the deteriorating economic conditions of the Pakistani economy and the devaluation of the rupee.
The viral picture of the banknote has the name of Yasin Anwar as the Governor of the State Bank of Pakistan. However, it should be noted that Yasin Anwar served as the Governor from October 19, 2011, to January 31, 2014. The current Governor of the State Bank of Pakistan is Jamil Ahmad. The fact that the note does not feature the name of the current Governor, Jamil Ahmad, serves as strong evidence that the circulating banknote is fake and fabricated. It is customary for a new banknote to be issued with the name of the current Governor.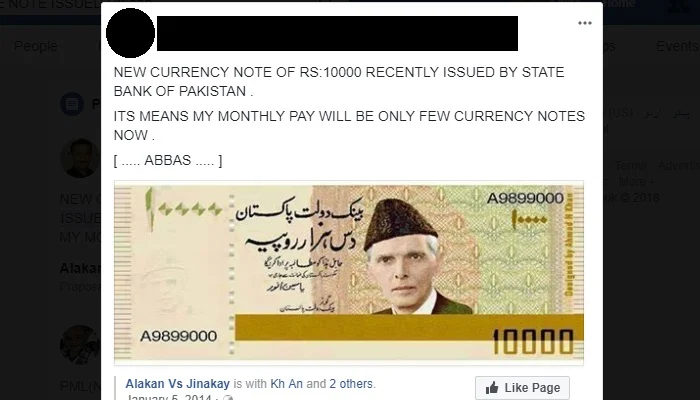 The State Bank of Pakistan has also dismissed such rumors circulating on social media regarding the introduction of a Rs10,000 banknote.
In a press release, the central bank affirmed that the current banknote denominations adequately fulfill the payment, settlement, and other associated requirements of the economy.
The SBP emphasized that there is no necessity for the issuance of higher denomination banknotes. The press release urged the general public to disregard such rumors and encouraged them to verify the authenticity of any news related to banknotes by visiting the SBP website and its official social media accounts.
The central bank advised individuals to seek confirmation from the updates provided on its website and social media channels regarding such rumors.
It is worth noting that similar rumors gained significant traction on social media back in 2018 as well.