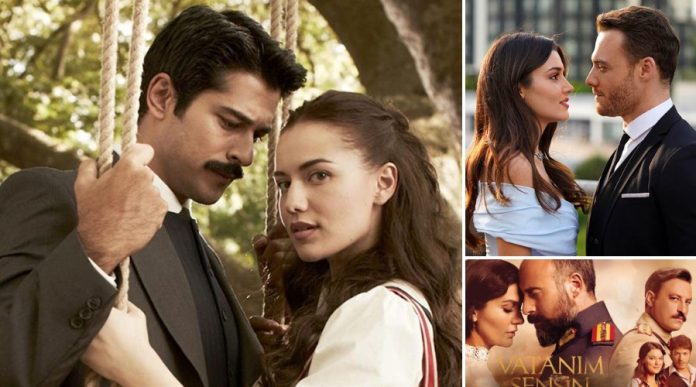 Turkish drama serials and movies have gained immense love and popularity among Pakistanis since the famous Dirilis Ertugral series. The Turkish entertainment industry has almost every kind of serial and movie with an amazing storyline, cast, and direction. Turkish actors have also become everyone's favorite for their charming looks and on-point acting skills. If you are also someone who has had enough of watching the same old drama serials and want some change, we highly recommend you to watch Turkish Drama serials. Here, we have mentioned some of the best Romantic Turkish drama serials that you can watch and enjoy with your loved ones.
Golden Boy (Yali Çapkini)
Golden Boy series is a new ongoing romantic Turkish series and has already gained a lot of attention. The story revolved around a young girl 'Seyran' and a womanizer rich boy named Ferit. Both of them are forced by their families to get married to each other. The drama serial has also gained the top position at IMBD ratings.
Wounded Love (Vatanim Sensin)
If you are someone who also loves to watch historical drama serials then 'Wounded Love' is the best choice for you. The drama shows us the period of the Turkish War for Independence (1919-1923), while watching this drama you will get to know about Turkish history, and how the Turkish empire got abolished and became a nation. The story also revolves around a true-life character, General Cevdet, a Turkish soldier and spy who sneaks into the Greek military and a female officer who forms a Turkish military community consisting of women and men. While her husband is absent, she is left with her three children and mother-in-law to fight the difficulties of the war period.
Price of Passion
Price of Passion is another one of the best Romantic Turkish drama serials you will ever watch. Once you start watching this serial you will definitely get addicted to it. The story revolves around a strong and independent female doctor, who has devoted her life to helping others. However, one day she gets kidnapped by a killer and is forced to marry him. Despite, all of this, after some time the doctor starts to feel the deep pain inside the kidnapper's family and starts to grow a love for her forced husband.
Çalikusu (Love Birds)
This romantic drama is based on a famous Turkish classical book 'Çalikusu,' which tells us the story of an orphan girl raised in her wealthy uncle and aunt's home. Soon the girl falls for her older cousin and they both start to have strong feelings for each other. The drama serial also shows some scenes from her boarding school and has a lot of family fights and drama. However, the drama serial has some of the best romantic music and the overall drama is quite addictive as well.
You Knock on My Door
You Knock on My Door is one of the most popular comedy-romance drama serials where the main leads of the drama have to pretend to be engaged with each other. The main female lead is a young and talented florist who dreams to get his degree, but unfortunately, the heir of some holding group cancels her scholarship and now she is filled with hatred. After some exciting turns of events, both the leads end up together and the media mistakenly think that they are a couple. Now, the male lead wants to use this mistake to get back at his ex-girlfriend for dumping him. To know how things end up, you probably want to watch it for yourself.
So these are some of our favorite Turkish romantic drama serials, and we hope you will also love them as much as we do.