Burgers are not just ordinary food, they are a sensation that every Pakistani craves! From the delicious and juicy patty to the oozy melted cheese, the crispy veggies, and the soft and fluffy buns, each bite of a burger is an irresistible explosion of flavor that sends your taste buds into a frenzy. There was a time when there were only a few fast-food restaurants that served quality burgers in Lahore like McDonald's and KFC. But now, Lahore has so many delicious burger joints that sometimes it's very hard to decide which one to try. But don't worry, we have personally visited some of the best burger joints in Lahore and have shortlisted a list that you should definitely try at least once.
1. SMASH Burger

 
SMASH first started by cooking delicious burgers at home, which gained popularity across the city of Lahore, and today, it has become one of the best beef burger take-outs in Lahore.  Now, they are serving hundreds of juicy and delicious beef patty burgers from his kitchen every day.
Their menu is simple, offering only three types of burgers with single, double, and triple patties, but you can customize your taste with add-ons. Moreover, Smash is also well-known for its unique and tasty milkshakes. Smash is located at Bagh Ali Road and Phase 2 DHA, Lahore.
2. BAE Burger:
BAE is a burger chain that serves really satisfying burgers. Their burgers are juicy and delicious, with soft buns that will fill you up when you're hungry. What's even better is that they have a wide variety of burgers to choose from on their menu. If you're in the mood for a chicken burger, we recommend trying their Peri Peri blast. But if you prefer beef, their magic mushroom burger is a must-try! They even have a separate category for fillet burgers for those who enjoy them. So, if you're looking for a place to satisfy your burger cravings, BAE is definitely worth checking out! BAE Burger is located at Lahore's DHA Phase 3.
3.

Johnny & Jugnu: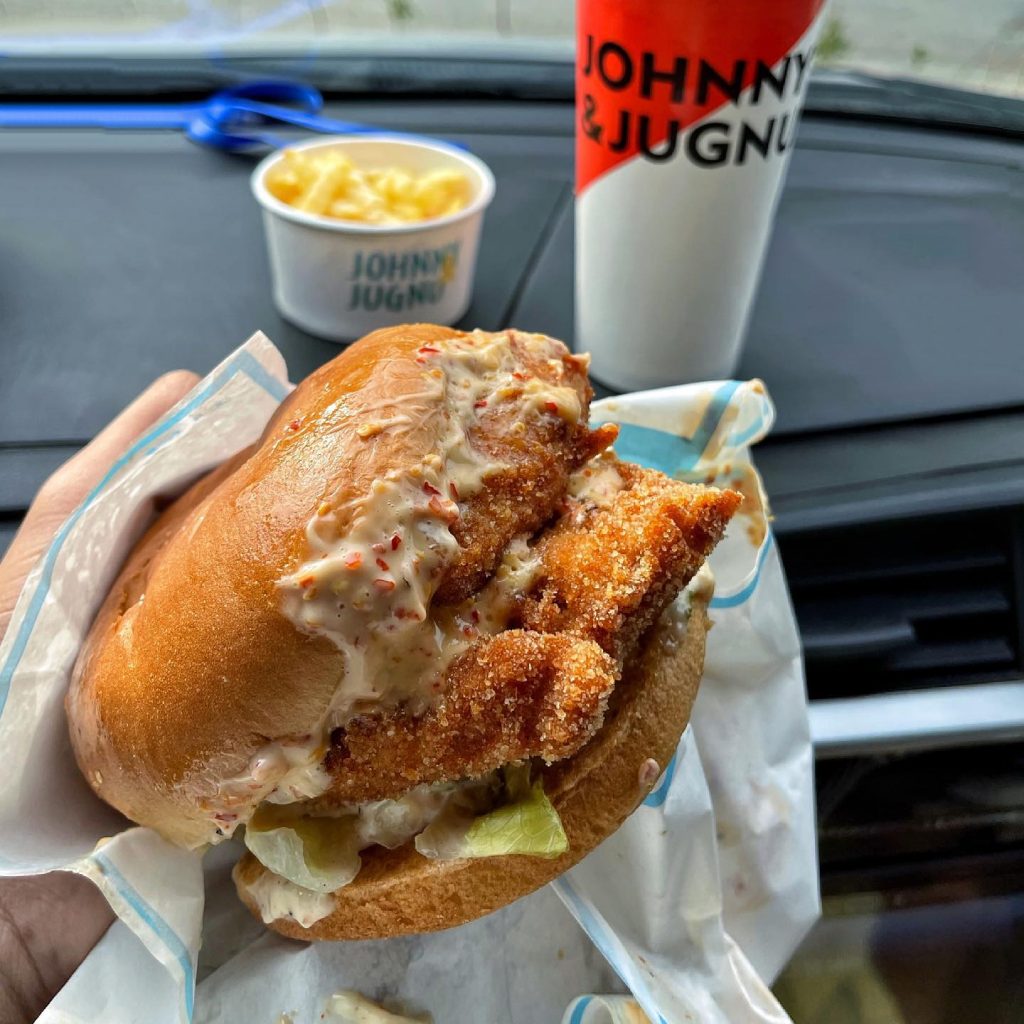 Johnny & Jugnu's Burgers are hands down one of the most amazing Burgers you can find in Lahore. Their crunch level is 10x higher than any other Burger joint in the city, and you get to pick from 6 different sauces. But the best part is that their Burgers are surprisingly very affordable. We strongly recommend you try out Johnny & Jugnu's Wehshi Burger and Fillet Burger. You can visit them at Lahore's DHA Phase 6.
4. Just Burgers:
As their name suggests, Just Burgers is a chain that serves 'only burgers' which are quite delicious, to be honest. They offer chicken, beef patties, and a variety of different options to choose from. If you're really hungry, you can even get a double patty burger. If you are a beef lover, we strongly suggest you try their Just Jalapeno beef burger with a double patty, or their Just Tangy Chicken Burger if you prefer chicken. Just Burgers is located in the CSD Mall near Cavalry Ground in Lahore.
5. J

essie's

Burger:
Jessies is a new burger and steak restaurant in Lahore. They have really good beef burgers with a creamy sauce that you'll love. They're also famous for their steaks.
If you are someone who loves spicy food, they have some really spicy beef burgers. They also have some tasty grilled options. It's located at Gulberg 2 – Phase 5 DHA – Johar Town.
 6.

Howdy Burger

:
If you are a true Burger lover, you should definitely try out Howdy. They serve really juicy and delicious burgers that are one of the best in Lahore! The meat, flavor, temperature, and time are all just right to make a perfect burger. They have lots of different options to choose from, especially Howdy's 'Son of a Bun,' which is served with a deliciously creamy white sauce. Its located at MM Alam, Packages Mall, Johar Town, Model Town and Emporium Mall in Lahore.