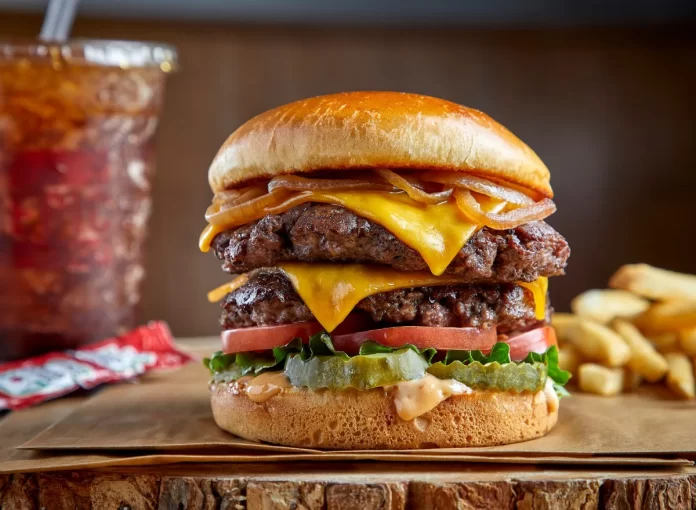 Who doesn't love a juicy, delicious, and crunchy burger? They're without a single doubt the perfect fast food that can keep you full for hours! The combination of tasty hot and tender meat, yummy sauces, and soft buns is truly a match made in heaven.
If you're also a true burger lover like us and looking for the best burgers in Islamabad, you are at the right place! We've got 5 amazing suggestions where you find the perfect burger that will satisfy your cravings and we promise, you won't be disappointed.
Burger Fest:
If you're looking for the best, Burger Fest is the perfect place for you to visit. Their burgers are super cheesy, yummy, and absolutely delicious. Burger Fest has gained huge popularity among Islamabadians because of its exceptional taste and affordable prices. You can get a filling burger with fries and coke for less than 600 rupees, how amazing is that?
The only drawback is probably that they don't have a dine-in option, however, you can take away or eat in your car and Trust us, it's totally worth it! We have tried both the chicken and beef burgers, but their double patty mushroom/white sauce burger is our personal favorite.  Burger Fest is three branches, which are located at F7 Markaz, in Infront of Miniso – G11 Markaz, Ghaffar Mall – E-11/2 Markaz, Paradise Arcade, near Najeeb Pharmacy.
Howdy:
Howdy has been in the market for a while and it is very famous for its burgers. However, another thing that Howdy is famous for is its unique ambiance and the overall environment. With waiters dressed as cowboys and country music playing, you'll feel like you've been transported to Mexico. Howdy has some of the best beef and chicken burgers in town. The Stay Mild with double patty is a must-try. And don't forget to order their delicious curly fries. You can visit Howdy at Gol Market, F-7/3 – Giga Mall and DHA-2 and Centaurus Mall, F-8 / 4, Islamabad.
Cannoli:
You may have heard about the Cannoli controversy last year, after which many people started boycotting their food. However, we can't deny that their beef burgers are absolutely amazing! Yes, many of you may think they are a bit too pricy, costing more than Rs 1200, but still, they are very tender and juicy which totally justifies the extra money.
Their Juicy Lucy burger is one of the best on the menu, It's a true cheese lover's dream, with a patty stuffed with cheddar cheese and a creamy cream cheese sauce. Plus, it's topped with crispy lettuce, delicious turkey bacon, and a variety of other tasty veggies. Trust us, it's worth every penny. They are located at Beverly Centre, F-7/2, Islamabad.
Cafe Rustic:
Rustic is located at Shaheen Market, E-7, Islamabad, and its very popular for its steak and beef burgers. The burger is served with sweet potatoes and their patty is very soft, big, and juicy, but it doesn't feel heavy on your stomach. We don't know how they do it, but you can never have enough of this burger! They also have a very peaceful ambiance to enjoy your meal. It's never too crowded, and the atmosphere is great with trees all around.
Char-Grilled Central (CGC):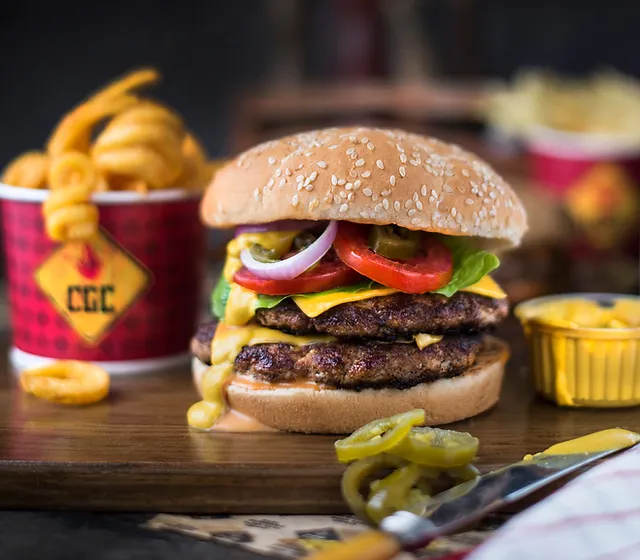 Char-Grilled Central burgers are always fresh, paired with tender meat and their famous pepper bombs to create the perfect burger in town. Although they initially offered more beef options, they have recently introduced a variety of chicken burgers due to popular demand. Char-Grilled Central is located at Gol Market, F-7/3, Islamabad.