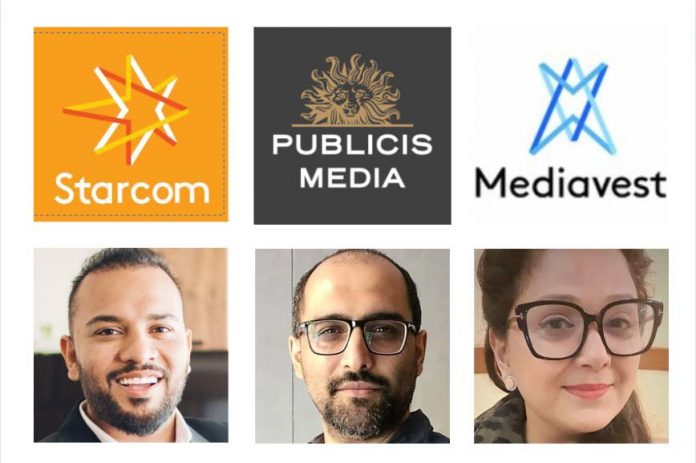 Brainchild Communications Pakistan, the largest media agency in Pakistan according to the latest RECMA media agency rankings report, has restructured its leadership teams to propel new avenues for growth.
Usman Qayam takes over Starcom Pakistan as the new general manager. At the same time, Saud Umar Khan was named the general manager for Publicis Media, and Urooj Hussain was raised to general manager of Mediavest.
Starcom Pakistan
"Usman joined us in 2009 as a management trainee," said Farhan Khan, the chief executive officer of Brainchild Communications Pakistan. "His experience within the agency network spans a diversified range of businesses, including P&G, National Foods, Dawlance, KFC, HBL, KIA, Engro, TikTok, and Mondelez, to name a few. Usman has been relentless in his pursuit for agency growth and brings passion to the game when working for his clients. His forte has been hand-holding clients when they are looking for communication solutions and leading them to unlock opportunities with market-firsts avenues to test & learn from.​"
An alumnus of SZABIST and an adjunct faculty of management sciences at his alma mater, Qayam has inspired many young graduates to join the Starcom Management Trainee program.
"​He has built a robust client portfolio out of Karachi only with a multi-billion annual turnover alongside winning many awards for his clients. said Khan. "Starcom Pakistan is all about energy, drive, and passion for being the market leader in the coming years, and Usman hopes to carry that challenge moving on.​"
Publicis Media
Starting his career in 2004 with Ufone, Saud Umar Khan has an extensive work experience in the telecommunications sector through the telecom growth years in Pakistan. His last assignment in Pakistan was heading brand communications at Warid Telecom before venturing to the UAE, where he led the commercial team for a construction group.
​"Saud joined us in Islamabad as the Associate Director in July 2017 to manage the regional operations," said CEO Farhan Khan. "In early 2019, he was challenged to manage a more extensive portfolio in Lahore, becoming the portfolio director for the north region. He not only added new clients but also grew the region to a multi-billion-rupee portfolio, delivering the highest-ever growth. He spearheads Publicis Media across Pakistan with Karachi, Lahore, and Islamabad offices.​ He has managed a diverse portfolio of clients, including Coca-Cola, Fauji Foods, Packages, Samsung Electronics, Servis Shoes, Zameen.com, and Zong 4G.​"
Harnessing the power of the modern media landscape to drive one-to-one consumer engagement at scale, Publicis Media creates value for clients through global media agency brands and scaled capabilities across investment, strategy, insights and analytics, data and technology, commerce, performance marketing, and content.​
The media brand was launched in Pakistan after the group won the Nestle media review in Q4 2021, with Publicis Media gearing up to introduce global learnings to the Pakistani market.
Mediavest
Starting her career with Brainchild Communications Pakistan in 2009 as a management trainee, Urooj has worked across multiple functions in media planning, buying, digital, and e-commerce across various categories such as personal care, telecom, and consumer appliances, with a core focus on the FMCG space across multiple local and international brands such as Procter & Gamble, Unilever, National Foods, Engro, Dawlance, EFU and more. ​Launched in 2010, Mediavest is a rising star in the portfolio of Brainchild Communications Pakistan agencies, now boasting a portfolio of clients across over a dozen categories, including telecom, consumer electronics, apparel, and financial services.
"Urooj has contributed an annual billing of over three billion rupees through long-tail SMEs to large multinational clients," said Farhan Khan. "This spectrum of experience and knowledge enables her to deliver customized, optimized, and business-relevant solutions to all our clients across the spectrum.​"
Restructuring strategy
Rated BBB+ by The Pakistan Credit Rating Agency Limited (PACRA), Brainchild Communications Pakistan is embarking on the next phase of its journey of becoming a full-service advertising agency. Distinct media brands and respective general managers open room for a larger client base without compromising conflict of interest in competing categories.
"Our business direction will be much more experiential and thoughtful about data-driven tactics," said Benish Irshad, the chief operating officer at Brainchild Communications Pakistan. "Supported by Z2C Limited, our new strategy reflects a bold new vision for evolving Pakistan's media & technology landscape. We must capture the ever-present growing opportunities of a changing marketplace and reward our senior leadership with a streamlined structure built around clients' needs."