Pakistani boxing legend Amir Khan and his wife Faryal Makhdoom have announced to set up a fund to pay support to Zohra Shah's family, the eight-year child who was brutally beaten to death by her employers after being subjected to child labour.
The couple said that they will be financially assisting Zohra's family and several other child abuse victims.
In memory of #ZohraShah and the countless other child abuse victims, @AKFoundation has launched the Zohra Shah Child Protection Fund to protect innocent children from human rights violations across Pakistan. https://t.co/u3D4P53D1d#justiceforzohrashah #amirkhanfoundation pic.twitter.com/G7DuTeQOqP

— Amir Khan Foundation (@AKFoundation) June 7, 2020
Zohra was allegedly tortured to death for accidentally releasing pet parrots owned by the parents for whom she was babysitting in Rawalpindi.
My team at @amirkhanfoundation visited Zohra's parents and siblings today. We have assured them that we will get justice for Zohra, and ensured them that her siblings will all receive a good education. #ZohraShah pic.twitter.com/CtKFSldb9Y

— Faryal Makhdoom Khan (@FaryalxMakhdoom) June 8, 2020
Faryal wrote: 'Amir and I have personally contacted Zohra's father and hoping to speak to him shortly. Thank you to everyone… especially the lawyers, barristers and human rights activists who are supporting us.'
The couple have started a child protection fund in honour of Zohra that aims to protect children in Pakistan from any sort of abuse.
Faryal also claimed that Zohra's family was offered only six thousand rupees as settlement for Zohra's death.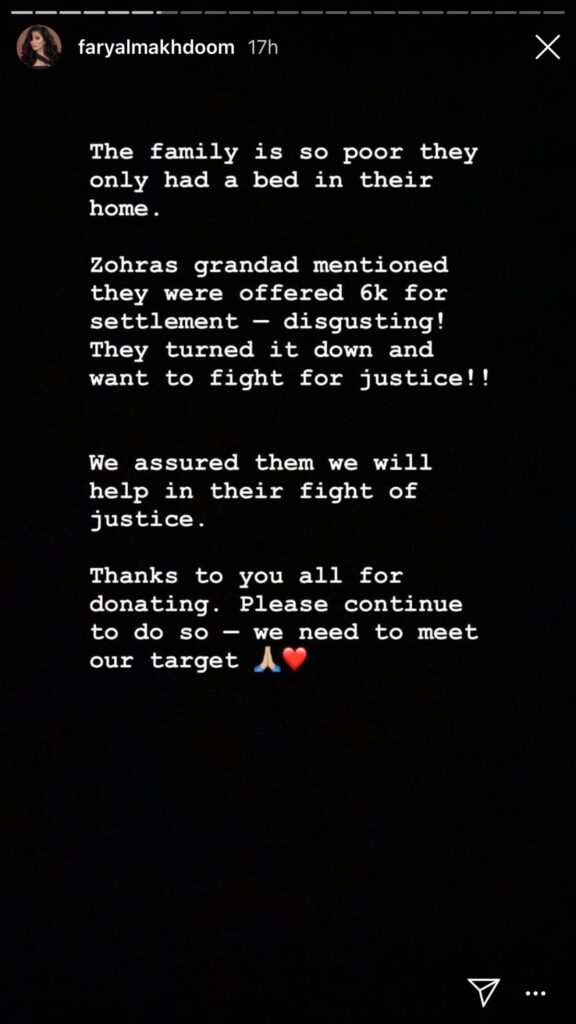 Amir Khan also appealed to PM Imran Khan by posting the heartbreaking pictures of Zohra's father receiving her coffin.
@PTIofficial @ImranIsmailPTI #childprotection #Amirkhanfoundation pic.twitter.com/BjXUhLKG5T

— Amir Khan (@amirkingkhan) June 8, 2020
After allegedly committing the violence, those who she worked for took the girl to hospital, where staff confirmed signs of torture. Four months ago, Zohra began working for the family of Hasan Siddiqui and his wife Umm Kulsoom.
Amir Khan is a famed philanthropist who founded his own charity organisation, "Amir Khan Foundation", with which he is involved in a number of charitable projects.