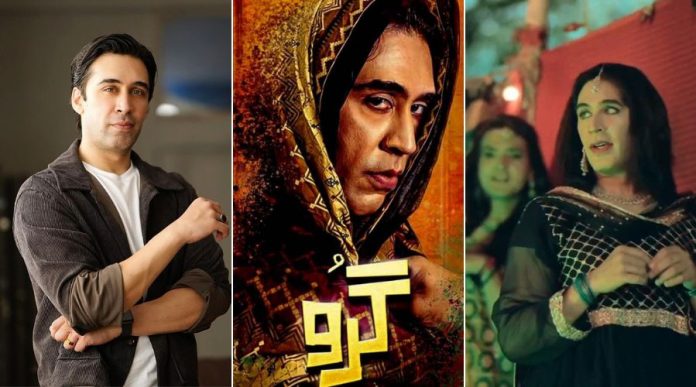 Saim Sadiq's Joyland appears to have sparked a trend in storytelling focused on intersex individuals. After the success of Muneeb Butt's Sar-e-Rah, director Bilawal Hussain Abbasi is now presenting a new drama titled Guru, featuring actor Ali Rehman Khan in the lead role. This compelling series, titled Guru, delves into the life of an intersex individual, showcasing both their public performances and their personal struggles. The show is set to be broadcasted on Express Entertainment.
Over the weekend, the channel's official Instagram account released a teaser for Guru, providing a glimpse into Ali's character as an intersex person who earns a living by dancing at events. The teaser emphasizes the protagonist's dual existence, with moments of joy and laughter during functions contrasting with the underlying misery in their personal life. The teaser further showcases Ali's character exploring a marketplace, eyeing children's toys, and then suddenly, a newborn baby enters the frame, capturing the viewer's attention.
Here, Check out the Trailer:
https://www.instagram.com/p/CseEmUWI8yY/
The teaser of Guru offers glimpses of a wide range of emotions, including pain, anticipation, and joy, while the suspenseful music heightens the sense of mystery. Fans eagerly await to see how the creators handle such a sensitive subject and whether the representation will be handled with care. The release date for the project has not yet been announced.
Previous teasers for Guru have indicated that the drama will also address themes of drug abuse, discrimination, and the social class system. Alongside Ali Rehman Khan, the series features notable actors such as Zhalay Sarhadi, Hira Khan, and Umer Aalam in significant roles.
Shazia, one of the drama's producers, took to Instagram to commend Ali for taking on this "challenging" role. She expressed her pride in her friend, Ali Rehman Khan, for stepping out of his comfort zone and embracing this demanding character. Shazia thanked him for breaking barriers and embracing a whole new appearance, something that many would hesitate to do.
Shazia enthusiastically described the drama as a "captivating tale centered around an intersex individual" and expressed her anticipation for people to witness it. She also expressed her gratitude to the channel for selecting such an essential and often controversial topic, highlighting the significance of addressing it within society.
Ali Rehman Khan's fellow actors and friends also joined in to shower him with praise for his impressive transformation in the new role. Hania Aamir, an actress herself, shared the teaser on her Instagram Story and commended her "courageous and talented friend." She expressed her excitement for everyone to witness Ali's incredible performance, sending her best wishes to him and the entire team. Hania added a teaser of what's to come, stating, "Guys, you don't know what's coming your way."
Komal Meer was also amazed by Ali's remarkable transformation, expressing her excitement with the words, "Oh my god, Ali! This is incredible. I can't wait!" Ushna Shah expressed her satisfaction, stating that she was glad Ali had finally chosen to embrace a character-driven role. Zara Noor Abbas and Kubra Khan shared their pride in Ali for daring to take on such an unconventional script, emphasizing their admiration for his willingness to explore unique and unusual roles.