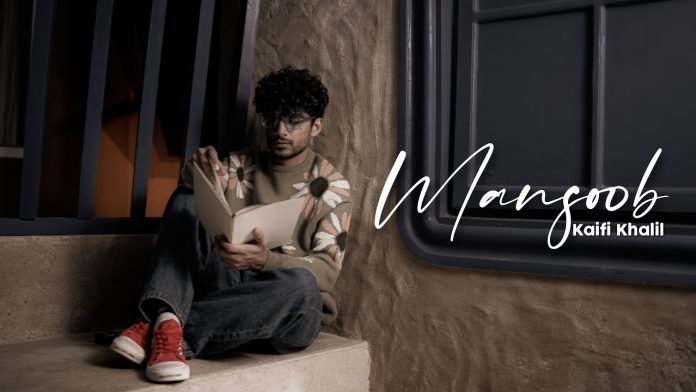 Kaifi Khalil, a rising star in the Pakistani music scene, has proven himself as a remarkable talent with a string of chart-topping hits such as "Kana Yaari," "Mast," and "Dilbar Dila Bide."
Having made a significant impact with his previous single "Kahani Suno 2.0," the young and gifted singer is now making headlines again with his latest romantic track, "Mansoob." Within a matter of hours after its release, the song has already garnered over 100K views on YouTube, demonstrating the immense popularity of Kaifi Khalil's music among listeners.
Here, have a look at the song:
This enchanting solo love song gives a very similar vibe to his previous chart-topper, 'Kahani Suno 2.0.' Upon immersing themselves in the melody, online users swiftly inundated Kaifi Khalil with adoration and commendation for his heartfelt vocals, fervently expressing their affection for the song. Take a moment to peruse a selection of these heartfelt comments.
In an interview, the youthful vocalist bared his soul, recounting his arduous journey from hardship to stardom. He fearlessly delved into both the trials of his personal life and the challenges he faced in his professional career.
During the conversation with the host, he disclosed his Lyari origins, sharing that his father, a local Balochi singer, had shaped his musical inclination. Due to the circumstances, he never had the opportunity to attend school, as his focus was solely on survival. Reflecting on his experiences, he shared, "I've acquired invaluable life lessons along the way."
He also revealed the bleak reality of his childhood, characterized by abject poverty, where he had to engage in laborious and menial tasks to make ends meet. Tragically, his father passed away when he was young, leading him to work at small shops and even construction sites at a tender age. Despite meager earnings, he devotedly spent his resources on cassettes and musical instruments, fueling his passion for music and preserving his late father's musical legacy.
Transitioning to his professional journey, he recounted a fateful evening when he stumbled upon a message from Zulfi Bhai, urging him to share his music. "I couldn't believe my eyes when I saw Zulfi Bhai's message," he exclaimed. Encouraged by the opportunity, he promptly sent three songs, including "Kana Yaari," which ultimately paved the way for his breakthrough.
However, it was his heartfelt composition, "Kahani Suno 2.0," that propelled him to international stardom. The track ascended to YouTube's Top 100 Global chart and dominated local charts on Spotify, amassing over 19 million streams. Notably, it also served as the theme song for the drama serial "Mujhe Pyaar Hua Tha," attracting attention even as pop songstress Aima Baig attempted to seize the spotlight with a less-than-impressive rendition.