There's something about love stories that captures our hearts and keeps us hooked. From the rollercoaster of emotions to the heart-fluttering moments, they're an eternal source of joy and entertainment for many. And now, Geo Entertainment's latest drama serial, Jhoom, is all set to bring us a fresh dose of romance, passion, and drama.
With promises of taking us on a whirlwind journey through the ups and downs of a passionate relationship, Jhoom is set to offer everything that makes a love story great. From the chemistry between the lead actors to the intense storyline, this drama serial has all the makings of a hit.
So, gear up for a journey of emotions, heartache, and of course, love, as Geo Entertainment's Jhoom takes us on a ride that we won't soon forget. In this article will share everything about the upcoming drama serials, so keep reading.
Cast:
Jhoom Drama has an exciting cast featuring the immensely talented Haroon Kadwani and the stunning Zara Noor Abbas in the lead roles. Haroon Kadwani has already made a name for himself in the Pakistani drama industry with his exceptional performances in shows like "Badzaat" and "Mohabbat Tumse Nafrat Hai." Meanwhile, Zara Noor Abbas has captivated audiences with her brilliant acting skills in hit dramas such as "Ehd-e-Wafa" and "Zebaish."
The pairing of these two talented actors is expected to bring their incredible chemistry to the forefront, making their on-screen romance one of the biggest highlights of the show. The cast also includes Wajhi Farooki, Javed Sheikh, Usman Peerzada, Zainab Qayoom, Sidra Niazi, Haris Waheed, Noreen Gulwani, Erum Khtar, Haroon Shahid.
Production
"Jhoom" is directed by Ali Faizan and written by the critically acclaimed writer Hashim Nadeem Khan. The show is produced by Abdullah Kadwani and Asad Qureshi, two highly prominent names in the Pakistani entertainment industry who have a remarkable track record of creating successful dramas that have gained immense popularity among the masses.
Story:
"Jhoom" seems to be a drama that focuses on society's resistance and non-acceptance towards an older woman marrying a younger man, which should be a normal aspect of human life, but society deems it unnatural. Aryan (Haroon) is willing to fight for Maryam (Zara), but Maryam, trying to be realistic, resists, even though she agrees that her heart belongs only to Aryan. With a mix of romance, action, and heartbreak, the drama promises to captivate viewers and deliver a unique and engaging storyline, making it highly anticipated.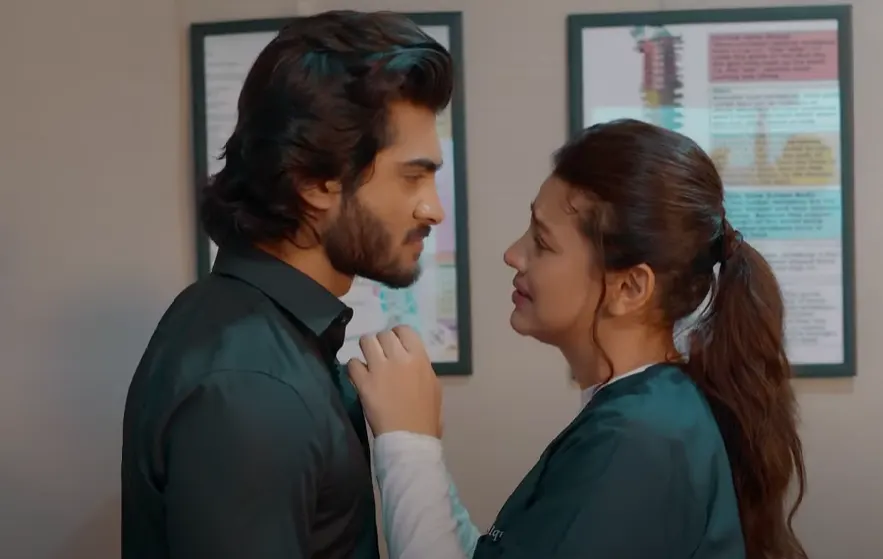 Although we have seen the narrative of an older woman with a younger man in Dobara and Agar, there is a need for more stories to represent this multi-layered relationship in our society, and "Jhoom" can undoubtedly add to the conversation.
Furthermore, the story appears to be a rollercoaster of emotions between lovers Aryan and Maryam, who will face several obstacles along the way, from societal pressures to personal demons. The trailer gives viewers a glimpse into the intensity and passion that will be featured in the show and leaves them with a sense of curiosity – will the couple overcome the obstacles in their path and finally unite, or will fate conspire against them, leaving their love story incomplete?
'Jhoom' First Look:
Geo Entertainment has released the first look of "Jhoom" set in breathtaking locations near the beach and under the moonlight, giving viewers a sneak peek into the romantic drama and promising an intense and passionate journey. The trailer is filled with moments of joy, sorrow, and heartbreak, leaving the audience eagerly anticipating what's to come in the show. The teaser has generated genuine excitement, as the chemistry between the lead characters appears dynamic. The visuals, direction, and sets have a distinct new-age feel, adding to the appeal of the drama.
There is a fair need for subjects like these to be touched upon to normalize them in our society, and we all couldn't agree more.
Jhoom OST:
Jhoom's teaser is already out and it had people intrigued and now we have its OST which is sung and composed by Schumaila Rehmat Hussain while it is written by Ali Abbas Zaidi. The song titled Mulaqatein has a peaceful melody and it showcases a new love blossoming between the leads. The video has been shot in a scenic location with the sea in the background.
Jhoom Drama Release Date
Jhoom drama will air exclusively on Geo Entertainment. The exact release date of the show has not been announced yet, but it is expected to premiere soon. Keep an eye out for updates on the show's release date.