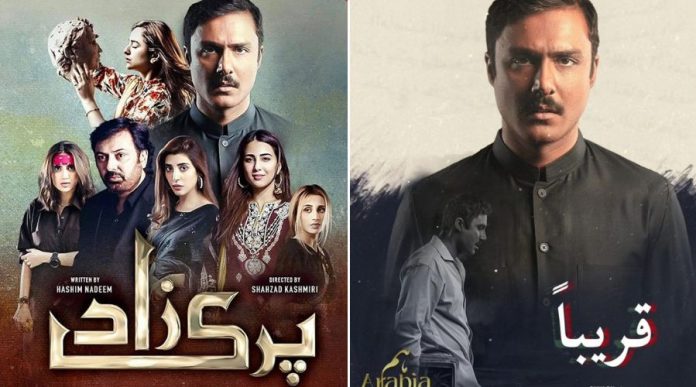 The immensely popular Pakistani TV show 'Parizaad' took the entertainment world by storm during 2021 and 2022, captivating audiences as it aired on the Hum Television Network. This drama achieved tremendous acclaim thanks to Ahmed Ali Akbar's remarkable portrayal of the central character, Parizaad, an ordinary-looking individual with a dark complexion. Ahmed's performance played a significant role in the enduring success of the show, with viewers being enthralled by the storyline. Overall, the reception of 'Parizaad' in Pakistan was overwhelmingly positive, solidifying its status as a blockbuster series.
The creators of the TV drama series 'Parizaad' have recently announced that an Arabic rendition of the show will be broadcasted on Hum TV's dedicated channel and social media platform, Hum Arabia. This adaptation, titled 'Qareeban,' which translates to 'This Way,' has been hinted at through a collaborative post by Ahmed Ali Akbar. The teaser has been shared on his official account as well as on Hum Arabia's account. For a sneak peek at the teaser, you can follow the link shared by Ahmed Ali Akbar and Hum Arabia.
The unveiling of the drama teaser caused a wave of enthusiasm among fans, initially leading them to believe it was a glimpse of the highly anticipated second season. Excitedly, many fans inquired about the possibility of a season 2. However, it was later revealed that the teaser was, in fact, for the Arabic adaptation of the drama series 'Parizaad.'
Fans couldn't contain their joy and flooded the comments section with congratulations for the actors and the entire team involved in 'Parizaad.' Ahmed Ali Akbar, in particular, received an overwhelming outpouring of love from his devoted fans. Here are a few examples of the comments expressing sheer happiness upon witnessing the teaser.
The channel has released a brief teaser for the Arabic version of Parizaad, but unfortunately, there isn't much information provided regarding the translation or dubbing process. Nevertheless, we would like to hear from you! Are you filled with anticipation to watch the Arabic adaptation of Parizaad? Share your excitement with us!